by Janet Pinheiro
(Photos: Hasan M. Al-Mubarak /MPD)
Battling Desertification for an Ecologically Significant Trove of Biodiversity in 'Udhailiyah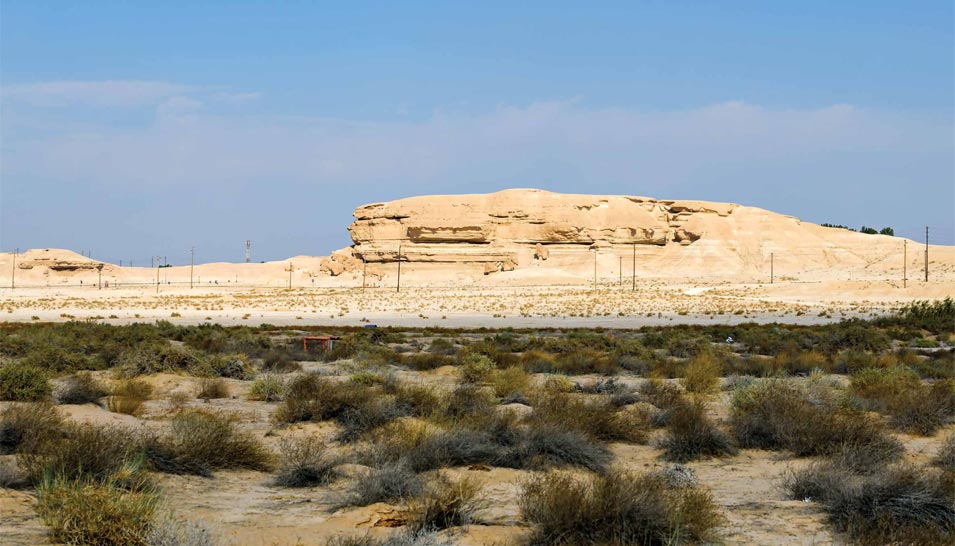 'Udhailiyah — Living above the midpoint of the world's largest oil field is a selection of natural life that is, unfortunately, becoming increasingly rare.
Saudi Arabia's grand Ghawar oil field, discovered in 1948, lies quietly hidden in the east beneath the golden ad-Dahna desert sands — whose granules and dust increasingly scatter and shift due to biodiversity loss within the region.
Careless off-road driving, uncontrolled animal grazing, and firewood collection are among the factors causing desertification of the biodiversity traditionally nourished by the desert sands and lifegiving seasonal rainfall.
Located above the center of the Ghawar field is Saudi Aramco's 'Udhailiyah community, and within its protective fence survives a 2.3 km2 pocket of biodiversity, existing under the shadow of a series of low jebels.
Alongside the community's oasis of manicured grassy parks and native palm-lined streets, this small treasure trove of biodiversity shelters a medicinal plant not recorded within the Kingdom's Eastern Province for more than 20 years, and a proudly gentle, but vulnerable, lizard that makes its home by burrowing holes into the sandy ground.
Kingdom Fighting for Biodiversity
Through the Saudi Vision 2030 transformation program, Saudi Arabia is tackling desertification of the Kingdom. Gas Operations vice president Abdullah M. Al Ghamdi says 'Udhailiyah is one of at least 18 biodiversity areas sheltering within the company's onshore operating areas.
Al Ghamdi explains that Saudi Aramco's biodiversity areas are becoming increasingly significant toward halting the Kingdom's biodiversity decline.
"Following external scientific assessment, 'Udhailiyah was classified in November 2018 as a Saudi Aramco biodiversity protection area, meaning the site has particular ecological quality," he said.
The scientific report concluded: "Overgrazing, in particular, has caused significant loss of vegetation, and so any areas that are protected from grazing and other disturbances take on an increasingly important role within the long-term biodiversity protection within the Kingdom."
Reflecting on the increasing rarity of natural and semi natural habitats within the Kingdom, Al Ghamdi said: "Habitat loss, disturbance, and overgrazing have affected many areas of Saudi Arabia's rangelands and other habitats.
"At Saudi Aramco, our preserves of biodiversity contribute towards the Kingdom's efforts to restore its biodiversity."
'Saudi Aramco Biodiversity Protection Area'
A company procedure is followed to assign the designation of "Saudi Aramco Biodiversity Protection Area," which includes a requirement for third-party confirmation by biodiversity experts.
The expert report on 'Udhailiyah found 48 desert plant species growing inside the community's biodiversity, supporting a number of desert-adapted animals, including at least six mammal species, seven reptiles, and 35 birds.
Among other designation criteria is one or more species listed as vulnerable, endangered or critically endangered, two or more species listed as near threatened by the International Union for Nature Conservation, or two or more species listed as high conservation priority by the Saudi Arabian government.
Also considered is one or more species endemic to the Arabian Peninsula, frequently migratory bird species, or having the potential to benefit the education and well-being of local residents.
Remarkable Dhubs
In 'Udhailiyah, dhubs rule the road. The dhubs, or spiny-tailed lizards, are classified as "vulnerable" by the International Union for Conservation of Nature, meaning they face a high risk of extinction in the wild within our lifetime.
The biodiversity in 'Udhailiyah is home to a healthy population of dhubs, and to protect them, the community has install the world's first "Slow Down: Dhub Crossing" road signs.
Typically inhabiting rocky areas where they burrow underground, the dhubs are omnivorous reptiles whose diet is mainly insects, and they are especially fond of eating locusts.
The Kingdom's biodiversity is becoming increasingly threatened.
Originally a bachelor camp set up In the 1970s for drilling crews, the 'Udhailiyah community was expanded when the gas gathering program, mothballed in the 1980s, was later reopened and now the community includes a school and medical and recreation facilities.
The Potential in a Close-knit Community
Home to approximately 1,700 employees and their families, 'Udhailiyah is the residential community for surrounding drilling and oil operations, 19 gas-oil separation plants, along with three major plants — 'Uthmaniyah and Hawiyah Gas Plants, and the Hawiyah Natural Gas Liquids Recovery Plant. Employees are transported to and from these nearby facilities each day.
Situated about 50 kilometers from the ancient oasis region of al-Hasa — inhabited since prehistoric times — Community Services administrator Mohammed M. Khamsan says the particularly close-knit group of people at 'Udhailiyah was recognized as a potential group to promote and contribute toward biodiversity protection and restoration.
"Our proximity to residential areas and schools within and outside the community provides excellent opportunities for biodiversity preservation, restoration, and educational activities," said Khamsan.
Saudi Aramco Biodiversity Protection Areas A Priority
With concessions of large areas of land within the Kingdom for a variety of purposes related to their core upstream and downstream oil and gas activities, Saudi Aramco has a program of environmental management of this land which includes the management of terrestrial biodiversity resources within areas under the company's control.
This has been achieved through the introduction of a Saudi Aramco Engineering Procedure (SAEP-359) for the identification and notification of areas within their control that have high biodiversity or ecosystem value and warrant specific protection and management.
Rare Plant
Tucked inside Saudi Aramco's 'Udhailiyah's biodiversity area entrusted to the company's protection is a rare traditional medicinal plant named Ephedra alata, which hasn't been seen within the Kingdom's Eastern Province for more than 20 years.
Saudi Aramco protects and preserves habitats
* Green - Saudi Aramco Biodiversity Protection Area
* Blue - Company area of significant biodiversity
Community Services water operations foreman Fadhel A. Bu Jubarah inspects an Acacia tree recently planted as part of 'Udhailiyah's participation in Saudi Aramco's initiative to plant 1 million native trees in desert areas using treated wastewater.
In coordination with Southern Area Oil Operations, 15,000 trees, composed of three native varieties, were planted in two 'Udhailiyah locations, and a further 10,000 trees will be planted in two remaining locations in the area.
Working to supply the community's water needs, Bu Jubarah says water conservation and recycling was important toward making water available for native tree plantings.
"We are all responsible for conserving water use and regenerating the Kingdom's environment," Bu Jubarah said.
Standing in 'Udhailiyah's biodiversity, Ahmed A. Naim from the North and Central Ghawar Gas Producing Department shares biodiversity's preservation that plans for the include construction of a wetland, as well as working with Community Services to protect the area.
"Udhailiyah's biodiversity is special. It is the only solely residential community to be designated a Saudi Aramco biodiversity protection area," said the al-Hasa-born environmental coordinator.
Advising that environmental protection is critical for the generations of people to come, Naim says, "If we don't protect this biodiversity, it may become extinct."
"Without a good environment, no-one can survive. Protecting and restoring biodiversity is as important as controlling emissions in our oil and gas operations," he adds.
Iconic al-Hasa palm trees ceremoniously line 'Udhailiyah's streets, and Community Services utilities assistant superintendent Mohammed A. Al Ghamdi explains that the dates are harvested.
"Palm trees are very special to the people of Saudi Arabia, and this year our 1,100 native palms produced more than two tons of naturally-fertilized organic dates, which we send to al-Hasa for packing, as well as processing into date syrup and sweetener," he says.
"We distribute the packaged dates within our community, and use the products in gift baskets for guests visiting 'Udhailiyah," adds Al Ghamdi.
"Some of the dates are left for the local bat population, but rather than allowing it all to go to waste, we are respecting our environment by using them."
— The Arabian Sun: December 4, 2019 | Vol. LXXIV, No. 47