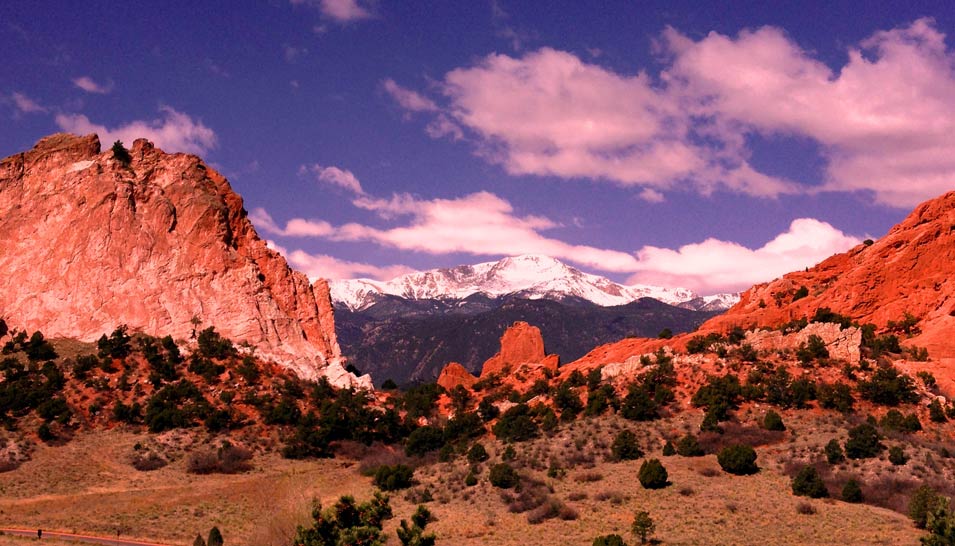 Annuitant AXP readers will be delighted to learn that dates have been set for the 32nd Biannual Aramco Hafla Annuitants Reunion. Mark it on your calendars: the 26th through the 30th of September 2020. The place? Cheyenne Mountain Resort in Colorado Springs, Colorado.
By selecting this city, this venue, and this time of year, the organizing committee has chosen one of the great tourism destinations in the country, a stunning four-star resort, and the ideal time of year—a perfect combination. If you've never visited Colorado at the height of fall colors when the aspens are glowing in all their golden glory, you're missing an unforgettable time. Now is your chance to experience what John Denver once called a "Rocky Mountain High" while reuniting with old Aramco friends and making new ones.
Operated by Dolce Resorts, Wyndham's premier brand, the Cheyenne Mountain resort is nestled in the matchless foothills of the Rockies with Pikes Peak and numerous other 14,000+ foot mountains towering on the horizon The resort features a Pete Dye-designed golf course, a 35-acre lake for boating and paddleboarding, a full-service spa, 17 tennis courts, pickle-ball courts, indoor and outdoor swimming, and a four-star restaurant. Golf and tennis tournaments are planned, and possibly a pickle-ball competition as well. There are enough on-site activities to keep you busy the whole time you're there.
But you'll no doubt want to venture out to take in the area's many wondrous attractions: Pikes Peak, the Garden of the Gods, the Air Force Academy, the Royal Gorge with the highest bridge in North America, and fabled frontier mining town of Cripple Creek where you can visit a hard rock gold mine or take your chances at one of many casinos found there. Other noteworthy attractions include the Cheyenne Mountain Zoo, Manitou Springs, the Cave of the Winds, and the Manitou Cliff Dwellings. A variety of group tours are being planned, and you'll always have the option of exploring on your own. Look for more details on the reunion and tours in the near future. And remember: You have the option of coming early and staying late to make the most of your Hafla reunion experience. Be forewarned, however: You may never want to leave!
The time to act is now as Hotel accommodations are limited. Reservations are already being taken by the hotel, while formal reunion registration—which will be required for all attendees—opens in the fall, 2019. Reservations made now with the Cheyenne Mountain Resort are fully refundable until August 2020.
John Palmer and Doreen Cumberford, along with Doug and Elizabeth Cook, are organizers for the 2020 Hafla. Updated details about the reunion will be posted regularly on AramcoExPats.com between now and the reunion's dates. In the meantime, anyone having questions about the reunion or an interest in volunteering may contact the hosts via email at [email protected].
Here is a taste of just some of the many treats that await you in Colorado Springs:
Over 50 fascinating museums covering a wide range of subjects, including regional history, aviation, trains, mining, money, insects, cowboys and fine art.
For more information on museums in the Colorado Springs area, visit: www.visitcos.com/things-to-do/museums/
The Garden of the Gods Park. "Explore Colorado Springs' paradise in one magical stop," its website tells us. "Imagine dramatic views, 300' towering sandstone rock formations against a backdrop of snow-capped Pikes Peak and brilliant blue skies."
For more information on the Garden of the Gods Park, visit: gardenofgods.com/
Air Force Academy. As explained on the Academy's website, you can take a self-guided tour of this "beautiful and historic campus. The Barry Goldwater Air Force Academy Visitor Center serves as the gateway to the United States Air Force Academy for hundreds of thousands of tourists each year. The center provides information on Academy history, cadet life and campus attractions."
For more information on the Air Force Academy, visit: www.academyadmissions.com/visit-the-academy/self-guided-tours/visitor-center-information/
Cripple Creek. Cripple Creek is one of the most famous gold mining towns of yore "full of fun attractions that are perfect for the whole family!" It's the birthplace of famous explorer/journalist Lowell Thomas, inventor of Cinerama, and his name and legacy are on prominent display there today. It's also home to a host of casinos where you can try your luck if gaming is your passion.
For more information on Cripple Creek, visit: visitcripplecreek.com/plan/attractions/
Manitou Springs. Here is another famous frontier town offering a rich assortment of activities to visitors.
For more information on Manitou Springs, visit: manitousprings.org/visitors-guide/
Over the next year, AXP will be featuring stories on all of these attractions and others in the Colorado Springs area. Be sure to keep watch. Don't miss out on the fun.