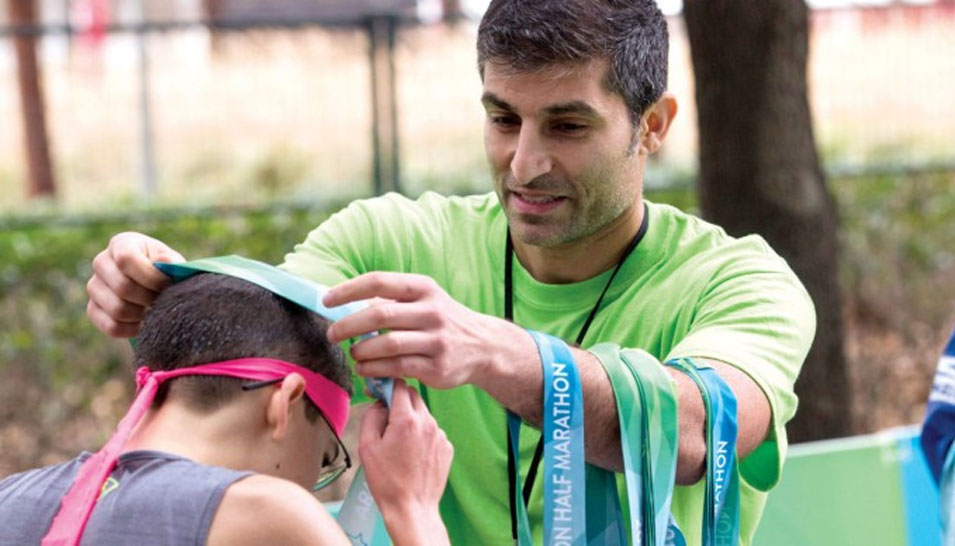 An Aramco volunteer presents a half-marathon finisher medal to one of the runners.
Meb Keflezighi, an Olympic silver medalist
and past winner of the Aramco Houston
Half-Marathon, signs autographs at the
Aramco exhibit.
The Aramco Houston Half-Marathon drew another Texas-sized field of runners — more than 15,000 for a second year in a row and the most ever for the race. Despite windy and rainy conditions, the hopefuls gathered on race day, Jan. 15, eager and ready to tackle the 13.1-mile course.
Leading the pack were the elite runners, with Leonard Korir from the U.S. breaking the finish line tape in the men's division. He clocked in at 1:01:14, just edging out an Olympic silver medalist and former two-time Aramco Half-Marathon champion Meb Keflezighi. Winning the women's division was Veronicah Nyaruai, who finished at 01:07:58.
The Houston marathon weekend features three races — the half-marathon, the full marathon (26.2 miles), and a 5K (3.1 miles) — and is considered one of Houston's most preeminent sporting events. Aramco Services Co. (ASC) came out in record numbers this year, with hundreds of employees — about half of the organization — running, volunteering, or both. Specifically, 150 runners — the most ever — joined the Aramco Running Team to participate in one of the three races. 
Global Recognition
ASC came out in record numbers this year,
with hundreds of employees — about half of
the organization — running, volunteering,
or both.
For the second consecutive year, the Aramco race and full marathon were broadcast to 120 million homes globally via ESPN3 and the Longhorn Network, as well as the ABC-TV local affiliate. Additionally, 250,000 spectators lined the course to cheer on the runners.
Houston Mayor Sylvester Turner said marathon season "is always an exciting time for the city" and recognized Aramco and the other sponsors for being a vital part of its success. He also said he was proud that the running event reflects diversity among its participants and raises money for local charities.
Aramco has served as title sponsor of the half-marathon for 13 years. During that time, race participation has tripled, with registration reaching capacity. The Aramco race has hosted 16 U.S. half-marathon championships and was recently named a "Bronze Label Road Race" by the International Association of Athletics Federations (IAAF) for meeting IAAF quality standards.
Runners from around the world — all 50 U.S. states and 47 countries — participate in the event, which has also received international awards for its environmental initiatives.
ASC president and CEO Basil Abul-Hamayel said Aramco is proud to support an event that means so much to Houston and one that has earned its place on the world stage. "This is much more than just a race," he said. "It is a source of inspiration to everyone who is part of it."