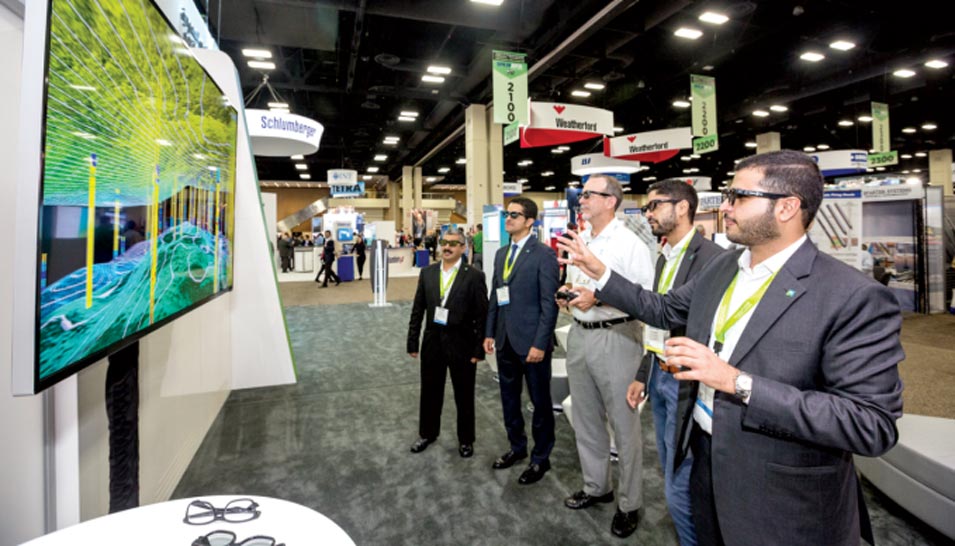 Aramco's SPE exhibition stand had different activities to engage with visitors.
For more than 90 years, the Society of Petroleum Engineers (SPE) has created a platform for sharing technical ideas in oil and gas exploration and production, and serving as a place for industry to debut its latest technologies.
This year's Annual Technical Conference and Exhibition (ATCE) in San Antonio was no exception. Saudi Aramco has been a longtime supporter of SPE and served as a titanium sponsor and exhibitor at the conference. The Middle East region has one of the largest and most active memberships in the organization.
Delivering on a Sustainable Future
Aramco professionals chaired sessions and presented more than a dozen technical papers and at the Aramco stand, in-booth presentations were conducted daily to highlight the company's advances in robotics, and a novel solution using a date seed-based particulate product in drilling operations.
SPE's opening general session "Sustainable Oil and Gas: Improving People's Lives" featured a panel of speakers, including Saudi Aramco's Khaled A. Al Buraik, vice president of Southern Area Oil Operations, discussing how Aramco and the industry is delivering on a sustainable future.
CEO earns SPE Distinguished Lifetime Achievement Award
During the annual reception and banquet, seven Aramco professionals were among the honorees who were recognized for their significant technical and professional contributions to the industry and exceptional service and leadership to the society.
Saudi Aramco president and CEO Amin Nasser was awarded SPE's Distinguished Lifetime Achievement Award, which was established in 2013. The award recognizes an individual who has exhibited an exceptional devotion of time, effort, thought and action to set them apart from others.
Amin Nasser, Saudi Aramco President & CEO
I have long been a member and keen supporter of SPE. It plays a vital role internationally. Although our industry is facing numerous challenges today, I am confident that we can capably address them through enhanced training, education, knowledge sharing, and partnerships.
Other Awards
For his leadership and support of innovation at the highest levels of management, Nasir K. Al-Naimi, Saudi Aramco's vice president of Petroleum Engineering and Development, was recognized with SPE's Charles F. Rand Memorial Gold Medal for distinguished achievement.
Advancing petroleum engineering in the area of formation evaluation, core analysis, well logging, and petrophysics earned Mark A. Proett, petroleum engineer, Aramco Services Company (ASC), SPE's Formation Evaluation Award.
An academic and researcher at heart, Anuj Gupta, a petroleum engineer with ASC, was recognized with SPE's Distinguished Service Award for his exceptional devotion to the organization and the many hours he has dedicated to volunteer service.
For leadership in public and community matters, the petroleum engineering profession and the petroleum industry, SPE awarded Ali M. Alkhatib, a petroleum engineer at Saudi Aramco, with its Young Member Outstanding Service Award.
Joining the ranks of SPE Distinguished Membership for distinction worthy of special recognition, and who have made significant contributions to the organization, were Hui-hai Lui, a petroleum engineer at ASC, and Nabeel I. Al-Afaleg, chief petroleum engineer at Saudi Aramco.
Visitors to Aramco's exhibition booth learned about the company and its expanding global reach, as well as diversification of the company's portfolio further down the petroleum value chain to refining and chemicals. Aramco's Houston office supported the event, which was attended by more than 8,000.