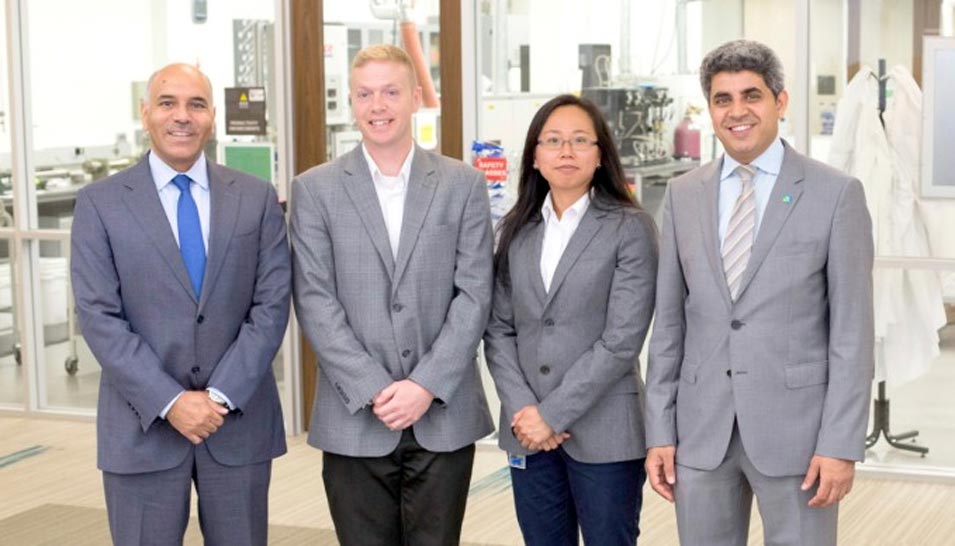 Basil Abul-Hamayel, left, with Ashraf Al Tahini, right, and winners Jason Cox and Hooisweng Ow of the Aramco Research Center - Boston.
A friendly competition between the U.S.-based Aramco research centers to identify innovative ideas and foster collaboration has resulted in the top award going to a project focused on a flow back diagnostic process that could be tested in field trials in the near future.
Conceived by ASC R&D director Ashraf Al Tahini, the 2016 Ideas Challenge resulted in 15 submissions from researchers at the centers in Houston, Boston, and Detroit.
"The entries had to be relevant to the technical and research challenges being addressed by the centers," said Al Tahini. "The impressive submissions were reviewed and ranked with the top five teams presenting their ideas via videoconferencing to all employees. The researchers' peers voted on the final ranking."
Presenting the awards, ASC president Basil Abul-Hamayel said: "It's encouraging and exciting to see cross-center collaboration. Thank you for being energized about your work and in helping the enterprise achieving its research objectives. We look forward to more collaboration between the research centers."
Time-Saving Technology
The winning entry was "Multipurpose Paper Diagnostics for Rapid On-Site Chemical Analysis" by Jason Cox and Hooisweng Ow of the Reservoir Engineering Team at the Aramco Research Center-Boston. Their idea uses low-cost, paper-based sensors — commonly used in the medical field for disease detection — for flow back analysis.
Currently, timely detection and quantification of reservoir variables — traditionally measured by downhole approaches, such as logging or tedious laboratory analyses of fluid — are both capital and time intensive.
"We believe the low-cost nature and portability of such an approach using these paper sensors could become an innovative technology for reservoir variable detection in the field," said Cox. "Flow back analysis of reservoir fluids after a fracturing job has recently emerged as an analytical approach to understanding fracture network complexity."
High-branched fracture networks contain a larger surface area to volume ratio which is in greater contact with injected fluid and exchanges various ions in the fluid. "By measuring the total salinity and ionic composition of fluid during flow back, we can deduce the fracture network complexity, and possibly, the future productivity of the well," he said.
"Our ultimate goal is to develop a portable test kit for flowback analysis directly in field with a readout through a mobile-phone application," added Ow.
The Beginning of an Idea
Harvard University is currently conducting similar research for disease detection. "Boston is a hotbed of research with many exciting things happening," said Cox. "We were familiar with this Harvard research and wondered how it might have an oil field application. That gave birth to the idea. We have had a number of meetings with the Reservoir Engineering Team at the Aramco Research Center-Houston to hone in on specifics and how to best test our theory."
Ow said: "We want to be able to bring it to the field through collaboration with others at the Houston Research Center. It's something that can be produced in the lab in short order. The testing isn't done with tools, just fluids, so we hope to have a field test in about a year. And, since chemicals are not involved, this process can piggyback onto another field test, forgoing the need for its own specific field test."
All of the researchers welcomed the concept of the Ideas Challenge and the chance to work with their colleagues across the enterprise. "Aramco's research program has given us the flexibility to think more, which is not always the case with industry research," said Ow.