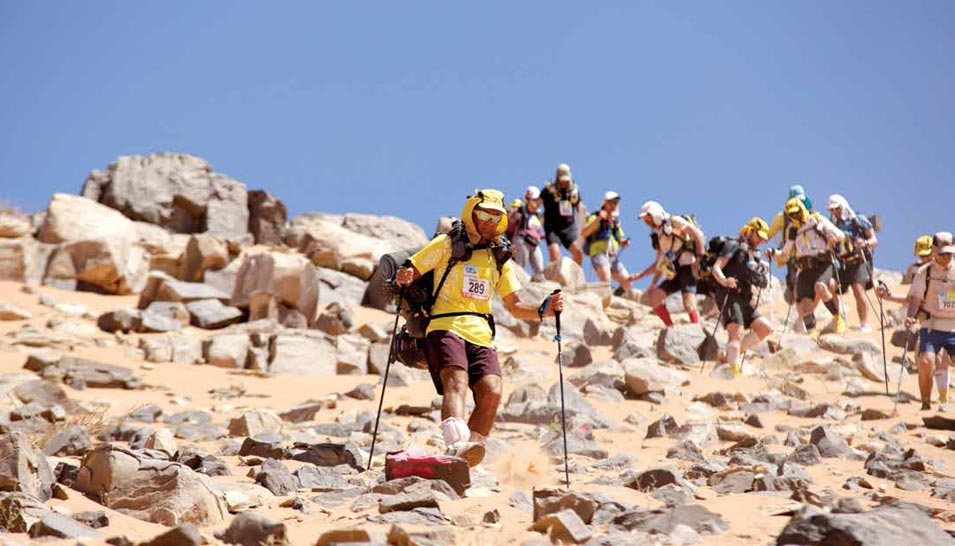 "Marathon des Sables" participant Andrzej Szefler proudly carried the Saudi Aramco flag at an ultra-marathon this year, where runners race across 251 kilometers of challenging terrain in Morocco's Sahara Desert.
by Janet Pinheiro
During springtime, the salt plains of southern Morocco's Sahara Desert glisten to white-hot temperatures of more than 40 degrees Celsius, and for six days in April, hard-edged "Marathon des Sables" participants daringly race across 251 kilometers of its shimmering plains, adjoining sand dunes and rocky jebels.
Covering a distance of six regular marathons, the French-named "Marathon of the Sands" is reputed to be the toughest foot race on Earth, and this year's event saw a Saudi Aramco flag carried from start to finish.
Andrzej Szefler, a doctor with Johns Hopkins Aramco Healthcare, Saudi Aramco's on-site medical facility in Dhahran, joined 977 athletes from 50 countries, aged between 16 to 79 years, to fulfill a long-held dream by taking part in this year's competition from April 8-13.
"I heard about the 'Marathon des Sables' in 1986 when I was in medical school, and almost signed up to do it three years ago, but decided to go hiking in Nepal instead," he said.
The marathon is a race with six stages and includes a grueling 86 km nonstop section on Day 4 and Day 5, when people have the option to walk overnight.
Racers have to be self-sufficient and carry all their equipment with them such as a mattress, sleeping bag, clothes, and food. Organizers only provide tents and water, and the major difficulties include heat and sand.
Szefler displayed a Saudi Aramco flag on the outside of his pack, and along with the 95% of participants who completed the course, finished the marathon, recording an admirable time of 63 hours, 13 minutes, and four seconds.
Keeping his mind focused on the 86-km overnight stretch was the biggest challenge for Szefler, but it also proved to be one of the greatest highlights.
"The temperatures are cool when walking in the dark over the dunes, and it is magnificent to see the night-time stars. Walking the salt plain on Day 2 was the scenic highlight, as it is set against a magnificent backdrop of mountains," he said.
In his mid-50s, Szefler said living in Saudi Arabia was a good preparatory environment for the marathon's heat and sand.
"I started training in January by walking by Janet Pinheiro the golf course perimeter, and in February, I changed to traversing the sand and hilly areas around the Dhahran community," he said.
Szefler started running while completing medical school in Poland and has completed 15 marathons in diverse parts of the globe — Poland, Italy, the U.S., and Canada.
Following a foot injury, in 2008 he swapped his running shoes for speed-walking footwear and describes the sport as an "exciting way to keep in shape."
He encourages people who enjoy extreme adventure sports with a challenge to consider the "Marathon des Sables" — providing they prepare both physically and mentally.