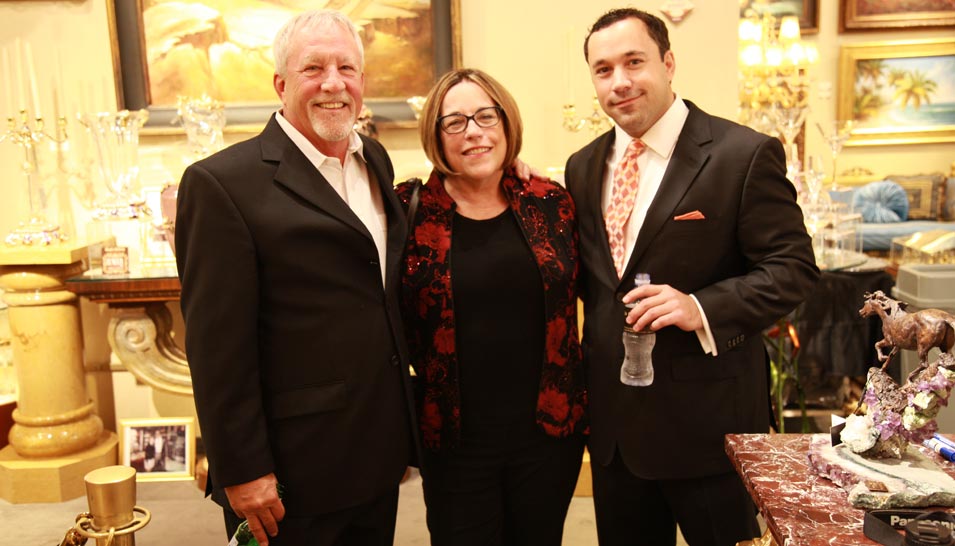 Byron, Cindy and Erik Hebert
The story we share with you this week is told by an Aramco brat, Erik Hebert, whose parents Cindy and Byron many of our readers know. Cindy taught first and second grade in the Kingdom while Byron worked in materials supply and project management for Dhahran Hospital Development. He was also president of the golf course there.
Their son Erik was born in Saudi Arabia in 1979 and spent many of his growing-up years there. Erik enjoyed living in the safe community that was Dhahran, traveling throughout the world, and building enduring relationships with fellow Aramco brats, all of whom he considers to be fellow members of a great worldwide community.
One of Erik's fondest memories was playing Little League baseball in the Kingdom and making it to the Little League World Series in Williamsburg, Pennsylvania. Erik's own words tell his story best:
That was the single biggest joys of my life as a kid. I also loved being a returning student and coming back for weeks of fun with my friends and family and traveling through Europe. I still consider Saudi home in a way.
Leaving Saudi Arabia, I attended Stevenson Boarding School in Pebble Beach, California. From there I went on to earn a degree from the Marshall School of Business & Lloyd Greif Center for Entrepreneurial Studies at the University of Southern California In Los Angeles. My studies focused on entrepreneurship and marketing.
In 2003, I co-founded a promotional products company and later received a "30 Under 30 Revolutionizing The Industry" award recognizing my achievements in an 11 billion dollar Industry. I have since been involved in a variety of business ventures, including nine start-up companies with varying degrees of success. But, for all that, nothing has been as notable and as challenging and rewarding for me as my sobriety.
Over the last nine years, I have been Sober eight years and eight months, punctuated by a brief relapse that changed my life forever. After a retail consulting job at the Venetian Resort and Casino in Las Vegas, I realized I needed to be of service and dedicate myself to helping others. I am currently the Director of Development and Marketing for the New Beginnings Recovery Center & Mary's Hope. We have helped over 1500 people get clean and sober. We created and staged "The Clean & Sober Olympics" and are hoping to stage similar events all over the country.
The main purposes of this event are to raise public awareness, help people to be proud of their sobriety, raise money for those who cannot afford treatment, and change the stigma of addiction in society all of which saves more lives. When we are clean and sober we do so much good for our communities and for others suffering from Substance Use Disorder ("SUD"). I believe one of the main causes of relapse is because we are not proud and excited about sobriety.
Mary Brewer and Erik Hebert
I recently took part in a meeting with the Attorney General of Colorado, Cynthia Coffman. Together we are sharing ideas on how to fight America's most neglected disease, SUD. We are a 501(c)3 nonprofit and need as much support as we can get. Every dollar raised goes towards supporting recovery. We offer a comprehensive treatment program from Residential Inpatient, Outpatient, 14 Clean & Sober Living Homes, DUI Education, Clean & Sober Olympics, and Supplemental Care and Services. We are one of the leaders in Colorado and have one of the highest success rates. Our Founder and CEO Mary Brewer has given over $1.5M to support our nonprofits and is providing over $200,000 in scholarships this year alone. She is a woman of God and speaks every Sunday to all those in treatment. She saved my life.
From all my successes and all my failures, I have come to realize that peace is achieved through hard work and continuous healing of the body-mind-spirit. Being rich or poor doesn't matter to me anymore. Peace in my heart and soul is what matters most to me and that comes from helping others. I lost my best friend Jason (another brat) to suicide and I was once very close to committing suicide myself. I work on myself daily and I humbly ask all those in our extended family of this community to donate any amount he or she can afford to the New Beginnings Recovery Mission. Recently as my birthday approached on July 4th, I remembered back to all the love and support I was given in Saudi. I am forever grateful to Aramco, the Saudi Kingdom, and my family for all the love that was so generously given to me.
The deep pain and suffering that I have gone through in addiction I would wish on no one. Over 120 million people are affected by addiction in some way. I now fight against addiction, and support recovery every single day. If you would like to see more about my story and our nonprofit and the amazing work we are doing please click on the links below. We humbly ask for your support as every dollar helps to save lives.
Readers can contact Erik via email at [email protected].
For more information on the New Beginnings Recovery Center, visit their website:
http://www.newbeginningsrecoverydenver.com/.
Click on the following URL to view the Sober Olympics video:
http://www.newbeginningsrecoverydenver.com/sober-olympics.html