by Janet Pinheiro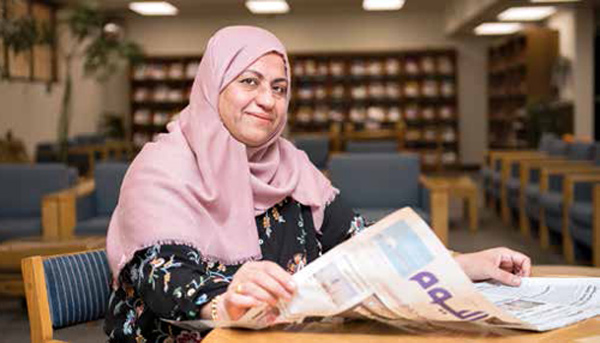 The Dhahran Recreation Library is one of the favorite places for resident Laila Khashan to visit. The library offers Arabic and English fiction and nonfiction books, media materials, magazines, and newspapers.
Dhahran — To mark more than 30 years of living in the Dhahran community, the Saudi Aramco's Residential Services Division recently hosted 12 residents and their partners to a luncheon of memories and merriment at Ad Diwan Hall.
The laughter started early when, to a background of past and present community photos, standup comedian and fellow Dhahran resident Rehman Akhtar welcomed the guests with a little light-hearted banter about embracing cultural differences, community living, and travel.
"Adding a little interactive comedy spice went down well with the guests' wide range of nationalities," said Akhtar. Saudi Aramco works to make its residential communities to be a wonderful place to be, and longer-term residents contribute significantly toward maintaining happy living and working environments for everyone.
The anniversary event recognized residents partnering with the Dhahran Community for more than 30 years, explained Residential Services Division head Turki Rayyani, who described the luncheon as a "memorable gathering not only for the residents, but for all of us.
"The residents' continuous feedback was one of the main sources we utilize in our ongoing journey to improve the services we provide," said Rayyani. "Our target is to build a lifestyle community that is nourished by its residents."
As Things Change, Friendliness a Constant
Sarah Sherbrooke enjoys evening walks on the pedestrian path around Dhahran's 18-hole golf course, where well-maintained natural grass fairways lined with treed areas host a variety of local and migrating birds, as well as local wildlife.
Sharing in the fun and happy memories were Dhahran residents since the 1980s, married couple Peter Thacher and Sarah Sherbrooke, who love the community's lifestyle and their house.
Speaking from their home in Ash Court, the couple said it was humbling to be recognized and thanked at the event. "We have spent our entire adult lives here and have had a terrific time," said U.K.-born Sherbrooke.
With new additions, improvements, and ongoing renovations, very little over the years has stayed the same in Dhahran, and Sherbrooke said the number of restaurants and sports facilities has increased substantively.
"What has remained constant is the friendliness of the international residents," she said.
A water lover who grew up spending summers on an island in Maine, U.S., Thacher enjoys using the community's range of swimming facilities, and one of his favorite places is Half Moon Bay, where he was chairman of the Yacht Club for 25 years.
"Dhahran is a simple quality of life. I can bicycle to work in five minutes, but also be working for one of the world's most significant companies," he said.
A Diverse Place To Call Home
Clinical dietitian Laila Khashan, who came from Jordan in 1987 to work at Dhahran hospital, says Dhahran is her home.
"I have lived here for 32 years, and the people at the hospital and in the community are my family," she said. "It's a good place to learn about different cultures."
A regular user of one of the community gyms and swimming pools, Khashan said the camp's range of recreational facilities has grown over years.
"There's so much to do," she said. "My favorite place is the library. It has a good selection of reading material, and it's convenient to the café, restaurant, bowling alley, and cinema — and a good place to meet and catch up with friends."
Traveling to other company locations in her earlier career to deliver dietary services, Khashan said patients today are better informed about health care.
"The young generation are highly educated and they are using the internet and the technology smartly," said Khashan.
Privileged to Celebrate the Decades
Peter Thacher swims regularly at the Hills swimming facility, which is open until 10 p.m. each night, has two 25-meter pools, a children's pool and outside jacuzzi, a nearby café, gym, and tennis courts.
Irish nurse Mary Watters, who moved to Dhahran in 1986, loves living in Saudi Arabia and felt privileged to attend the anniversary event, describing it as "delightful."
Watters, who has lived in four Dhahran locations over the years, said community residents have so much to be grateful for.
"When your home requires any form of maintenance, you just dial 939, and everything is fixed at no charge," Watters said.
"The natural settings around the community are spectacular, with trimmed gardens that are beautifully maintained under sometimes challenging climatic conditions," she added.
A regular user of many of the leisure activities available — free exercise facilities, art classes, and adult education evening classes — Watters admires the camaraderie and teamwork among residents.
"Nationalities from all over the world live and work very well together," she said. "We are a great example to the rest of the world."
Witnesses to History
Central Community Services Department manager Meshaal S. Al Khaldi acknowledged the value recipients of the 30th anniversary residency trophy have brought to the community.
"They have witnessed how Dhahran developed and flourished from its humble beginnings into a world-class community," he said. "The facilities and services currently available are the result of Central Community Services Department's close relationship with residents," said Al Khaldi. "The department stays in tune to the needs of the population and will always seek the residents' invaluable feedback and suggestions to further improve the community."
Elegant Urban Oasis
Rich in history and heritage, Dhahran has been Saudi Aramco's home since 1933. It is the site of Saudi Arabia's first oil discovery — Dammam Well No. 7 — later renamed Prosperity Well.
Covering approximately 12 square kilometers, Dhahran remains the company's largest residential community and has evolved into an elegant urban oasis for about 14,000 residents, who enjoy manicured parks, leafy tree-lined streets, and an extensive choice of recreational and sports facilities, as well as numerous dining halls, snack bars, and coffee shops.
The community has a variety of accommodation, comprising houses, townhouses, and apartments, as well as single-room accommodation for people, and a recently added new area of larger homes named "Jebel Heights."
Newly opened, "Dhahran Suites" offers hotel-style accommodation for camp visitors.
Like the company's other communities, Dhahran inhabitants represent most of the world's nationalities, religions and cultures, and, as Saudi Aramco employees, share a sense of commonality and comradeship.