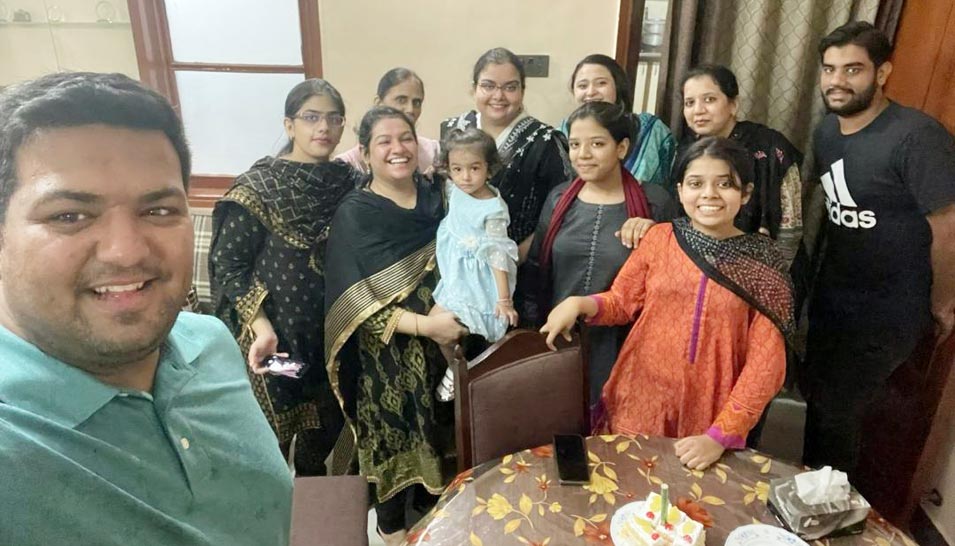 A beautiful selfie of the group taken by Taimur.
The following report was written by Zoya Imran, granddaughter of Saudi Aramco Ex-Employee Engr. Iqbal Ahmed Khan of Karachi, Pakistan.
On the 19th of September, after the span of 4 years, Anum Aftab, my Khala, visited Pakistan with her husband, Taimur Barlas. Although she had come to Karachi from the USA, for a very short period of 2 days, as her in-laws resided in Lahore, everyone had a blast together.
The whole time was spent reliving memories and catching up. Gifts were exchanged and delicious food was cooked.
Anum and Mrs. Zohra Iqbal, my Nani, were born on the same day, 23rd September. Likewise, Faryal Khan, my Mami and Taha Ahmed Khan, my Mamu, are born on the 26th and 27th of September, respectively.
Habib, Bushra, Faryal, Rudaba. Erum, Anum, Samia, Kiran, Obaid, Taha, Bilal, Ayra, Zoya and Zara having fun drinking shakes.
We made a trip to Bismillah Milk Shop, on the night when Anum arrived and treated her to a milkshake. We all collectively enjoyed our drinks, making it a joyful experience.
Everyone decided to celebrate all the birthdays collectively, instead of doing it individually, on the 22nd. We bought cakes and a feast was prepared! Including Biryani, Nihari, Shami Kabab, Koftay and Kheer for dessert! Taimur and his mother Shahida Barlas joined us for lunch and it was wonderful.
We took lots of pictures and everyone had loads of fun. Hoping to relive this joyful moment soon again, Insha'Allah!