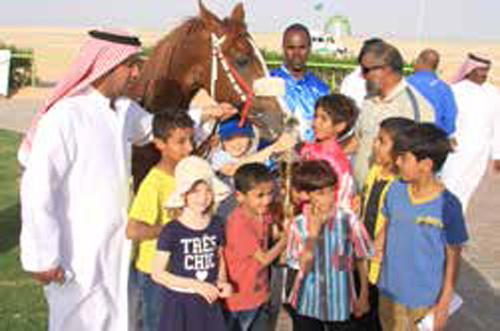 Isla Bethune and her family visit the
Square Equestrian Center in al-Hasa,
where they had a chance to get up close
and personal with one of the horses.
During our holidays, our mother and father decided to take us on a special road trip to al-Hasa. Our family was welcomed by a tourist company and was taken in a convoy of Hummer vehicles. It was great fun as we had a radio in each car. The lead car pointed out things of interest along the way.
We were going to see the sights of the region of al-Hasa, which holds the reputation of being the largest oasis in the world. We excitedly headed for the oasis, as we didn't know what to expect and were very keen to see this wonder. We did not know that much green growth could exist in Saudi.
It was about a 90-minute drive from Dhahran before we started reaching lush green growth towering above us. We were told that this oasis was home to 1.5 million palm trees, which produce dates for three months of the year — something we thought was astonishing.
Isla Bethune, 10 years old,
Dhahran
We were told that the large water channels we saw brought in water from the local springs, which provided the 140 liters needed per tree per day. It was amazing to think each tree needed that much water each day. Because of this water supply, there are many farms in the area, and amazingly, because it was running water, this area was not home to any mosquitoes.
Among this incredible greenery, we were led to the ancient Jawatha Mosque, one of the oldest mosques in Islam. Established in year 7 Hijri (628 A.D.), it has been beautifully restored to its original condition. After gazing at its dazzling location in a belt of trees and sand dunes, we were taken inside out of the hot sun and were pleased to find that it was lovely and cool thanks to its well looked after mud and clay walls. It was obviously a respected monument, as it looked like it hadn't been touched since it was first used for Friday prayers.
We left the mosque and its peaceful surroundings and traveled to a restaurant hidden in part of al-Hasa oasis. Its traditions have been kept, and it served the same delicious chicken and fish dishes that it had years ago. We gladly joined the happy atmosphere where lots of families were having fun.
After lunch, we journeyed to the grand al-Hasa racing track. There, we were privileged to meet Sharf A. Ali, head of Public Relations at the Square Equestrian Center in al-Hasa. He welcomed us on behalf of the director of the Equestrian Field.
We were then introduced to the top students from Al-Hasa High School and their proud teachers. They were there to join us and practice their English.
We were taken to our seats in the grandstand overlooking the attractive paddock and race course, where the sleek horses thundered round the racetrack, obeying most of the jockeys' commands.
As a privilege, we were invited down to hold the golden trophy with the jockey — and have our photo taken with the winning horse. We talked to the students in the grandstand and watched them being presented with prayer beads, which were presented to them for achieving high grades in English and other subjects.
The hospitality was wonderful. We were presented with various dates, cakes, biscuits, local delicacies, and delicious teas and coffees. After the racing had finished and the trophies had been given out to the jockeys and owners, we stopped by the director's office, where my parents and grandparents were honored with colorful bisht and thobe ceremonial gowns.
Overall, it was an astonishing experience, and we thoroughly enjoyed the whole day. If you haven't been there, I strongly recommend you see the beautiful sites of al-Hasa.