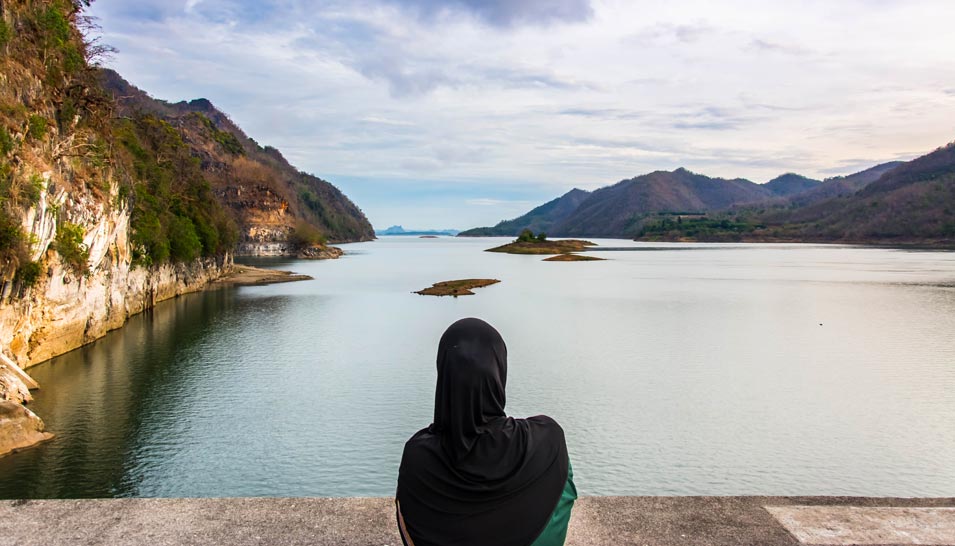 Written June 16, 2017 by William Bauer (Instagram: @desert_marathoner) & Leah Schmidt (Instagram: @wanderlust_express). Republished with permission.
I never intended to become an English teacher. But, I had always intended to come to Saudi Arabia.
Twelve years ago I was on a train making my way to interview for a place to read Arabic at Leeds. I had never visited the Middle East, nor even heard Arabic spoken. In truth, I had little idea about anything.
To prepare, my mother gave me a copy of the Lonely Planet Middle East edition. As I aimlessly glanced through the pages, one country caught my eye. Looking back, the chapter was particularly under-sourced, under-researched, full of stereotypes: Big, boring cities. Strict laws. Desert for days. No tourist visas. A country you go to for work, and then leave as swiftly as possible.
As rain hammered on the window, I reflected that this country, Saudi Arabia, would be an interesting country to visit. Difficult, but interesting. I liked the desert I told myself, returning to reverie.
Six years later in the autumn of 2011, Leah and I arrived in Saudi Arabia armed with TEFL certificates, valid work visas, and Leah's camera. Little did we know that this was to be the start to an incredible adventure; one that was to mark our twenties, shape our perceptions of the world, and make us into the people we are today.
Almost immediately we realised that Saudi Arabia is about so much more than a tax-free salary or societal strictures. Rather, Saudi Arabia is a country that consistently defies many of the sensationalist stereotyping so eagerly thrust onto it.
A few weeks ago as Donald Trump visited Saudi Arabia on his first foreign tour, the Washington Post wrote:
"In a country where cinemas are banned and even Starbucks are segregated by gender, a powerful young prince is pushing a plan to create jobs for women and a more integrated and satisfying social life for a youthful population long straitjacketed by oppressive cultural norms."
Two things are immediately striking.
The first, that the author ridiculously asserts public spaces in Saudi Arabia to be so segregated that even Starbucks is forced to comply; as if they are usually sovereign soil immune to local laws and customs.
The second was that the Washington Post was, broadly speaking, correct. To speak of a uniform, unchanging, staid society is to be ignorant of current trends. In the past three years, this pace of change, whether by design or incidence, has been greatly stepped-up.
Consistent gains are happening nationwide, reforms becoming harder and harder for any opposition to roll back or unpick. As such, not only are we living a time of great change in Saudi Arabia, but the changes that we now consider almost routine would have been seen as so bold as to be era-defining barely five years ago.
That said, we are not blind to ongoing restrictions. Nor do we disregard them in our quest to impose our own view of the country. We acknowledge that, as outsiders, we have frequently held a highly privileged position with all of our Saudi interlocutors. From our first interactions with Saudi Arabia it was apparent that it does have flaws, as all nations do.
Yet, we also knew immediately that Saudi Arabia had great soul, cultural depth, wonderful people, and an amazing beauty; all of which are frequently bypassed in a rush toward oversimplification.
During our six years here we have actively sought out the alternative Saudi Arabia to the one commonly portrayed and sensationalised by media, outsiders, and even, on occasion, Saudis themselves. The unexpected Saudi Arabia.
We journeyed to mountain ranges south and north, through seemingly limitless desert in the Rub al-Khali', along the western coast's sleepy fishing towns and pristine beaches, past the oil installations dotting the horizon in the east, and onward to expanding urban cityscapes of Riyadh, Jeddah, and Dammam.
We found quiet solace in Ha'il, tasted the delicious pastries of Qassim, smelled air scented of rose in Ta'if, sampled the vibrant foodie scene of al-Khobar, hiked deserted wadis in Tabuk, marveled awestruck at the rose-red remains in Mada'in Saleh, climbed to the rooftops of centuries old tower-houses in historic Jeddah, witnessed the elegant beauty of the fortified villages in al-Baha, and gazed out onto Abha from Jebel al-Soudha. Be it mandi, kabsa, jereesh, taziz, motabbaq, masoob, arikah, asidah, or haneedh, we've had it all, with ample second helpings. We found trendy hipsters, female YouTube stars, culinary masterminds, witty stand-up comedians, mobile network technicians with MIT degrees, pioneering heart surgeons, ardent coffee connoisseurs, fearless art aficionados, adventurous Instagramers, persistently lost ride-share drivers, cashiers, digital entrepreneurs, waiters, crane operators, bankers, photographers, architects, designers, artists, and on and on. Professionals and non-professionals alike. Both male and female. All Saudi. An ever growing plurality of young people seeking to make their mark, have their voice heard, and be counted in a country that is profoundly different from their parents and grandparents knew.
On all our journeys we have broken bread with young and old, rich and poor, high-caliber graduates and self-taught wunderkinds, business-owners and employees, well-traveled and not, technology addicts and technophobes, unemployed and self-employed, educated in Saudi and educated abroad, the God-fearing and the godless. Women and men of all stripes and hues from across this land have lectured, told stories, related jokes to, entertained, informed, surprised, and educated us, before, finally, capturing our hearts.
Writing with the benefit of hindsight we would begin the Lonely Planet entry on Saudi Arabia thus:
"A visit to Saudi Arabia will defy any terms you associate with it. It is a place whose embrace of nuance and complexity is unexpected. A country whose horizons are continually expanded by the industry, talent, and fortitude of its peoples. Where dynamism and creativity are inherent. Coming here, you will assume you know what Saudi Arabia is. Don't. It will surprise you and draw you in. Allow yourself to succumb to its charms, revel in its subtleties. As traveler or resident, eschew common over-simplifications and come with your eyes open. Question. Listen. Discuss. Absorb."
In the end, we pay tribute to Saudi Arabia's greatest asset: its people.
It is Saudis who have shown us the true beauty of their country. They are some of the kindest, most generous, witty, intelligent, forward-thinking, and compassionate people on Earth. Taking hours, even days, out of their lives to show us around, talk with us, and let us glimpse the true, unexpected Saudi Arabia they know. It is they who have been the core reason for our continued stay here, leaving a mark that will endure for both our lifetimes.
Although I came to this country knowing little, I have left wanting to know ever more.
Ma'a aSalamah, yah al-Saudia.
Authors: William Bauer (Instagram: @desert_marathoner) & Leah Schmidt (Instagram: @wanderlust_express)