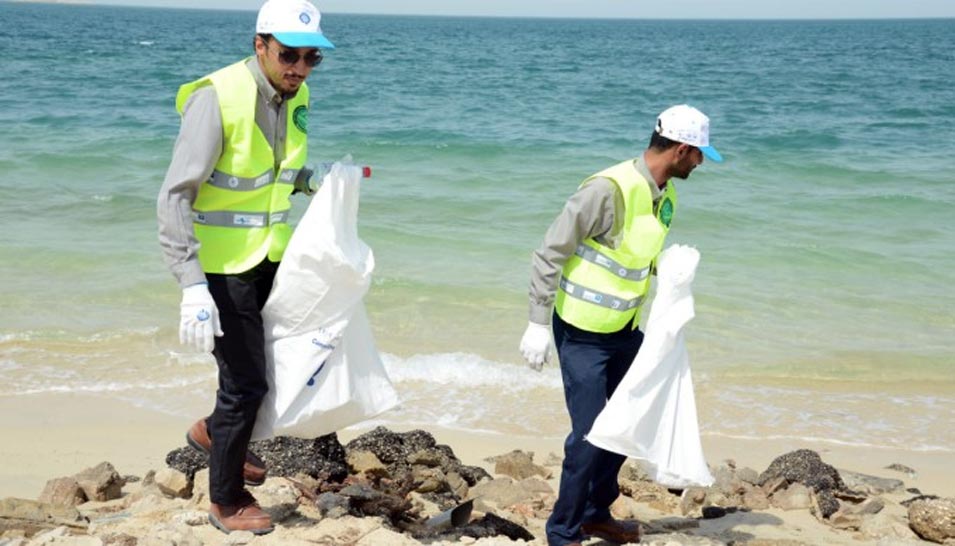 Cleaning the Red Sea coast is just one of the activities planned and supported by our Environmental Protection Department.
With the growing ecological challenges facing all countries around the world today, environmental awareness is an education tool of great importance. Awareness campaigns are a critical step in helping the movement to restore natural resources and reduce environmental footprints.
At Saudi Aramco, one approach embraced by the Environmental Protection Department (EPD) involves the launch of environmental awareness campaigns in conjunction with internationally observed environmental days celebrated around the world. These events focus on various themes.
In 2016, EPD and the Public Relations Department organized interactive exhibits in three different locations around the Kingdom, focusing on a variety of environmental themes and topics, targeting families by utilizing 4-D multimedia technology to convey messages regarding water importance, water scarcity, and water resources. These tools succeed by instilling positive behaviors needed to conserve water, electricity, and other aspects of environmental protection in daily activities. 
World Water Day
The first campaign was on World Water Day in March of 2016 in al-Khobar, featuring the theme "Water Conservation." The event aligned with the Kingdom's efforts to educate the public on water conservation and the urgent need to control water consumption, especially in a country such as Saudi Arabia that has limited hydrological resources.
World Environment Day
A second water conservation event took place in al-Hasa with a campaign that observed World Environment Day with an event in al-Madinah city. World Environment Day is celebrated every year on June 5 around the world, and Saudi Arabia is no exception. This day is celebrated to raise awareness of the global need to take positive environmental action. The campaign and exhibit is run by the United Nations Environmental Program (UNEP) and focuses on different environmental topics each year.
Saudi Aramco's World Environment Day exhibit welcomed about 10,000 people of all ages to learn how their daily approach to water usage can help save the planet. The campaign consisted of various interactive display sections (Annual Renewable Freshwater Resources of Saudi Arabia and Water Scarcity, Saudi Arabia National Water Challenge, Water Conservation Display Tools, Water Conservation Games, Zero Escape, and Recommendations for Kitchen Water Conservation) — all of which were designed to appealed to both children and adults, including a 4-D movie titled "Masah."
Other Campaigns
Separately, employees at Saudi Aramco facilities often arrange their own awareness events throughout the year, both inside and outside of the company, with the support of EPD. The department supplies materials and subject matter experts who participate in the events and provide technical presentations and webinars.
Environmental awareness events are spread out across the year, and they are a part of Saudi Aramco's corporate social responsibility. They serve as one of the tools to build positive behaviors toward the surrounding environment, among employees and the public, and the campaigns reinforce the need to conserve all of the Kingdom's natural resources.