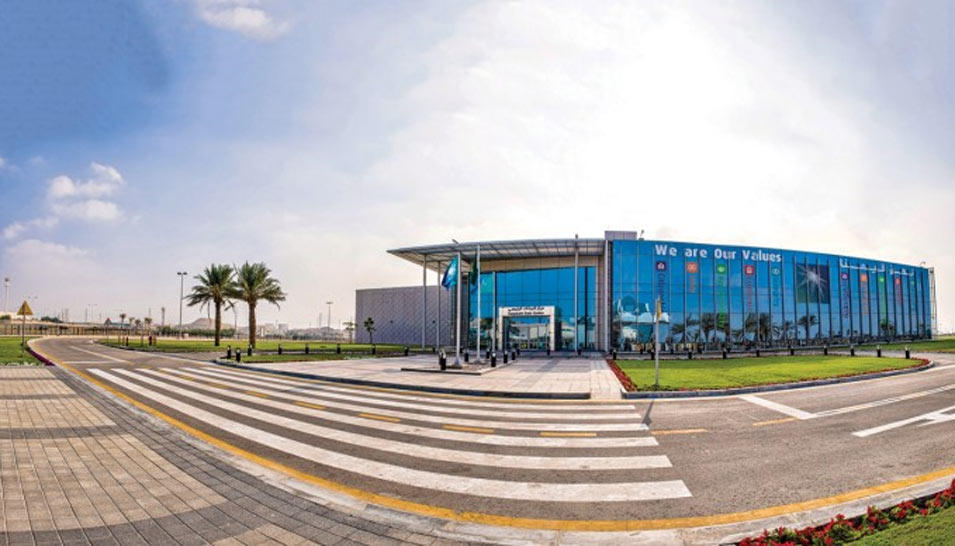 For more than a decade, Information Technology (IT) has continued to provide the company with services and innovative technologies that support the company's oil and gas operations and strategic objectives.
In line with the company vision, IT is driven by the value of its human resource base, the expertise and skills of the people, and a continuous focus to apply best-in-class practices. Our emphasis has been on operational efficiency, use of innovative technologies and solutions, and a focus on safe operations.
IT is an integral driver in everyone's lives, whether that's at home or at work. At Saudi Aramco, that includes enabling access to a wide range of communication services, advancing our capabilities to process, store, and access data anywhere and anytime, and transforming traditional brick-and-mortar institutions into virtual agile organizations.
Saudi Aramco IT has always been at the forefront of providing solutions that are aligned with company business and strategic objectives. These solutions cover a wide spectrum that includes hydrocarbon management, finance and logistics, human resources, corporate email, aviation, marine, mobility solutions, private cloud computing, and much more. These solutions drive Saudi Aramco's daily operations into the future to meet the company objectives, as well as allow users to perform everyday activities in a secure and productive manner.
The proliferation of IT services has been achieved through an enhanced integration of the three main areas of IT — application, computing, and communication. This surge has put an emphasis on cybersecurity to protect and secure the various services delivered by IT.
Ahmad A. Al Sa'adi, senior vice president of Technical Services, was recently joined by other members of corporate management to listen to a presentation by Tariq K. Aldawsari during a recent Executive Management Safety Review. Among those attending included Computer Operations Department manager Ahmed A. Abdullatif, the Data Center's management administrator Khalid M. Madi, Communication Operations Department manager Basim A. Al Ruwaii, and Farooq N. Jwesm, Computer Data Center senior supervisor.
Corporate Data Center Expansion
The delivery of these three main areas is supported by IT data centers. One of these many data centers is the Corporate Data Center (CDC). Commissioned in April 2013, the CDC hosts vital resources that drive company IT business and upstream operations. The data center was built and designed with the highest availability and reliability to sustain operations and business continuity during power blackouts and other interruptions.
The CDC recently completed a major expansion to meet the projected increase in corporate computing demand. The expansion increases the CDC uninterruptable power supplies (UPS) power capacity from 2.4 megawatts (MW) to 6.3 MW. This expansion included the addition of major facility components such as UPS systems, batteries, power distribution units, switchgears, low voltage, and diesel generators. During this expansion, a total of 125 kilometers of electrical and instrumentation cables were laid.
Farooq N. Jwesm, CDC senior supervisor, project leader Fahad A. Jabarti, and their Computer Operations team — in coordination with Project Management and Northern Area Power Operations — faced many challenges that were overcome by providing sound alternative solutions to keep the project on track.
The uniqueness and complexity of this project was its implementation, as the CDC can remain operational without interruption to Saudi Aramco IT business and Upstream operations — and with zero safety incidents, despite the exposure to high electrical voltage and power systems.
Tested for Reliability
During the CDC expansion's final phase, Jwesm and his team conducted a total of 29 operational test scenarios to ensure the resiliency of the facility's systems to respond to emergencies, and to verify the integrity of electrical and mechanical equipment to accommodate the new hardware. Among these 29 test scenarios, 18 total power outages from the Saudi Electrical Company (SEC) side were conducted where the UPS systems and diesel generators automatically responded and provided the total power required for the facility and all data halls hosting the company's vital computing resources for durations up to 30 minutes.
During these tests, the CDC operated on its own power and cooling resources without interruption to company operations, and didn't have the need to fail-over to the alternate data center. This is another success story by Saudi Aramco through IT that was achieved by relying on the value of its human resource base, the expertise and skills of the people, and a focus on safe operations.
Demonstrating Safety
An Executive Management Safety Review delegation recently visited the CDC and provided positive feedback on safety practices that have been implemented. During the visit, the Data Center's Management Division shared the ongoing safety initiatives and practices that are focused on safe operations of the data center facility and support staff.
One of the initiatives included the implementation of thermal monitoring technology that is undergoing final review to be used companywide. This will provide proactive alerts of temperature changes inside live electrical equipment to avoid arc flash incidents before they occur.
Another practice that was highlighted was the implementation of the remote switching of electrical equipment from the CDC control room to avoid arc flash exposure by the staff. In addition, the work permit tracking system, as well as lockout tagout practices, were presented. All of these initiatives and practices are designed to increase the safe operations of the CDC facility and support staff.
Readiness Exemplified
During a recent power interruption, the data center ran on its own diesel generators, providing the required power that kept continuous operation of the facility and services. This was a real testament to the resiliency of the CDC and was the result of intensive and rigorous tests conducted by the CDC team.
This success story was made possible by the continuous support provided by IT management at all levels, the diligence of the CDC team, and the support of Project Management and Northern Area Power Operations. IT will continue to focus on delivering safe, secure, and reliable operations through the adoption of industry best practices, technologies, and reliance on talent.