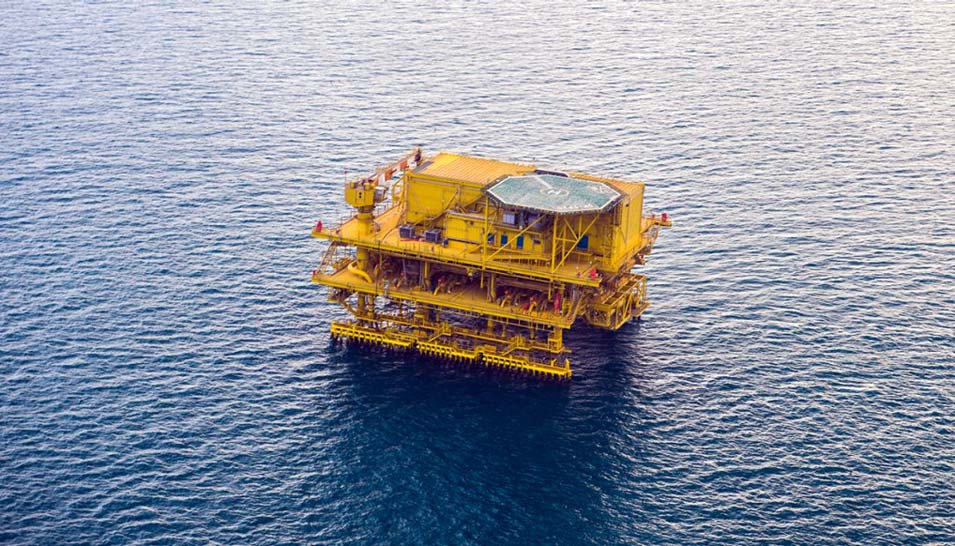 Photo Courtesy of Saudi Aramco
It seems like most of the Aramco annuitants we've profiled over the years primarily spent their time in the Kingdom living in one of the four main camps—Ras Tanura, Dhahran, Abqaiq, or Udhailiyah. Last week was an exception, when we had the privilege of profiling Dr. Syed Azam Sher, the son of a Pakistani expat who spent his years in the KSA living outside the camps. He offered a different perspective on life in Arabia from what we're used to. This week we take another turn from the ordinary, profiling James Churchill from the UK who spent his years on the Peninsula working in offshore maintenance at the Tanajib oil complex on the coast of the Arabian Gulf 120 miles north of Dammam in the Eastern Province and at Safaniya, the largest oil field in the world, located another 40 or so miles further to the north of Tanajib.
Anyone who's worked for any length of time for Aramco in the Kingdom understands that offshore oil workers are a breed apart. James remembers the men he worked with at those two locations as "a great bunch of guys." He included in that description as well pilots working for Aramco Aviation. He remembers one particular aviation-related event:
"One time we were grounded because of fog," he writes, "and I got into an argument with this chopper pilot. So he took me up—just me and him—and took me some ways offshore to let me see for myself how bad the fog was. He was right! On the way back he let me take over the controls and fly the chopper. That was an experience I'll never forget!"
Prior to joining Aramco, Churchill worked for some years in various places in Africa—Zambia, Nigeria, and West Africa. In search of a change, he happily accepted an offer to work for Aramco in Saudi Arabia in offshore maintenance.
Today James lives in Falkirk, Scotland, where his favorite hobby is golf.
Movie fans might recognize Falkirk as the field of battle where King Edward I of England defeated Scottish rebel forces led by William Wallace—an event dramatized in grand, exaggerated Hollywood style in Mel Gibson's Academy Award-winning historical epic, Braveheart.
Readers wishing to reconnect with James can reach him via email at [email protected].
---
We've all heard colorful stories about people and events involving offshore drilling. James Churchill's account of his helicopter flight is one of them. We'd love to hear more such stories from our readers. What tales have you to tell about the distinctive world of offshore drilling and the people who populate it? We invite anyone with a story they'd like to share to send it to Aramco ExPats at [email protected]. Our goal is to feature a collection of such tales in a future article.