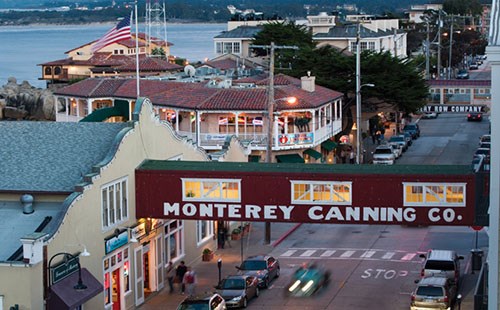 Download the Registration Package for the Aramco Annuitant's Reunion
My wife, Christien, and I are looking forward to welcoming all annuitants to the beautiful Monterey Peninsula for the Hafla 2016 reunion.
The room reservation system for the Hyatt Regency, Monterey venue location has been active on-line since mid-January and annuitant response has been exceptionally good. The registration brochure, which includes the mandatory two dinner/two breakfast package, will soon be accessible through the Aramco Expats Highlights & Notices. Details for the scheduled, customary bridge and golf events will be included therein. Other tentative, optional activities being developed include:
At-sea, local whale watching departing from the Monterey Bay wharf. Humpback whales in particular, and other species, are typically seen transiting between northern US to Baja Mexico waters for birthing. Busing will be provided from the Hyatt to the reserved boat(s) at the wharf. Trained marine biologist(s)/naturalists will be aboard to describe the activities and answer questions.
A tour of 17 Mile Drive inside Pebble Beach. The tour, by guided-bus, will pass many houses built by prominent Californians over the last century and located above the majestic, rocky coastline. Short stops at notable locations, such as the Pebble Beach Lodge, Seal Rock and the spectacular Cypress Point lookout, are planned. A possible, short visit to the Big Sur coastal/redwood area may be added to this tour.
A tour of movie location sites in Monterey, Pacific Grove and Pebble Beach. This tour, also by guided-bus, will visit and describe the local filming sites of many iconic Hollywood movies and their iconic actors and actresses, such as Marilyn Monroe, Edward G. Robinson, Elizabeth Taylor, Marlon Brando, Clint Eastwood and Tom Hanks.
A shuttle trip to nearby Carmel Valley to visit a number of wine tasting rooms operated by Monterey County vineyards. Monterey County and the Central Coast American Viticulture Area (AVA), the largest in the state, are major grape wine producers in California. The warmer, sea coast climate present in much of the area is especially favorable for varietals such as Cabernet Sauvignon and Zinfandel, considered to be the heritage grape in the county's southern, Paso Robles sub-AVA.
Details on these activities will be finalized and available shortly in an upcoming Aramco Expats Highlights & Notices issue.
PS: We encourage anyone interested in volunteering to be the Chairperson for the bridge event to call us at 831-643-0438 or 831-236-8601. Thanks.
Christien and Rob Petrie
Download the Registration Package for the Aramco Annuitant's Reunion