King Salman Inaugurates King Abdulaziz Center for World Culture, Saudi Aramco Projects Supporting Vision2030
The Custodian of the Two Holy Mosques, King Salman bin Abdulaziz Al Saud, today made an official visit to Saudi Aramco headquarters to inaugurate the King Abdulaziz Center for World Culture and five oil and gas projects: Wasit Gas Plant, Manifa oil field, Shaybah natural gas liquids, Shaybah oil increment, and Khurais oil increment.
King Salman was received by His Excellency Khalid Al-Falih, Minister of Energy, Industry and Mineral Resources and Chairman of the Saudi Aramco, and Amin Nasser, President and CEO of Saudi Aramco, who also presented an overview of recent company projects supporting Vision 2030. These projects are in line with the Kingdom's development objectives outlined by Vision 2030, and combine economic impact with social responsibility and value creation opportunities that help power and diversify the Kingdom's economy.
HE Al-Falih said, "We are honored by the visit of The Custodian of the Two Holy Mosques to officially inaugurate the King Abdulaziz Center and a series of recent projects that help realize the objectives of Vision 2030. With these initiatives, we continue to deliver on the Kingdom's promise for a better tomorrow with new energy capabilities, new value creation opportunities, and a platform to reach new knowledge frontiers."
He added, "Saudi Vision 2030 focuses on promoting the Kingdom's leadership not only in the fields of energy, industry, and economy, but also in science, technology and culture. This will be a major breakthrough in knowledge and development, with a core objective to promote creativity in the Kingdom and build bridges with other cultures."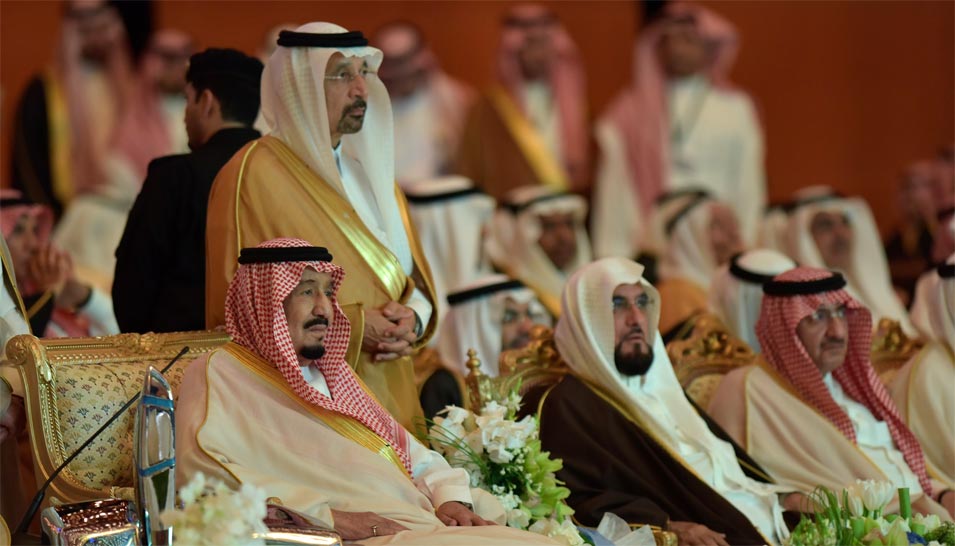 President and CEO Amin Nasser said, "We are profoundly grateful to the Custodian of the Two Holy Mosques for the inauguration of the King Abdulaziz Center for World Culture, as well as Saudi Aramco's recent oil and gas projects. We are honored by his presence and it is a very proud moment for Saudi Aramco's employees. These projects and the Center represent Vision 2030 in action. Saudi Aramco will continue to play a leading role in harnessing new opportunities to create jobs, attract investment, and promote diversification and growth."
The five oil and gas projects were inaugurated in Saudi Aramco's Oil Supply Planning and Scheduling (OSPAS) facility. The projects will enhance the Kingdom's crude production and processing capability and make more gas available for power and manufacturing. The projects are also an integral step toward meeting the increasing domestic demand for energy and chemicals, and building gas production that increases the use of efficient, cleaner-burning fuel.
The King Abdulaziz Center is the first institution of its kind in the Kingdom, bringing together multiple offerings under one roof to make a positive and tangible impact by building local talent in the knowledge, cultural and creative industries. Blending iconic architectural design with advanced technology, and unique learning methods with enriching programs, the Center is an infinitely inspiring platform for explorers, learners, creators, and leaders. As a thriving hub of knowledge, creativity, and cross-cultural engagement, it will help support a nation rapidly transforming into a knowledge economy. The King Abdulaziz Center is due to open in the second half of 2017 to the public.
Prior to the visit to Dhahran, King Salman visited Jubail to officially inaugurate projects initiated by the Royal Commission for Jubail and Yanbu', SABIC, the Sadara Chemical Company, the Saudi Aramco Total Refining and Petrochemical (SATORP) company, and the King Salman International Complex for Maritime Industries & Services.