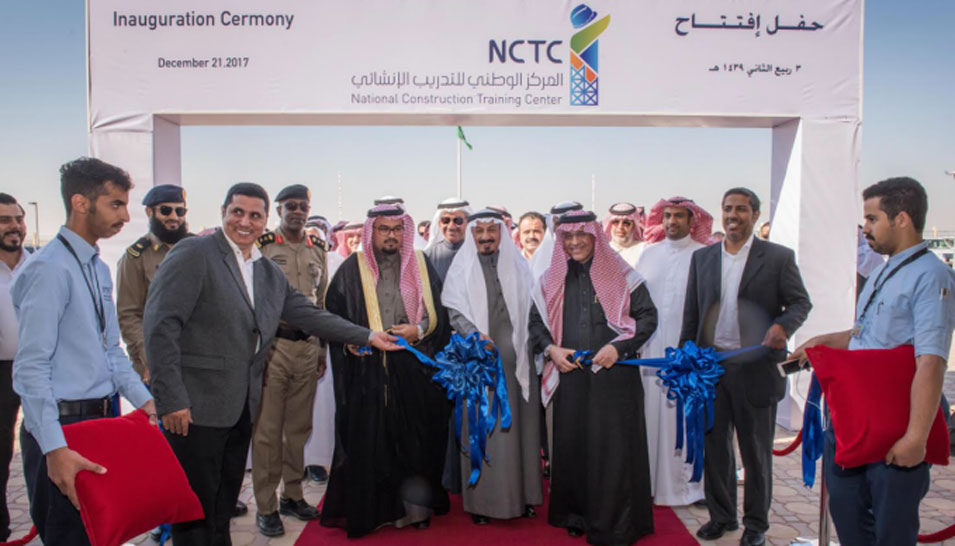 Saudi Aramco and the Technical and Vocational Training Corporation (TVTC) inaugurated the National Construction Training Center (NCTC) today in Al-Nairiyah.
Fahad Al-Helal, Saudi Aramco Vice President of Project Management, attended the event in addition to executives and professionals from both parties and the training center. The center is in line with Saudi Aramco's efforts to support projects and initiatives that aim at equipping Saudi youth with the required knowledge and skills.
On this occasion, Ahmed Al-Saadi, Saudi Aramco Senior Vice President of Technical Services, said: "The National Construction Training Center is a result of the partnership between Saudi Aramco and TVTC. The aim of this center is to train and develop young Saudis to meet demand for workers in the industrial construction field in the Kingdom. This Center will have a great impact on social and economic development. The NCTC is aligned with the goal and objectives of Saudi Vision 2030."
"The strategic location of the Center in Al-Nairiyah will serve many communities in the area. In addition, it will serve many of the companies working with Saudi Aramco in projects around Al-Nairiyah", said Fahad Al-Helal, Saudi Aramco Vice President of Project Management.
In his speech, Hasan Al-Zahrani, Saudi Aramco General Manager of Downstream Project Management, who is also serving as a Chairman of NCTC Board of Trustees, said: "This Center is focuses on industrial construction, and it is one of many partnerships between Saudi Aramco and several entities from government and private sectors."
NCTC is stand-alone nonprofit entity. The center's capacity is 600 trainees, and contains lecture halls and training workshops. It provides nine-month academic courses and vocational training in English. Trainees will have the opportunity to have on-the-job training with their companies. The Center started its operations back in September with around 240 Saudi trainees, and offers training in electrical technologies, welding, precision devices, pipe fitting, and occupational safety.