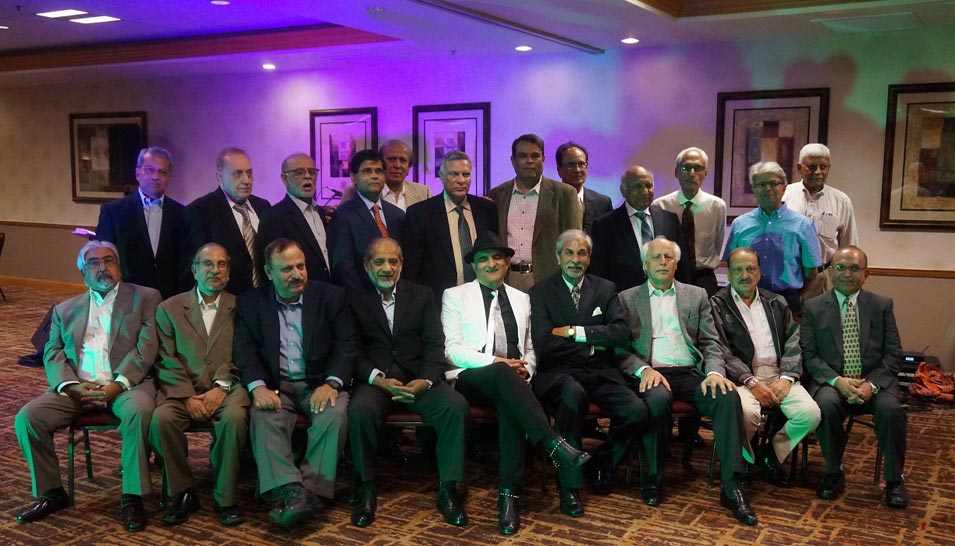 A group of NED69ers @ the 6th Reunion at Las Vages Nevada
NED 69ers 6th Annual Re-union was held in the exciting  and bustling city of Las Vegas, Nevada from November 04 to 06, 2016. The program was finalized and very meticulously chalked out by the team comprising of Ashraf Habibullah, Pervez Randhawa, Shahnawaz Ahmed and Iqbal Suharwardy ably assisted by Pervez's brother Farid Randhawa.
About 21 NED69ers accompanied by their wives (except for the odd few) attended the event besides an NED graduate of 1968, some guests and the musical session performers making it to a grand figure of about 45 - 50 people. Notably amongst the 69ers were Umar Vawda who came all the way from Pakistan with his wife and Muhammad Irshad and wife who attended the re-union for the first time. Similarly it was very kind and considerate on part of Asif Majeed to have been able to make it along with his wife despite her not being too well these days. We need to pray to Allah SWT for her good health, peace and comfort. Ameen!
NED69ers and guests who participated can be seen in the pictorial round up being appended separately.
Most of the participants stayed at the Embassy Suites hotel while some lodged at the famous Bellagio property.
The proceedings on Nov 4th started with the arrival of participants in the morning/afternoon which was followed by an informal dinner at Origin India, a desi restaurant in the city. The evening was spent in meeting and greeting, exchange of pleasantries and memories before, during and after a sumptuous and delicious dinner! The feeling was incredible and to all of us it felt like having been served with 'tonic' to sustain for a good time to come!
A group of ladies at the NED69ers 6th Reunion at Las Vegas Nevada
Saturday, November 5th  the main event day started with  a very enjoyable and good breakfast while the later part of the day was spent by some participants visiting Las Vegas city while others stayed in the hotel lobby and remained intensely involved in discussions/exchange of views on current affairs, old remembrances of NED etc;
The evening session in the Chancellor Ballroom of Embassy Suites was the main event of the re-union and as always everybody turned out smartly attired in business casuals and the graceful dresses by the ladies. Ashraf Habibullah however during his keynote address changed into that smart silver colored jacket with tens of lights skillfully crafted by the designers of the late Michael Jackson's dresses and costumes.
All the participants and guests expressed their feelings of joy and excitement at the great ambiance that had been so thoughtfully and tastefully created by Pervez's brother Farid Randhawa who in fact was the main coordinator of all affairs of the event. Above all, meeting once again at the re-union rekindled all the memories of our great times and friendships at NED!
The main hosts Ashraf Habibullah, Pervez Randhawa, Shahnawaz Ahmed and Iqbal Suharwardy welcomed all the participants and guests and went on first of all to express deep and heartfelt condolences on the very sad and recent demise of Mrs Atiqa Pervez Randhawa and our classmate Mohammed Salim Qadri. A similar expression of condolence was later on read out by Shahnawaz Ahmad in remembrance of our colleagues who had left us earlier for their eternal abode namely - Ahmed Haroon, Bilal Yousuf Zia, KM Wajahatullah, Qamar Ahmed, Syed Qamar Ali, Mohammed Ilyas, Moin Raza, Javed Ahmed, and Naeemuddin Sheikh. A one minute silence was observed in deep sympathy and to mark their loss and absence. May Allah SWT grant all of them 'Maghfirah', may their soul rest in eternal peace in Jannat ul Firdous. Ameen!
Majid Adam, Hamid Ul Haque, Umar Vawda, Pervez Randhawa, Jawaid Saeedi, Shahnawaz Ahmad, Asif Majeed
After short remarks by most of the participants including Khalid Razzaki, Sohail Qureshi, Adeel Lari, M. Wajahat Siddiqi, Hamid Ul Haque, Rahib Sarela, Shamshad Ahmad, Umar Vawda who had travelled all the way from Pakistan and Muhammad Irshad who was attending the re-union for the first time, Shakil Haider read out a poem sent by Rifat Hayat from Lahore through Iqbal Ahmed Khan in Karachi .This reflected our good old days and times at NED and the comradeship we had all developed there!
Khalid Mushtaq in his turn proposed that the 2019 NED69ers re-union, which will mark the 50th year of our graduation, a golden jubilee, be planned for Karachi the place and location of our alma mater. The milestone could hopefully end up into an even bigger crowd of 69ers In Sha Allah from Pakistan, USA, Canada and where ever thus providing the unique opportunity of a rare, momentous and memorable get together!
It was also proposed that the next reunion for 2017 be held in Houston, Texas with Jawaid Saeedi, Moinuddin Khan, and Majid Adam to coordinate and organize the event.
A nice buffet dinner had been laid out and the same was then announced. While the dinner was still on, the musicians and the singers - Leena Benjamin and Suresh who had come from Los Angeles took on the stage and started preparing for their performance. As we got into music we were treated to some very good and popular numbers by the accomplished singers and the lovely orchestra. Everybody enjoyed this light entertainment session. During the music, some also kept moving from one table to the other to chat with whom they could not talk more closely earlier on. Tea and soda was available throughout and participants/guests helped themselves accordingly at their leisure and pleasure. Above all "paan" was also served - great thought and courtesy again on part of Farid Randhawa!
The Organizing Team with the Musicians
Midway during this phase, the singers took a break and in came our main host and keynote speaker Ashraf Habibullah to deliver his address/talk. As stated earlier he had his sparkling and lighted silver jacket on. He went on to amuse and enthrall all those present with his typical wit, humor, poetry, song clips and reminiscences of the great times we all had in NED.
This light music session which lasted for about little over 2 hours was finally rounded off at about midnight. Ashraf Habibullah thanked the group for their wonderful performance and the lilting songs they had presented; everybody applauded them and expressed their appreciation for the music they had enjoyed so merrily!
After the final word of thanks from the hosts for all participants and guests, it was announced that the NED69ers 7th Re-union shall be held in Houston. Texas In Sha Allah!
Sunday, November 6th saw the NED69ers at the breakfast in the hotel and all set to disperse and return to their homes (Jawaid Saeedi and Tariq Siddiqui after a break at Grand Canyon!) after a memorable and thoroughly enjoyable re-union! All this was however made possible by the generosity and magnanimity of Ashraf Habibullah, Shahnawaz Ahmad and Shakil Haider. For this they deserve a big round of applause and a very big thank you from all of us! Thanks indeed.
Syed Muzamil Hussain, Pervez Randhawa, Ashraf Habibullah, Umar Vawda, Shahnawaz Ahmad
This is all we could report from the reunion as was seen on the scene. Rest is not known!!! In any case-whatever happens in Vegas stays in Vegas!!!
Good bye all 69ers! See you all next year in Houston, Texas In Sha Allah!!! May Allah SWT in His infinite mercy bless you all, may He be your protector and guide! Ameen!
Report Prepared by: Engr. Maj. Gen. ® Khalid Mushtaq