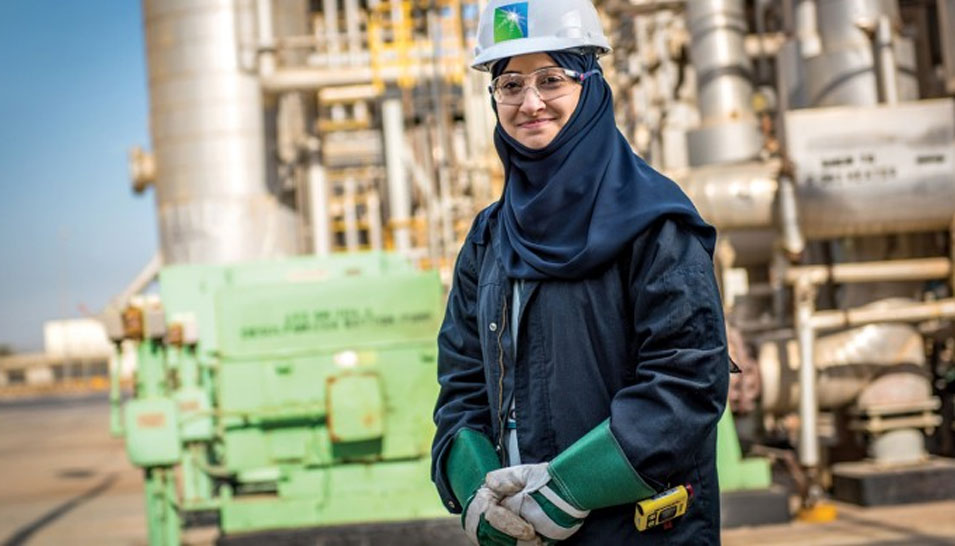 Zainab Al-Mohsen, currently working at the Ras Tanura tank farm, said Aramco's management has always encouraged her to advance her knowledge of the refinery process, and when the opportunity came to take an assignment inside the refinery, she took it.
Saudi Aramco, with its young workforce and a commitment to fostering careers for both men and women, has made dramatic strides in recent years to draw on what some have called the company's greatest untapped resource — female employees.
A growing number of women are finding their place in the front lines of the company's core businesses of Upstream and Downstream, working as mechanical, chemical, and petroleum engineers; chemists, lab scientists, and safety inspectors; and geologists, geophysicists, and IT specialists.
Yahya A. Abushal, acting general manager at Ras Tanura Refinery says: "Saudi Aramco has always demonstrated a leading role in creating career opportunities for both men and women. Throughout time, women have reached executive level positions, which is empowering to the generations ahead. Today we are reaping the benefits of the gender diversity decisions that were made in the past decade. As a Kingdom, the benefit we gain is that we are starting to tap into the talent of the other half of society, who are now able to participate in more parts of the economy."
"Saudi Aramco, much like the Kingdom, is going through significant changes, especially when it comes to gender diversity. Specifically in the core business area of the company. With the increasing number of female students graduating from and majoring in science, technology, engineering, and math disciplines and fields, more opportunities are becoming available to young Saudi women", says Lamah F. Al Khayyal, acting administrator for Saudi Aramco's Women in Development and Diversity. "Our goal is not to simply increase the number of women in the company, but to provide women the opportunity to venture into technical fields and build their skills and qualifications to create a more diverse workforce for Saudi Aramco."
Moothy Alelaiwy, working for Ras Tanura
Operations Engineering has been challenging
but rewarding: "I was able to prove myself in
this tough environment, which made people
supportive and helpful. This also supported
building my communication skills in such a
tough environment."
According to a 2017 report by the World Petroleum Council and Boston Consulting Group, women represent only one-fifth of all jobs in the oil and gas industry. In addition, they are far more likely to be funneled into office or business support positions (50%) rather than technical or field positions (15%), and even a smaller percentage in chief position holder positions. But this is going to change: "Organizations are becoming more aware of the diverse talent hiring pool, resulting in more female candidates being included.
Saudi Aramco management is recognizing the potential of talented females. With the new opportunities allowing females to gain hands-on experiences in some field positions, more leadership roles will open up in the near future for those who gain the needed experience and can rightfully compete for positions" Al Khayyal says.
Engineering Support
"There are so many opportunities for young
employees at Saudi Aramco. But you have to
take the first step. If you don't show interest,
you're not going to get it," Soleja says.
When Sara Soleja joined RT Operations Engineering, she requested to be sent to the field because refining is a core business for Saudi Aramco. In her field assignment with the refinery's planning group, Soleja uses optimization software to operate the refinery at the most economical and efficient level, responding to the constantly changing global demand for certain refined products.
Alaa Alahmed, a mechanical engineer in RTR, said working inside the refinery every day is one of the greatest experiences to apply her knowledge and widen her skills working alongside colleagues on some of the company's biggest projects, such as the Integrated Manufacturing Operations Management System. "Diversity is important in all life perspectives, culture, and thoughts — not just in engineering. If you are passionate about something, your fingerprint will be a definite difference," says Alahmed. "Theory and hands-on experience go hand in hand; they complement and complete each other."
"It is gratifying to contribute in the field and to
create value for the company with solutions
that help our business succeed," Alfaraj says.
On any given day, you will find Maria Alfaraj, a secondee from the Inspection Department at the Ras Tanura Refinery (RTR) checking on equipment and working with operations and maintenance engineers to find solutions that will keep the plant running safely and efficiently. Like her male colleagues in the RTR Engineering Support Division, she came to her job well prepared, with a degree in mechanical engineering and business administration. Like them, she has been entrusted with significant responsibilities.
"My colleagues in the plants are welcoming and supportive," Alfaraj says. "They are always willing to share ideas and challenge me and my ideas. Ultimately, she believes that participating in field work at the refinery is a way of contributing to the company's success in one of its core businesses.