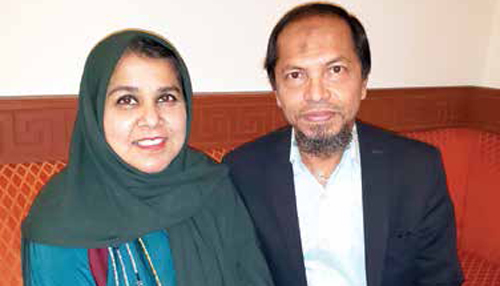 Zillur Rahim and his wife, Nusrat, say Dhahran is a great place to raise a family. All four of their children completed their high school at Dhahran Academy. Rahim will be retiring soon after nearly 20 years of working at Saudi Aramco.
Dhahran — Born and raised in Dhaka, Bangladesh, and receiving his master's and Ph.D. degrees in Petroleum Engineering from Texas A&M University, College Station, Zillur Rahim started his Saudi Aramco journey in February 2000, and is now set to retire in January 2020.
Rahim originally held the position of petroleum engineer specialist, and later was promoted to the position of senior petroleum engineer consultant with the Gas Reservoir Management Department (GRMD).
Professional Journey
During his career with Saudi Aramco, he led the hydraulic fracturing campaign initiation team, providing his expertise in sustaining natural gas rates, improving production, and ultimate recovery with the use of hydraulic fracturing technology — in both carbonate and sandstone conventional reservoirs.
Rahim's work helped put Saudi Aramco's GRMD at the forefront of novel technology applications in the international petroleum industry.
His many accomplishments that have added to his experience while with the company include a series of technical papers, lectures, participation in panel discussions, conducting and chairing workshops, and serving as a keynote speaker. Rahim was instrumental in sharing his knowledge by training young professionals through daily work and teaching advanced petroleum engineering courses through the UPDC.
'A Great Place To Raise A Family'
Living in Saudi Aramco's Dhahran community, he said his time has been a unique experience.
"Dhahran is indeed a great place to raise a family," said Rahim, who has been married to his wife, Nusrat, for nearly 32 years.
The Rahims have four children — all of whom completed their high school at the Dhahran Academy. Rahim credits his wife for providing him never-ending support over the years.
He and his family enjoyed the opportunity to travel abroad, in addition to visiting several places within Saudi Arabia — including trips to Riyadh and Jiddah, as well as the Holy cities of Makkah and Medina. The variety of cultural offerings he and his family experienced in the Kingdom will always be treasured, said Rahim.
He added that a highly rewarding part of his life in Saudi Arabia was working in a diverse environment, interacting with an international community, and understanding the cultural richness of different heritages.
Rahim is passionate about teaching and volunteering, and he plans on continuing with social work and exploring North America following retirement.
If anyone wishes to stay in touch with Rahim and his family, they can be contacted at [email protected].
— The Arabian Sun: December 18, 2019 | Vol. LXXIV, No. 49