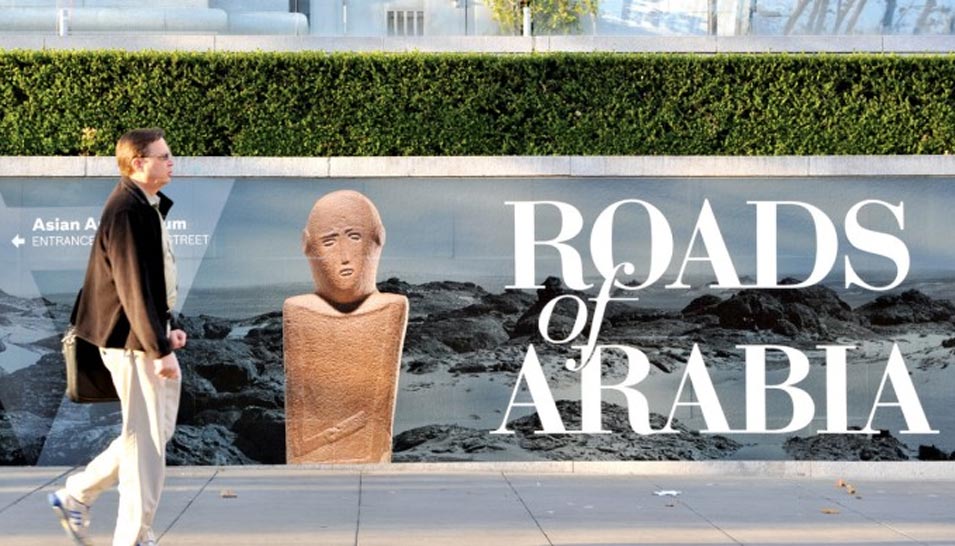 With fascinating displays and eye-catching elements of distinct Arab style, the "Roads of Arabia — Archaeological Treasures of Saudi Arabia" exhibit recently made its debut at the National Museum of China in Beijing following successful tours in Europe and North America.
Organized by the Saudi Commission for Tourism and National Heritage (SCTNH), the State Administration of Cultural Heritage of China, the National Museum of China, the three-month exhibition — sponsored by Saudi Aramco — is a flagship cultural event designed to deepen the cultural bonds between Saudi Arabia and China by promoting Saudi history and culture among Chinese audiences. The exhibit provides a vivid account of Islamic heritage, Arab origin, Saudi culture, and the foundation of the Kingdom.
Connected Through Thousands of Years
There are 466 archaeological treasures
featured in 'The Roads of Arabia' exhibit,
which recently opened in Beijing.
In his opening remarks, HRH Prince Sultan ibn Salman ibn 'Abd al-'Aziz Al-Sa'ud, president of the SCTNH, said: "The inauguration of this rich and unique collection in the People's Republic of China fortifies and reflects the special ties between China and the Arabian Peninsula that extends back thousands of years. It also mirrors its genuine and deep-rooted civilization, and its important international role in fostering cultural aspects across the world."
The inauguration ceremony was also attended by: HE Turki Mohammed Al Madi, Saudi Ambassador to China; HE Li Huaxin, Chinese Ambassador to Saudi Arabia; Luo Shugang, China's culture minister; Liu Shuguang, deputy administrator of State Administration of Cultural Heritage; Lv Zhangshen, director of the National Museum of China; Nasser A. Al Nafisee, Saudi Aramco vice president of Corporate Affairs; Dr. Ali Al-Ghabban, vice president of Antiquities and Museums at SCTNH; as well as diplomats, business representatives, Saudi Aramco's partners and key stakeholders, journalists, and cultural figures.
A Resource for Sharing Heritage
"Between 2012 and 2014, Saudi Aramco co-sponsored the U.S. tour of Roads of Arabia, which had traveled earlier around Europe," Al Nafisee told his audience. "This exhibit has been an important resource for sharing our heritage and culture with the rest of the world. The success of those tours, and the fact that it is on a tour of Asia with the support of the company, is both exciting and indicative of Saudi Arabia's ability to produce culture exports that are meaningful, engaging, and world-class."
A collection of 466 archaeological treasures, ranging from statues and jewelry to inscription and pottery, explores the historical, cultural, social, scientific, and economic dimensions of the Kingdom and helps Chinese audiences understand how archaeology and history shaped the making of modern Saudi Arabia.
The exhibition has the blessing of the Custodian of the Two Holy Mosques King Salman ibn 'Abd al-'Aziz Al-Sa'ud and Chinese President Xi Jinping when Xi visited the Kingdom in January. The bilateral exchanges have witnessed robust growth following the frequently high-level official visits between the two countries, with many mutual beneficial activities being planned, implemented, and achieved.
A Cultural Encounter
Funeral masks such as these one were
common in pre-Islamic times and were used
to commemorate those who have passed.
The "Roads of Arabia" exhibit features a wide
range of archaeological treasures ranging from
statues and jewelry to inscription and poetry.
Through the eyes of the Chinese people, the Arab world is one of deserts, mosques, unique costumes, pilgrimages, and camels. These exotic cultural elements have long created a sense of mystery for them.
The exhibition's six chronologically arranged themes provides visitors with an opportunity to admire the charm of the Kingdom's Islamic history while presenting a clear image of Saudi Arabia's national identity.
As Luo noted, "The exhibition presents a panoramic view of archaeological findings in Saudi Arabia and provides a rare opportunity for Chinese people to understand the ancient culture and history of the Kingdom."
The exhibit artifacts are priceless not only because of their historic and artistic value but also because they tell a story of the Arabian Peninsula, which is itself timeless. From the earliest days of civilization, the Kingdom has been a venue for commercial trade and a nexus for merchants and artisans. But even more importantly, it has been a place marked by cross-cultural engagement and an exchange of art, culture, and ideas.
A Cultural Platform
China and Saudi Arabia are, as always, advocates of cultural diversity. The ancient Chinese civilization and Islamic culture in the Kingdom each have distinctive styles of their own, and the two cultures — both respectful and modest — have embraced each other, setting an example for global cultural communications and sharing.
As the Chinese Ambassador to Saudi Arabia said: "China and Saudi Arabia have established a comprehensive strategic partnership, and the two sides have been working closely in a wide range of areas. The unveiling of China's Belt and Road Initiative and Saudi Arabia's Vision 2030 will surely open up new opportunities for bilateral cooperation."
Luo noted that both Saudi Arabia and China believed the Belt and Road Initiative and Saudi Arabia's Vision 2030 were aligned. "They agreed to promote dialog between the two civilizations, promote mutual accommodation and learning among different religions and cultures, and expand their exchange and collaboration in such areas as culture, education, journalism, health, scientific research and tourism," he said.
"The 'Roads of Arabia — Archaeological Treasures of Saudi Arabia' exhibition at the National Museum of China is held at an opportune moment by China and Saudi Arabia and marks a significant achievement in the cultural communications and cooperation between the two sides," Luo added.
Beijing is the first stop of the exhibition's Asia-Pacific tour, which will also bring the 466 pieces of archaeological treasures to Seoul, Korea, and Tokyo, Japan.