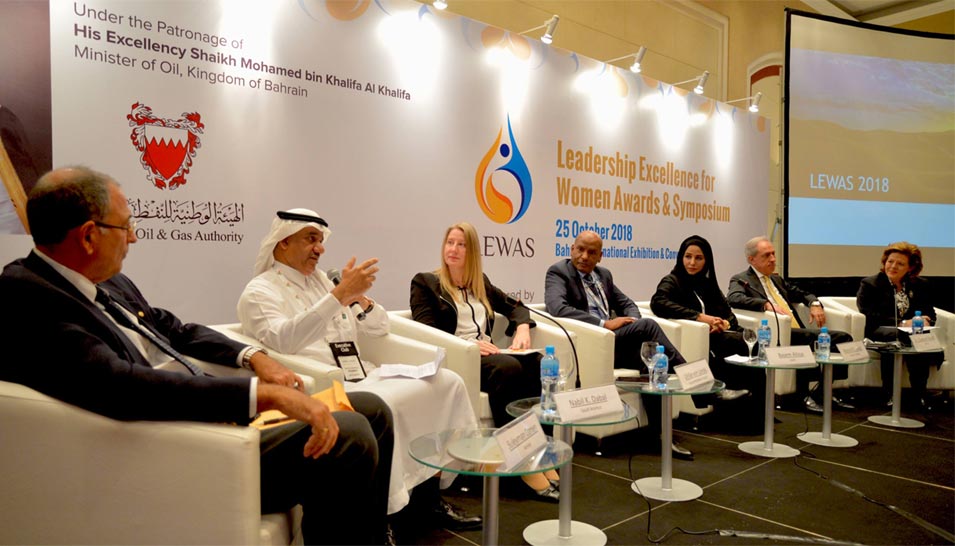 Empowerment of women in the Downstream sector is greenlit at Leadership Excellence for Women Awards and Symposium (LEWAS
Saudi Aramco, chaired the "Leadership Excellence for Women Awards and Symposium" (LEWAS), a leading industry event held at the Bahrain International Convention & Exhibition Center from October 23-25, promoting efforts to increase professional opportunities for women engagement and leadership in the Downstream sector of the energy industry.
The Leadership Excellence for Women Awards and Symposium (LEWAS) operates by empowering, engaging and developing women professionals working in the sector, through focused workshops, leadership seminars and networking symposia, alongside awards that celebrate and recognize professional excellence. It is one of the few gender diversity initiatives in the GCC energy industry and this year's Symposium was held concurrently with the Gulf Downstream Association (GDA) Conference and Exhibition event at the same venue.
Saudi Aramco continues to champion the professional development of its women employees through the implementation of company functions such as the Diversity Division which provides programs to help leaders develop their inclusive leadership capabilities, and to develop professional careers for women. The company is also home to a number of women in senior positions including Diversity and Inclusion Leader, Reem Al-Ghanim, who has been chairing LEWAS since 2017, and all of whom attended the event in Bahrain.
Saudi Aramco also established the prestigious Saudi Research Science Institute, a rigorous summer research program hosted by the King Abdullah University of Science and Technology, (KAUST) which enjoys healthy levels of women participation. In addition, the company's STEMania program delivers science, technology, engineering and math – STEM skills to young girls and the joint Saudi Aramco, GE and TATA Consultancy operation in Riyadh employs over 1000 women professionals.
As the event sponsor and chair, Saudi Aramco fielded a senior delegation comprising the women leaders in attendance, Senior Vice President of Downstream, Abdulaziz Judaimi, Vice President of Refining & NGL Fractionation, Suleman Al Bargan, and the company's Executive Director of Human Resources, Nabil Dabal.
Judaimi, opened proceedings with a keynote address on best practices in recruiting, developing and advancing women in Downstream. Welcoming delegates he identified three key corporate drivers which deliver healthy numbers of women professionals in a company; a strong belief in the role of women, strategic recruitment and effective professional support.
"I am pleased to say that Saudi Aramco has been investing in tailored outreach programs for some considerable time. These programs are helping women to compete before they even enter the workplace and specifically in our industry. Furthermore, it is due in large part to these programs that we have doubled the number of women working at Saudi Aramco over the past decade," he said.
"When businesses enable women to thrive in environments that empower their strengths, this leads to increased performance and productivity levels which benefits individual companies and the wider industry."
Reflecting on Saudi Aramco's commitment to women empowerment and the importance of the Symposium's objectives, Dabal added:
"Here at Saudi Aramco we apply an extremely disciplined approach to developing women empowerment and we have devised specific recruitment strategies to hire, train and retain supremely talented professional women. We have recently increased women recruitment to more than 20% of all new hires and there is every reason to think that this proportion will rise over the coming years. This solid result, coupled with our commitment to delivering tailored women professional development, demonstrates our commitment to women empowerment which is again reflected in our doubling of women hires over the last decade."