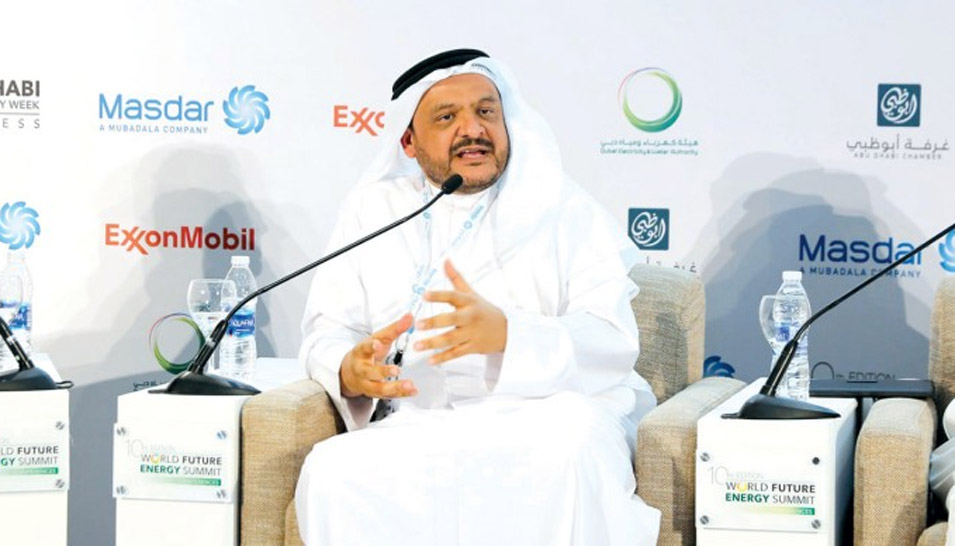 Ahmad O. Al Khowaiter speaks during a panel session about Saudi Aramco's view of sustainability as a strategic research area to produce cleaner energy technology.
Saudi Aramco was among 15 Saudi entities representing the Kingdom at Abu Dhabi Sustainability Week 2017 in the capital of the United Arab Emirates in mid January.
Saudi Aramco showcased a range of sustainability initiatives — including clean energy technology and carbon management solutions — at the state-of-the-art Saudi Pavilion in the Abu Dhabi National Convention Center.
"Our presence here is to support the Kingdom of Saudi Arabia's aspiration in tackling climate change and meeting its sustainable goals. Our goal is to present a suite of technologies and initiatives that are market relevant and acceptable energy solutions, which helps to address Kingdom and global challenges and aspirations for a cleaner future," said Ahmad O. Al Khowaiter, chief technology officer for Saudi Aramco.
Supporting the Kingdom
Saudi Aramco's presence at the event was in line with the Kingdom's energy transformation agenda, which will see us rallying all of our relevant entities to synergize efforts in driving forward a solid and sustainable energy framework to meet the requirements of the Paris Climate Agreement. Saudi Arabia ratified the agreement last year prior to COP 22.
The event also provided Saudi Aramco a conducive platform to amplify our tangible initiatives combining both technology and innovation, which is aligned with the Kingdom's aspiration for a cleaner energy future. Saudi Aramco's technology roadmap broadly supports Saudi Vision 2030, and more specifically, the ongoing energy transition in the Kingdom.
Technology and Efficiency
Al Khowaiter also participated in a panel session titled "The Role of Technology and Innovation in Enabling the Energy Sector Transformation," which was under a special focus segment of the event known as "Focus on Saudi Arabia: How Economic Transformation Will Fast-track Investment in Renewables."
During the session, Al Khowaiter participated in length about the company's role in driving technology and innovation, which plays a pivotal role in enabling the energy sector transformation and a more responsible use of hydrocarbon resources in the Kingdom.
"Efficiency is clearly the key to achieve sustainable energy solutions. We at Saudi Aramco view sustainability as a strategic research area to produce cleaner energy technology," he said. "We are also committed to explore the vast potentials of renewables such as wind and solar. It will take time as we find the right economics, but we are surely getting there."
Al Khowaiter said that ultimately, the goal is to close the carbon cycle by using all available resources whether hydrocarbon-based or alternatives.
"We see CO2 as a future feedstock for the world; plants convert CO2 from the atmosphere to sustain life as we know it, and our emphasis should be on closing the carbon cycle through innovative solutions," he said.
Al Khowaiter said Saudi Aramco is playing a significant role for the Kingdom by investing in scalable solutions, turning emissions into value-added products, and leveraging its long standing expertise in minimizing greenhouse gas emissions.
Earlier in the week, Saudi Aramco announced a key milestone in driving the potential of alternative energy with the commissioning of the Kingdom's first wind turbine in Turaif. The project, developed in partnership with GE, marked a new milestone in Saudi Aramco's plan toward realizing the 9.5 gigawatt national renewable energy target defined in Saudi Vision 2030.