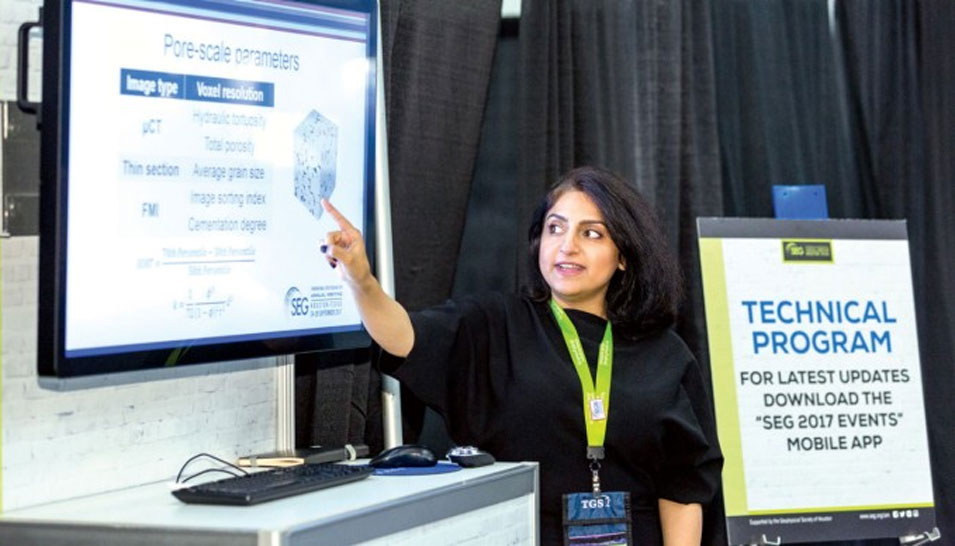 Abrar Al Abbad presented on the evaluation of flow properties and rock microstructure in sandstones with a complex pore system using X-ray microcomputed tomography.
The world needs a healthy geophysical industry. Connecting applied geophysics to the business is more important than ever as operators look to lower costs and identify economically viable exploration and production opportunities.
That was the message during the opening plenary session for this year's Society of Exploration Geophysicists (SEG) International Exposition and 87th annual meeting.
The quality of seismic data and the analysis provided by geophysics professionals enables companies to make the best choices and be successful. The next generation of geophysics will call for even more computational power with exascale computing — computing capable of a billion billion calculations per second — to process the data from complex geological structures.
A Game Changer for Geophysics
Nearly 7,000 geoscience professionals attended
this year's SEG conference in Houston.
While conventional and deep-water exploration continues to receive the lion's share of investment, the development of unconventional resources (i.e., shale) has changed the game and brought new challenges for geophysics.
"Pushing geophysical data to the reservoir scale reduces exploration risk and can maximize recovery from existing fields through multidisciplinary data integration," said Saleh M. Al Saleh, manager of Saudi Aramco's Red Sea Exploration Department.
Geophysicists from several areas within Aramco were on hand to share and learn about the latest approaches and methodologies.
Aramco's reputation for pushing the limits on acquiring and interpreting seismic data and its contribution to advancements in geophysics — combined with forward-thinking in-field application — were further underscored with more than 35 papers, presentations, and e-posters on the technical program.
Workshops
Aramco also participated in two post-conference workshops, including hosting a special workshop featuring a presentation on innovative seismic acquisition technology.
The technical focus of SEG was rivaled this year by the recognition of the social contributions of applied geophysics throughout the world. The SEG Foundation's Geoscientists without Borders supports humanitarian applications of geoscience around the world by helping communities facing environmental hardship and environmental disasters such as severe water shortages and threats of earthquakes and tsunamis. This was highlighted because the SEG conference was the first major conference to be held at the George R. Brown Convention Center in downtown Houston since hurricane Harvey — one of the costliest natural disasters in U.S. history — impacted the city.
Aramco served as a titanium sponsor and participated in the exhibition show floor with approximately 700 attendees stopping by the stand to hear in-booth presentations and learn more about the company.