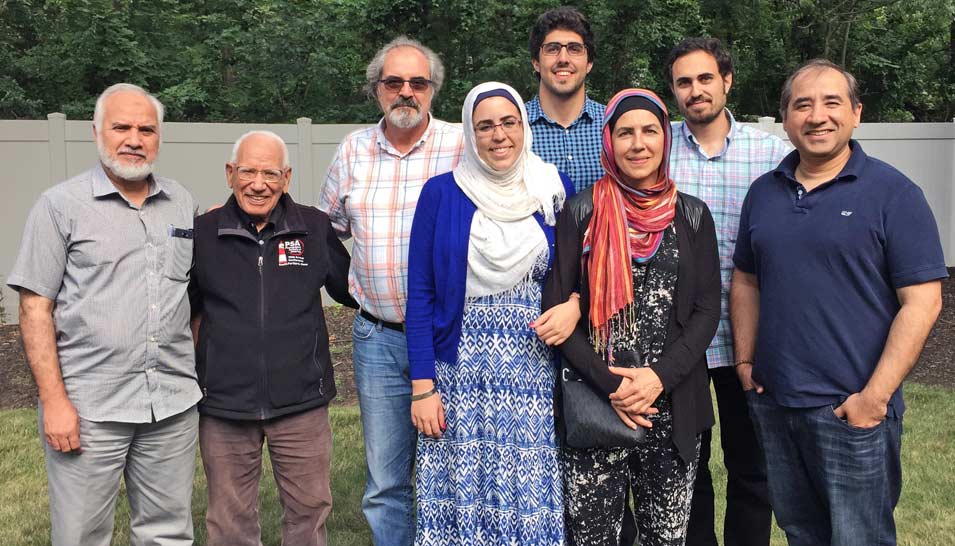 (L to R) Tariq (Shaikh's eldest son), Shaikh Amin, Tareck Elass, daughter Dara, son Adam, wife Fadwa, son Majed and Shaikh's youngest son Zahid
Shaikh Amin, retired chief photographer of Aramco, is currently on his yearly tour of the USA to attend the annual Photographic Society of America conference and spend time with his family.
In this photo, Tareck Elass (son of late Majed Elass, former Vice President of Government Affairs and Board Member) is seen with his family visiting Shaikh at his son's residence in Princeton, New Jersey in July of 2017.
Tareck, who currently works in Jubail Industrial City for a Saudi Aramco JV, also spent about 20 years with Saudi Aramco until 1999. While growing up in Dhahran he worked as a summer student in the company photo lab and was indeed fortunate to be mentored by Shaikh at that time. This was a memorable reunion/meeting of three generations!
Tareck lost touch with Shaikh after last seeing him in Jeddah in 2011, but through the magic of the Internet (and assistance from AramcoExpats), they reconnected last year.