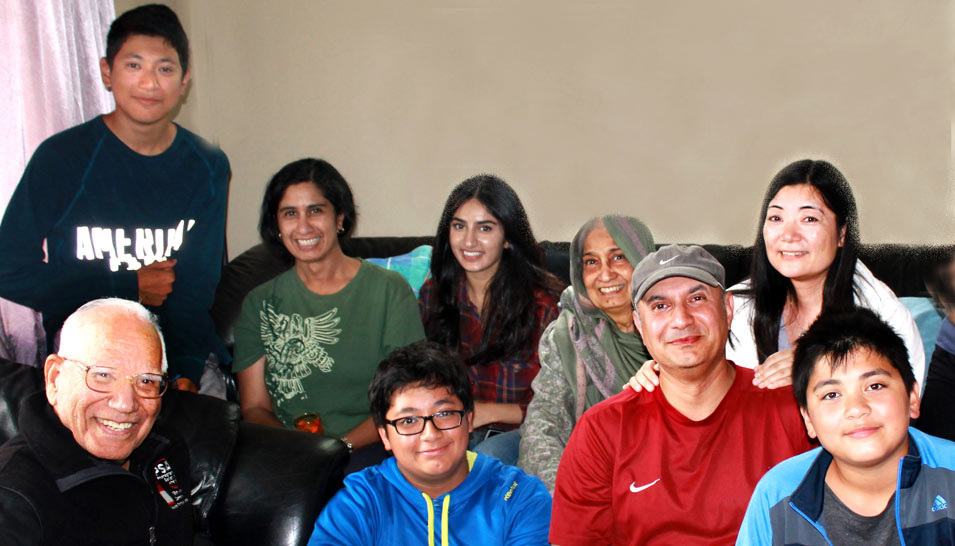 by Shaikh Amin
This year on August 3, 2017, I made a brief trip to Toronto, Canada, by train from New York after a gap of 7 years to meet my old friends of Aramco who moved to Canada for permanent settlement after retirement. I stayed with the late Rashid Ahmed's family who retired in 1988 from Saudi Aramco and moved to Brampton, Canada. I enjoyed my stay with the family very much as in the past.
On August 5, 2017, I visited the family of my late, good friend Rashid Ahmed, his wife, daughter, and granddaughter. I joined them for a visit to a cottage of their close family friends, the Owair Family. We spent a long weekend with them at Round Lake, near Havelock, Ontario. A group photo of us was taken in the family room at the cottage.
Listed from left to right in the picture are - back row: Samer Owair, Nabeela Rashid (daughter), Sabrina Rashid (granddaughter), Nasim Ahmed (wife) and Sarah Owair; front row:  Shaikh Amin, Rami Owair, Mohammad Owair and Adam Owair. Unfortunately, Rashid's grandson, Nabeel Rashid, did not join us for the cottage excursion and is missing from the group picture.