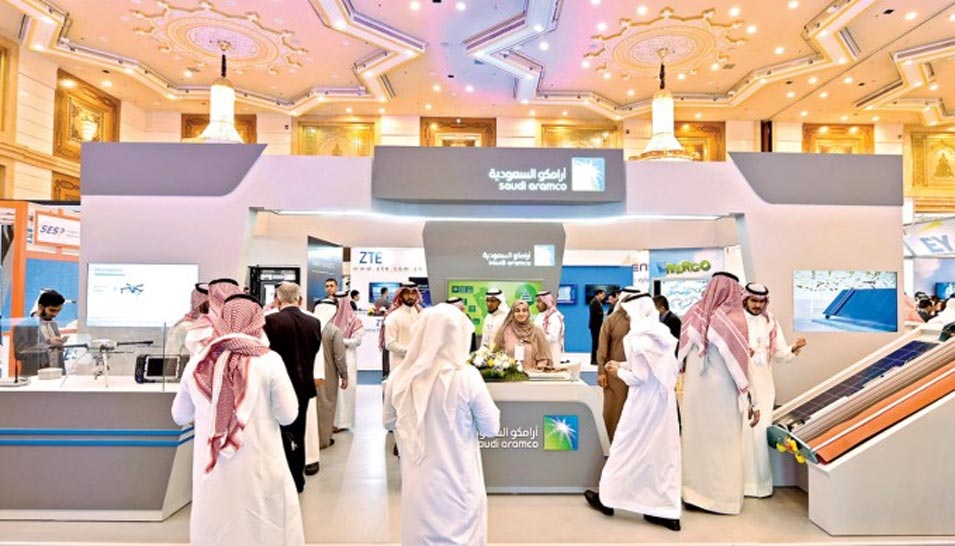 The Saudi Aramco pavilion presents one of a series of pioneering experiences in the field of energy saving and clean energy production. Company personnel also gave a visual presentation of the first wind turbine in the Kingdom at Turaif, as well as presentations in the field of information protection through the application of cybersecurity technology to some power plants.
Saudi Aramco participates in Saudi Arabia Smart Grid Conference and Exhibition, signs strategic partnership agreement.
Prompted by its commitment and pioneering role in stimulating development in the Kingdom to help achieve Vision 2030, Saudi Aramco sponsored and participated in the recently held conference Saudi Arabia Smart Grid Conference in Jiddah. The conference, seven of its kind, themed "Smart Solutions for Sustainable Development" was held under the patronage of HE Khalid A. Al-Falih, Minister of Energy, Industry and Mineral Resources.
Signing a Memorandum of Understanding with
the Gulf Cooperation Council Interconnection
Authority to expand cooperation among the GCC
countries are, from left, HE Abdullah Al-Shehri,
Governor of the Electricity and Cogeneration
Regulatory Authority; Abdulrahman M. Al-Obayed,
senior vice president of Human Resources at
Saudi Electricity Company; Zak Allen, Bismarck
State College in the U.S.; Stephen Schlieman,
economic officer at the U.S. Consulate in Jiddah;
Fahad Al-Tuwaijri, CEO of the Colleges of
Excellence; Ahmed S. Al-Essa, NPA executive
director; and Saleh Al-Awaji, Deputy Minister of
Electricity.
Aramco also had a special pavilion displaying efforts on saving energy and producing clean energy. The booth featured a presentation about the Kingdom's first wind turbine at Turaif, and included presentations about information protection and the application of cybersecurity gates technology in some electric power stations through the automated protection of all connected smart devices.
On behalf of Abdulkarim A. Al Ghamdi, Saudi Aramco's executive director of Power Systems, Abdul Hamid A. Al Omair, manager of the Power Systems Engineering Department, said the Fourth Industrial Revolution era — which brings with it artificial intelligence and the Internet of Things (IoT) — is upon us. The digital transformation, he said, plays a significant role in industrial advancement in general, and the power sector in particular.
With the considerable impact of the digital transformation on the energy industry in mind, he said Saudi Aramco is in the process of establishing a control center that implements artificial intelligence technology for electric power through developing models for future trends and analyzing current data from all parts of the grid. This includes giving reliable forecasts and taking decisive decisions in record time to obtain a highly efficient, more reliable, and sustainable grid. Al Omair said the system will help merge the sources of energy, rationalize power consumption, and manage assets of the electric power systems, which include more than 1,000 power stations that contain over 60,000 smart electronic devices for monitoring and control.
He highlighted Saudi Aramco's contribution to supporting the capabilities in the local power sector, with the company producing 10% of the overall power generated in the Kingdom. Saudi Aramco is looking to continue to develop these facilities by using advanced technologies to increase the efficiency of power generation, and increase power generation in current and future projects to 12,000 megawatts by 2020.
Al Omair added that the company is working hard to spread and develop advanced technology, support relevant sectors, and establish strategic partnerships on the local and global levels. To promote and support power saving clean fuel technologies, he noted that Saudi Aramco has developed the National Clean Combustion Test Platform.