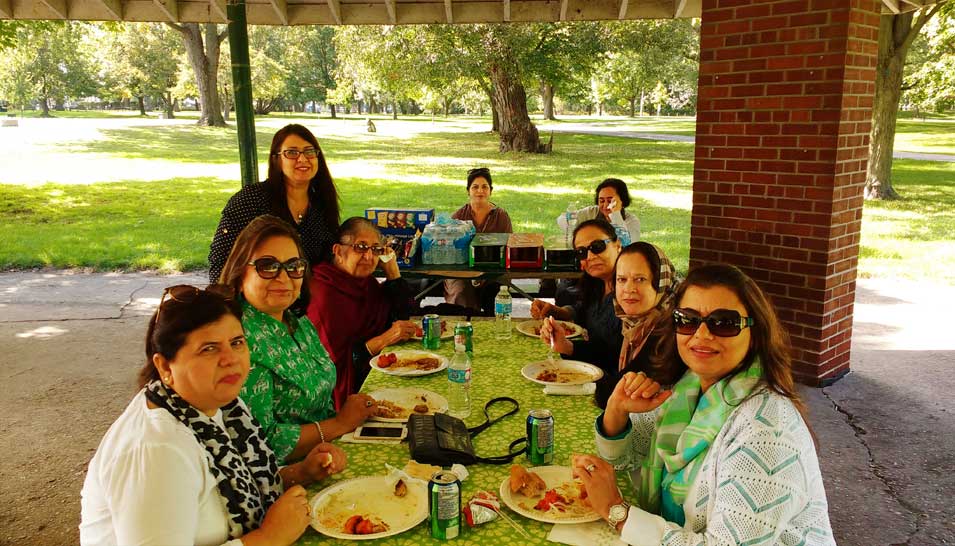 From L to R: Khalida Masroor Khan, Tazeen Kidwai, Nuzhat Waheed and her mom, Farida Hamid, Farzana Sheikh, Nahid Ziauddin, Khalida Salman Khan, and Nabila Naeem
The sun was out, the sands inviting, the kites flying, the turquoise blue water, the sail boats and a little nip in the air heralding the end of summer. Yes, it was a perfect day at Woodbine Beach Park in Toronto and welcomed 43 former aramcons on Sunday, September 25th, 2016, to reminisce and share the good times we had in Saudi Arabia.
The delicious food with different kebabs and chicken biryani, the watermelon, bags of chips and ice-cream reminded us of the many picnics we had on Ras Tanura, Qurrayah or Half Moon Bay beaches in Saudi Arabia. 
Many made new friends, others caught up with old friends and acquaintances, news was exchanged and the stories were enjoyable. The Memory Lane Bingo truly took everyone through the Aramco neighbourhoods as we remembered the Causeway, Bahrain, souks, cheese breads, kapsa, insha'allah or vaasta. It all came back.
Aramcons who attended the picnic were: Cathy Brown, Jasmine, Marc and Wilfred Carvalho, Bing and Mario Chan, Syed Hussain Haider, Farida and Javaid Hamid   Alim, little Kamran, and Tanaz (Khory) Jivraj, Anwar Khan, Khalida and Masroor Khan, Khalida and Salman Khan, Farouk and Yasmin Khory, Asim and Tazeen Kidwai, Wing Kwan, Maha, Nabila, and Shahid Naeem, Ashfaq and Yasmine Noor, Bibi and Mohamed Patel, Amanda Pinto, Nita and Om Prakash Sharma, Adida, Huda, Majhabeen and Mohammed Suboor, Nuzhat and her mom, and Nauman Waheed, Farzana and Sheikh Yousef, Nahid and Zia Ziauddin.
The organizers Yasmin and Farouk Khory and Jasmine and Wilfred Carvalho welcomed everyone. They also mentioned that next year the reunion would be organized by Nauman Waheed.