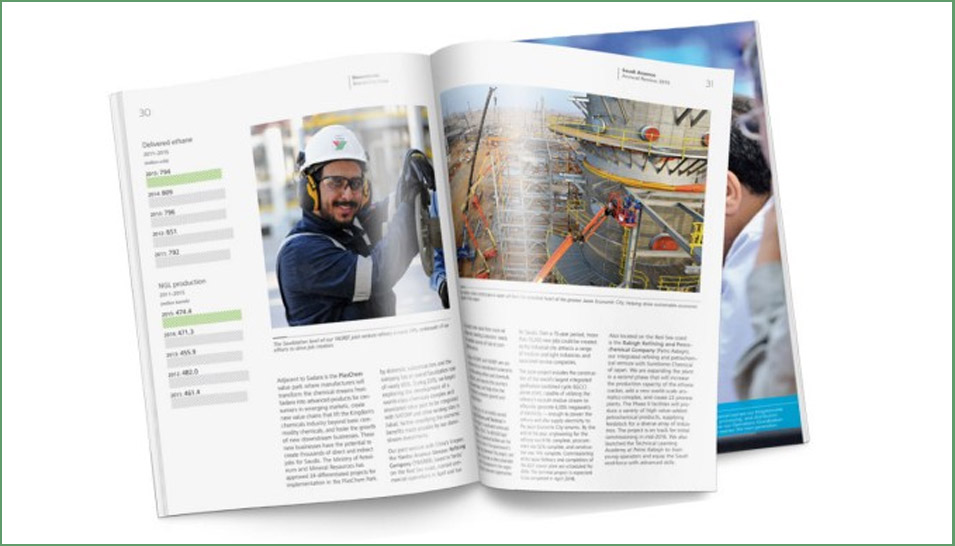 The year 2015 was a particularly challenging one for our industry. Strategic decisions taken the past few years, including a corporate transformation founded on capital efficiency, innovation, operational excellence, and downstream integration, have placed the company in a position of strength to face these challenges. The positive results of these strategic decisions are reflected in the company's achievements, which are detailed in the company's 2015 Annual Review, released in May 2016.
The successes highlighted in the Annual Review reflect our unwavering dedication to become the world's leading integrated energy and chemicals company.
Collectively, we responded to the unsettled business climate on numerous fronts, optimizing capital expenditures, deferring low-priority projects, and lowering our direct controllable costs — without diminishing our determination to deliver on our strategic vision.
Upstream: Sustaining Excellence
Every day, products made from our resources enable people across the globe to live more productive lives. From fuels and lubricants to performance textiles and advanced plastics, it all starts with our resource base. Managing these resources for the long term requires sustained excellence in every aspect of our upstream operations.
In 2015, to meet our production targets, we produced an average of 10.2 million barrels per day (bpd) of crude oil, a new all-time record. Total raw gas processing averaged 11.6 billion standard cubic feet per day (scfd), also an all-time record. Our pursuit of unconventional gas continued to gather momentum as we invested considerable resources to find and produce gas from shale and tight gas formations. Growing gas production enables us to deliver additional volumes of gas as fuel and feedstock for domestic industries, driving economic growth and diversification.
Our ability to increase supplies of natural gas to reduce the Kingdom's reliance on liquid fuel for electricity generation and to power seawater desalination plants is vital for the country's continued prosperity. To meet this challenge, we plan to nearly double our supply of gas over the coming decade to more than 20 billion scfd.
Downstream: Maximizing Value
We significantly expanded our refining and chemicals capabilities within the Kingdom, helping to diversify the Kingdom's economy, providing high-quality job opportunities for Saudis, and reinforcing our commitment to generate maximum value from the Kingdom's hydrocarbon resources.
The Sadara Chemical Company, the world's largest chemicals complex built in a single phase, is on track for full production by early 2017, featuring a mixed feed cracking unit capable of processing 85 million scfd of ethane and 53,000 bpd of naphtha as feedstock to produce 3 million tons of performance plastics and high-value chemicals per year.
Construction of our wholly owned Jazan Refinery and Terminal in the Kingdom's southwest continued steadily in 2015. The 400,000 bpd refinery and terminal facilities are the industrial heart of the government's greater Jazan Economic City project.
Our integrated refining and petrochemical venture with Sumitomo Chemical of Japan, the Rabigh Refining and Petrochemical Company (Petro Rabigh), is currently being expanded in a second phase that will increase the production capacity of the ethane cracker, add a new world-scale aromatics complex, and create 22 process plants.
Our affiliate, Aramco Overseas Company B.V., and LANXESS, a German specialty chemicals company, signed a binding agreement in September to create a new 50-50 joint venture company. ARLANXEO will develop, produce, market, sell, and distribute performance polymers used by global tire and auto parts manufacturers.
Technology
Sustained investment in technology — particularly in today's challenging business climate — is a key enabler of our company's long-term resilience. Our approach is steadily building results. For example, during 2015, we were granted a company record number of patents — 123 — by the United States Patent and Trademark Office.
Strategically located in technology hubs in key energy markets, our Global Research Network provides an environment for innovation to flourish and underscores our drive to achieve global leadership in energy-related technologies. In 2015, we expanded our network with the opening of new research centers in Beijing and Houston.
Health, Safety, and Environment
We believe the health and safety of our people and the preservation of the natural environment provide a foundation for future progress and development.
We believe technology solutions offer the key to protecting and preserving the environment while sustaining the benefits to be derived from hydrocarbon resources. In a major milestone, we launched a pilot program to capture CO2 and inject it underground to enhance oil recovery.
Globally, we support the efforts of the Oil and Gas Climate Initiative, a collaborative effort that seeks to spur practical action in areas such as the role of natural gas and greenhouse gas reduction. At the United Nation's Climate Change Conference, the 21st Conference of the Parties (COP21), we exhibited elements from our portfolio of greenhouse gas management technologies, including onboard mobile carbon capture and research into more efficient engines.
Enabling Opportunities
As steward of the nation's energy resources, we support the nation's commitment to a sustainable energy economy by championing best practices in conservation and efficiency.
In 2015, we continued making progress toward becoming self-sufficient in meeting our own needs for electricity while also increasing energy efficiency. We completed a program to replace more than half a million incandescent lights with efficient LED bulbs and installed 8,000 LED street lights in company communities. Annual energy savings from the LED lights installed thus far are estimated to exceed 42 gigawatt hours — equal to saving more than 80,000 barrels of oil equivalent per year.
In December, we launched our In-Kingdom Total Value Add program, designed to position local content at the heart of our procurement process. The program's goal is to double the production of locally manufactured energy-related goods and services contracted by Saudi Aramco to 70% by 2021.
Human Resources
Delivering on our strategic intent requires more than investments in technology and capital projects — most importantly, it requires investments in people. To ensure we meet our aspirations, we emphasize continuous development and skill building to drive performance through a wealth of courses, training centers, internships, and mentorship programs. In 2015, our workforce grew to another all-time high of 65,266.
Citizenship: Inspiring Tomorrow
We believe that by engaging with local communities across a spectrum of shared values, we aid the growth of sustainable and dynamic societies. This belief is backed by our support of beneficial citizenship programs and initiatives and by the volunteer efforts of our people, inspiring brighter futures here in the Kingdom and around the world.
The King Abdulaziz Center for World Culture — our flagship initiative for engaging the nation's youth — will join the collection of institutions in the Kingdom dedicated to knowledge and creativity. A suite of outreach programs under the umbrella of iThra Youth has reached more than 200,000 students and teachers across Saudi Arabia, providing interactive sessions to enrich STEM skills and encourage reading.
It has been an extraordinarily challenging year, but one filled with equally extraordinary accomplishments made possible by the resolve and ingenuity of our people. The success we achieved attests to the leadership and resiliency we, as a company, have always demonstrated in times of adversity.