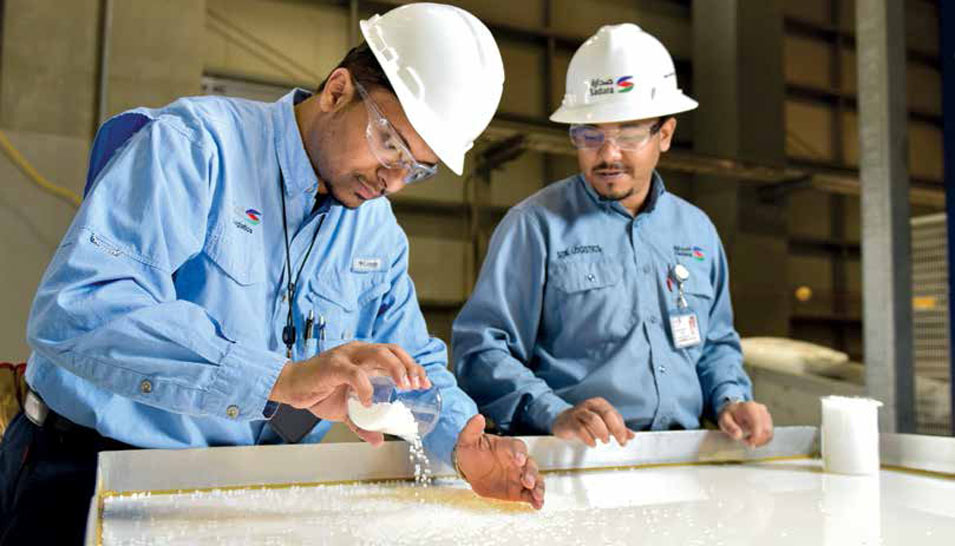 Saudi Vision 2030 promotes the development of downstream business in plastics, chemicals, and other related industries related to oil and gas production. An example of efforts to diversify Saudi industry and make a push in downstream businesses is the Sadara Chemical Company in Jubail. The joint venture between Saudi Aramco and The Dow Chemical Co. produces a broad slate of high performance plastics and specialty chemicals — many of which are new to the Kingdom and the region.
Dhahran — This year, the Kingdom of Saudi Arabia celebrates its 88th National Day. Over the course of almost nine decades, the Kingdom has experienced incredible developments in its economy, which has evolved dramatically — from one based largely on traditional local caravan trade commerce to one with both national and international reach.
Saudi Arabia now has the largest economy of any Arab country and the 20th largest in the world. Much of this strength is due to the fact that the Kingdom is one of the world's biggest oil exporters. But Saudi Arabia is ready to diversify its economy to be closely attuned to the global marketplace. This drive toward the future is guided by the Kingdom's Vision 2030.
As we mark Saudi Arabia's National Day next Sunday, this is an opportune time to take a look at the nationwide economic transformation that has been underway since the launch of the Kingdom's Vision 2030 in April 2016.
At Ras al-Khair, The King Salman International Complex for Maritime Industries and Services will transform the face of rig and shipbuilding — both regionally and globally. The complex will offer a broad palette of development for the Kingdom — opening the doors for strategic industries to operate and flourish.
Vision 2030 is a national strategy designed to reform and diversify the economy, foster increased investment from all sources, create meaningful employment for Saudi Arabia's burgeoning, young population, and on many levels, open up the Kingdom to the world.
With the blessings, guidance and active support of the Custodian of The Two Holy Mosques King Salman ibn 'Abd Al-'Aziz Al Sa'ud, the strategy is being implemented under the direction of HRH Prince Mohammed ibn Salman ibn 'Abd Al-'Aziz Al Sa'ud.
Guided by this platform, Saudi Arabia's governmental bureaucracy and regulatory system are being dramatically reformed and streamlined to create investment opportunities that will help the Kingdom move away from its traditional dependence on the petroleum sector, and in the process, create new business opportunities and meaningful jobs nationwide. There is widespread public support for this strategy and the exciting future it portends, filled with promise and possibilities.
How does Saudi Vision 2030 work, and how far has the Kingdom advanced since it was announced more than two years ago? Can we see tangible signs of progress? And what prospects lie ahead for the people of Saudi Arabia?
To the average person, the most visible signs of Vision 2030 may be social and cultural: for example, licensing women to drive and reintroducing cinemas across the country. But important economic changes are afoot as well, and they have begun to have an impact, and will become more visible as time goes on.
The company has long considered its social responsibilities paramount to doing business in the Kingdom. Recent efforts have included helping farmers in Jazan irrigating and marketing their coffee bean crop.
'Ambitious Blueprint'
In unveiling Vision 2030 as an "ambitious but achievable blueprint" for the future, Crown Prince Mohammed noted that the strategy was built on three strong pillars:
Saudi Arabia's central and influential position at the heart of the Arab and Islamic worlds
The Kingdom's determination to become "a global investment powerhouse" to stimulate the economy and diversify revenues
Saudi Arabia's "unique strategic location" that positions it for transformation into a "global hub connecting three continents — Asia, Europe and Africa" — and "an epicenter of trade and the gateway to the world."
To facilitate female involvement in the expanding
workforce, the government this year opened up
driver education and driving licenses to women.
Setting forth the details of Vision 2030, Crown Prince Mohammed stressed the importance of the Kingdom's population in making this vision a reality. About 60% of Saudi Arabia's citizens are under the age of 30, and about 70% of Saudis are internet savvy, according to best estimates. These numbers clearly indicate the Kingdom is well positioned for change.
"Our country is rich in its natural resources," the Crown Prince said. "We are not dependent solely on oil for our energy needs. Gold, phosphate, uranium, and many other valuable minerals are found beneath our lands. But our real wealth lies in the ambition of our people and the potential of our younger generation. They are our nation's pride and the architects of our future."
Three themes guide the economic reform programs rolled out in Vision 2030 — a vibrant society, a thriving economy, and an ambitious nation:
A vibrant society lives by the Islamic principle of moderation, is proud of its national identity and its cultural heritage, and enjoys a good life in a "beautiful environment" enhanced by effective social welfare and health policies.
A thriving economy is built upon an educational system "aligned with market needs," and it creates economic opportunities for entrepreneurs, small businesses, and large corporations.
In an ambitious nation, efficiency and responsibility are applied at all levels, and this requires "an effective, transparent, accountable, enabling, and high performing government."
Initially, more than a dozen programs were announced to reform government agencies and regulations with the goal of encouraging foreign and domestic investment and diversifying the business environment.
Among other areas, these programs have focused on government restructuring, strategic directions, fiscal balance, project management, regulations review, performance measurement, human capital, strategic partnerships, privatization of public entities, and governance of the public sector.
Perhaps the best known program is the National Transformation Program, which is designed to transform government agencies and other state institutions into flexible, transparent mechanisms that facilitate the changes sought under Vision 2030.
Among other things, Crown Prince Mohammed has pledged to "expand the variety of digital (government) services to reduce delays and cut tedious bureaucracy."
Saudi Aramco's Jazan Refining Complex (JRC) project in the Kingdom's southwest looks to provide an industrial presence in the region and diversify the economy. The JRC continues Saudi Aramco's impressive track record in the delivery of mega-projects that take their place as vital cogs in the Kingdom's economy. When fully operational, its capacity will be 400,000 barrels per day of Arabian Heavy and Arabian Medium crude oil. (Photo: Musleh J. Khathami/MPD)
Economic Impact
After four consecutive quarters of economic recession in 2017 — the first such slowdown since 2009 — the Saudi government announced recently that the national economy had turned the corner in 2018, and showed impressive strength in the first quarter of this year.
The recovery was attributed not only to the increase in crude oil prices, but also to growth in the non-oil sector, according to the General Authority for Statistics.
A local newspaper, the Saudi Gazette, described the rebound as "evidence of the resilience of the Saudi economy and its ability to recover from both the reduction in oil prices and the structural reforms."
The structural reforms mentioned were, of course, the early steps in implementing Vision 2030. Making dramatic changes in the structure of state agencies is bound to cause hesitation in the marketplace, as businesses hold off on new purchases and projects and look to see where the economy is going. By late 2017, the business sector showed growing confidence that the changes were working, and the Gross Domestic Product (GDP) began to improve.
The Saudi economy registered annual real GDP growth of 1.2% in the first quarter of 2018, year-on-year, according to the statistics authority. It reported accelerated growth in both the oil and non-oil sectors. The oil sector grew by 0.6% in the first quarter compared to a 4.3% drop in the same quarter in 2017. For its part, the nonoil sector grew by 1.6% in the first quarter of 2018 compared with 1.3% growth for the first quarter of 2017, year-on-year.
The General Authority for Statistics said the main drivers behind the recovery were growth in the non-oil manufacturing sector and in the mining sector — by 4.6% and 6.3%, respectively. Given the commitment to Vision 2030, these sectors are expected to lead the Kingdom's future economic growth.
Overall, nearly 47% of the growth in the GDP in the first quarter was attributed to the private sector. The oil sector accounted for more than 30%, and the government sector for more than 22%.
Bloomberg News, citing the Saudi Arabian Monetary Agency (central bank) data, reported that bank loans to private businesses in Saudi Arabia grew in April for the first time in more than a year. Withdrawals from automated teller machines — a measure of household spending — also showed signs of recovery.
Saudi financial authorities were quoted as saying they expect non-oil GDP to expand 3.7% this year.
Ziad Daoud, chief Middle East economist for Bloomberg Economics in Dubai, said: "Non-oil GDP growth is likely to accelerate later in the year as the government stimulus kicks in and the impact of that spending is felt."
The World Bank, assessing the Kingdom's economic outlook, predicts an overall GDP growth rate for Saudi Arabia — including both oil and non-oil GDP — of 1.8% in 2018, 2.1% in 2019, and 2.3% in 2020. It sees next year's growth rate passing beyond 2% "as the negative short-term effects of structural reforms dissipate and government balances improve."
The bank adds: "As the National Transformation Program related reforms and direct government initiatives aimed at the private sector are implemented, while capital spending is simultaneously ramped up, further domestic growth opportunities are foreseen to open up."
Downstream Industry
Vision 2030 has been promoting the development of downstream businesses in plastics, chemicals and related industries to add value to oil and gas production and, at the same time, to diversify Saudi industry.
An example of this downstream push is Jubail's Sadara Chemical Company — a Saudi Aramco-Dow Chemical joint venture, launched in 2011 that began full, on-spec commercial operations in September 2017. Sadara produces a broad slate of high performance plastics and specialty chemicals, including polyurethane precursors — many of which are new to the Kingdom and the region.
In collaboration with the Royal Commission for Jubail and Yanbu', Sadara is developing PlasChem Park, a 12 km2 industrial zone next-door to its 6 km2 chemical complex and a base for new manufacturing companies supporting the country's economic transformation. The park, with infrastructure provided and feedstock available from Sadara and others, encourages investment from both domestic and international companies.
A young Saudi plies his newfound welding skills at the STAR Welding School at Dammam Port. In line with Saudi Aramco's iktva program, the school — under 100% Saudi management — is looking to provide skilled workers to key fields in the energy sector and the sectors that support them, funded in part by global investors. (Photo: Ahmad El Itani/MPD)
As tourism becomes a primary focus in Saudi Vision 2030, the creation of new ventures such as Qiddiya Entertainment City have become crucial to the development of a robust social and cultural scene in the Kingdom.
The Non-oil Economy
Foreign investment is a crucial part of Vision 2030. In addition to bringing in funds for new projects, it fosters the growth of domestic investment opportunities. The Kingdom foresees big changes and major expansion for the Kingdom's Public Investment Fund — the main channel for such financial flows. As Crown Prince Mohammed said, "We will transform the Public Investment Fund into the world's largest sovereign wealth fund." At the same time, he said, "we will encourage our major corporations to expand across borders and take their rightful place in global markets."
Creating a vigorous and diversified nonoil economy involves projects in numerous sectors. The 2018 budget focuses on nonoil expansion, with larger capital allocations for sectors such as transportation, construction and utilities, according to this year's Saudi economic outlook by Aljazira Capital.
"The economy is also marching toward privatization," the bank's report said, as the government announced several reforms to attract private players, including a SR 72 billion stimulus focused on housing, exports and manufacturing.
Building a diverse, non-oil economy will create many meaningful jobs, and this means new opportunities not only for Saudi men but also for Saudi women. In recent decades, many Saudi women have been pursuing educational opportunities, securing college degrees and certification in various forms of advanced training. Vision 2030 recognizes the value that women can add to the new economy, and it plans to increase their participation in the workforce from 22% to 30% by the year 2030. To facilitate female involvement in the expanding workforce, the government this year opened up driver education and driving licenses to women.
Building a diverse, non-oil economy will create
many meaningful jobs, and this means new
opportunities not only for Saudi men but also for
Saudi women. Vision 2030 recognizes the value
that women can add to the new economy, and
it plans to increase their participation in the
workforce from 22% to 30% by the year 2030.
Vision 2030 also seeks to develop the tourism sector and inject new vitality into the Kingdom's underdeveloped entertainment industry. To these ends, the Kingdomis developing two "giga-projects" — Qiddiya Entertainment City and The Red Sea resort complex.
Qiddiya, scheduled for completion by 2030, will be a vast complex some 40 kilometers west of Riyadh, encompassing entertainment, sports and cultural attractions. At 334 km2, it will be three times the size of Florida's Disney World.
Once completed, the city is expected to attract 17 million visitors annually to the entertainment complex, 12 million to shopping areas, and 2 million to the hospitality sector. When its first phase opens in 2022, Qiddiya is projected to attract 1.5 million visitors its first year, a spokesman said. Also by 2022, the city will provide jobs for some 55,000 people.
Included in the planning for Qiddiya are theme parks (among them, Six Flags); entertainment centers; sports facilities for hosting international competitions; motorsport tracks; water- and snow-based attractions; nature and safari experiences; and much more.
Last April, King Salman and Crown Prince Mohammed attended the groundbreaking ceremony for the start of construction at Qiddiya. At that time, Qiddiya's CEO Michael Reininger told Reuters that the project was seeking a broad range of financing from local and international sources. Bonds, direct investment, and other financing would supplement the majority contribution from the Public Investment Fund, he added.
The fund is also the main financier of a second tourism giga-project, called The Red Sea resort. This project envisions a coastal island resort, located between the Red Sea towns of Umlaj and Al-Wajh, close to one of the Kingdom's most diverse nature reserves as well as to the ancient ruins of Madain Saleh, and in the shadow of the dormant volcanoes of Harrat al-Rahat. The resort complex will be developed in partnership with some of the world's leading hospitality firms.
The Red Sea resort will serve as a wellness center, local press reports said, and will also set "new standards for sustainable development and environmental protection," given its location in an ecologically delicate zone. To ensure the protection of the area's wildlife, vegetation, marine life, and coral reefs, the number of visitors each year will be capped. In addition, local heritage sites will be restored.
The Red Sea resort project aims to generate SR 15 billion each year for the Saudi economy and create 35,000 jobs, according to the newspaper Arab News. Initial groundbreaking is expected to take place in the third quarter of 2019. The first phase of the project — including development of hotels, luxury residential units and logistical infrastructure such as air, land and sea transportation hubs — should be completed by the fourth quarter of 2022.
The ambitious NEOM project symbolizes just about all aspects of Vision 2030. The $500 billion futuristic economic and industrial metropolis will be built where Saudi Arabia, Egypt, and Jordan meet, and it has already attracted direct investment interests from a variety of international sources.
NEOM
The fund is a major contributor to another giga-project — the futuristic, transnational mega-city of NEOM, which is a $500 billion economic and industrial metropolis to be built where Saudi Arabia, Egypt, and Jordan meet. "NEOM" is short for an improvised Latin-Arabic term: Neo-Mustaqbal, meaning New Future. The 26,500 km2 business zone, to be developed in the Tabuk area of northwest Saudi Arabia and extending into Egypt's Sinai Peninsula and into Jordan, is already attracting foreign direct investment interest from a wide range of international sources.
The ambitious project symbolizes just about all aspects of Vision 2030. It will feature the most advanced digital technology, will serve as a proving ground for innovation and sustainability, and will focus on such future focused fields as energy and water, biotechnology, food, advanced manufacturing, and tourism.
Crown Prince Mohammed described his own vision of NEOM in a recent Bloomberg interview: "Everything will have a link to artificial intelligence, to the Internet of Things — everything. Your medical file will be connected with your home supply, with your car, linked to your family, linked to your other files, and the system develops itself in how to provide you with better things."
He explained: "Today, all the (digital) clouds available are separate — the car is by itself, the Apple watch is by itself, everything is by itself. There (in NEOM), everything will be connected."
The project is expected to take between 30 and 50 years to complete with its first phase due by 2025. Construction has already begun on hotels and other facilities. King Salman showed his personal support for the NEOM project by visiting the site in July.
An exciting future lies ahead for Saudi Arabia, filled with increased prosperity and opportunity. The wheels are fully in motion to make Vision 2030 a reality — there has never been a more exciting time to be a part of the Kingdom.