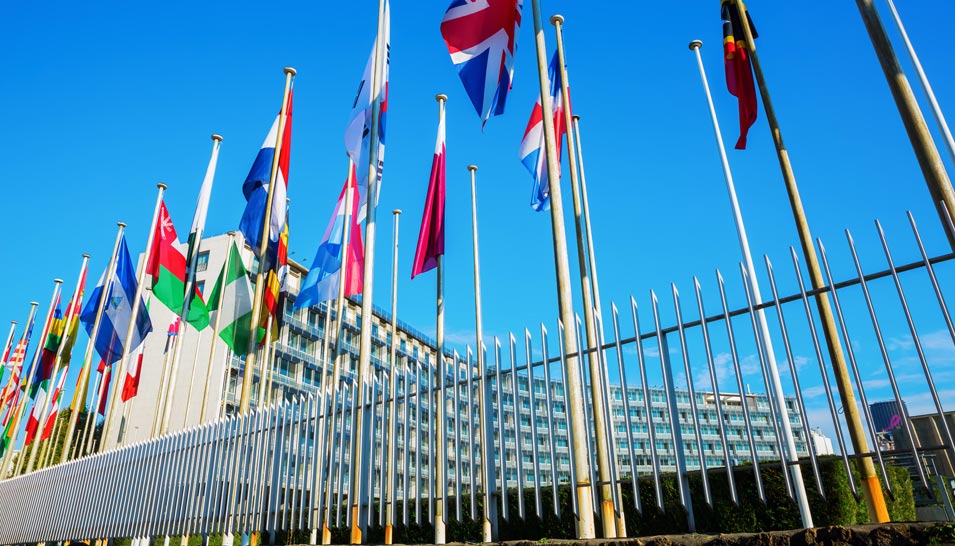 World flags in front of UNESCO headquarters in Paris, France
Two weeks ago, an Aramco ExPats feature on Petra noted that the ancient capital of the Nabataean Empire has been named one of the "new" Seven Wonders of the World. Other countries in the Middle East, not just Jordan with Petra, are awash with stunning historical attractions, not least of them being Saudi Arabia. Over the years, incidental to its responsibilities as the overseer of oil exploration and production and export in the Kingdom, Aramco has on occasion played a role in bringing to light Saudi's historical treasures.
In 2007, Dr. Mohammed Al-Ruwaished, then deputy minister of education for antiquities and museums, declared that there were close to 100,000 historical sites in the Kingdom, fewer than 4,000 of which had been identified and registered as of that date. Prior to when Dr. Al-Ruwaished made his comments, save for Mecca and its wonders, the KSA's ageless treasures overall had received little to none of the recognition they merit outside the Kingdom. Without their inclusion in the picture, the image commonly portrayed of the Arab world's place in history is incomplete, significantly lacking in enriching chromatic nuance.
In 2008, Madâin Sâlih in the Al Madinah Region of the Kingdom was named a World Heritage Site by UNESCO, the first location in Saudi to be so recognized. A Nabataean desert city often compared with Petra, Madâin Sâlih boasts 131 stunning rock tombs reminiscent of those of its Jordanian cousin, a wealth of intricate ornamental carvings, and a Siq-like narrow canyon of its own.
Since then, in a hopeful sign of progress, Al Dir'iya outside Riyadh and the historic quarter of Jeddah have been similarly honored by UNESCO. In addition, three more sites within the Kingdom have been nominated for World Heritage listing: Qaryat Al Faw, Rijal Alma Village, and Thee Ain Village. (It is worth noting here that the village of Al Faw was first discovered in the 1940s when workers for Aramco reported having stumbled upon some interesting ruins while scouting for oil. Had those Aramcons not been so alert and conscientious, there's no telling if or when Qaryat Al Faw would have been discovered.) Taken as a whole, these new developments are indicative of the progress being made in spreading the word to the world about the historical wonders of the Kingdom.
UNESCO uses 10 key criteria when evaluating a nominee's qualifications for possible inscribing as a World Heritage Site. In order to be included on a World Heritage List, a candidate must meet at least one of those 10 criteria. Experts evaluating Madâin Sâlih's nomination singled out Criterion ii (whether a nominee exhibits an important interchange of human values), and Criterion iii (whether a nominee is a unique or exceptional example of a civilization's cultural tradition) when recommending it for inclusion in 2008.
In March 2009, following Madâin Sâlih's inscribing a year earlier, Koïchiro Matsuura, Director-General of UNESCO, traveled to Saudi to meet with HRH Prince Sultan bin Salman Bin Abdulaziz Al-Saud, Chairperson of the Museum and Heritage Foundation and Secretary-General of the Saudi Higher Commission for Tourism and Antiquities. The two men discussed expanded cooperation between Saudi Arabia and UNESCO on cultural issues. HRH Prince Sultan played a key role in developing an updated Antiquities and Museum Heritage Law for the preservation of the cultural heritage of the Kingdom. That revised law laid out a detailed plan for maintaining the integrity of the KSA's historical legacy, breaking it down into eight categories.
The original law upon which it was based went into effect on 23/6/1392H (4 August 1972 on the Gregorian calendar.) Specifically related to Aramco's core operations, Article 54 provided that "SCTA shall coordinate with the Ministry of Petroleum and Mineral Resources regarding the classification and registration of urban heritage buildings located within the concession and reservation areas of oil and gas companies, as well as in the designation of protection zones of said buildings and the protection zone between the archaeological sites and the facilities of said companies." Years earlier, foretelling the spirit and intent of this directive, Aramco workers made possible the discovery of Qaryat Al Faw, now under consideration for inscribing as a new UNESCO World Heritage Site.
In 2014, the Council of Ministers, chaired by then-Crown Prince, today Custodian of the Two Holy Mosques King Salman Bin Abdulaziz, approved a landmark revision of the previous law to better protect and manage the Kingdom's antiquities and heritage. More recently, updates to that law came in the form of approval of a set of executive regulations covering antiquities, urban heritage, and museums. The new bylaw is made up of seven articles, covering investments; the management of heritage sites; a fund to support antiquities and urban heritage sites; the licensing of archaeological surveys and excavations; the prevention of unlicensed trading, exchanging, and leasing of antiquities; the management and licensing of museums; the prevention of violations of the law; and the preservation of the Saudi urban heritage.
Thanks to initiatives such as these, Madâin Sâlih, Al Dir'iya, and the historic quarter of Jeddah can look forward to promising futures as tourist destinations and as symbols of Arabia's lasting historical legacy. We sincerely hope that Qaryat Al Faw, Rijal Alma Village, and Thee Ain Village will soon join them. In recognition of the continuing effort to edify the world on the formidable historical attractions of the Kingdom, AXP has compiled a list of what it considers to be the Seven Wonders of Arabia. We will be featuring each one of them individually in a series of articles, beginning in the near future with a visit to Madâin Sâlih, Saudi's first World Heritage Site.
In the meantime, we salute the admirable efforts being made by the Saudi government and its leadership to preserve and make known the historical treasures of Arabia.
Aramco has a long tradition of supporting the preservation of Saudi culture in all of its many manifestations. Aramcons have worked hard for decades to encourage a greater appreciation of the Kingdom's rich heritage. Our Seven Wonders of Arabia series is our way of supporting that effort.