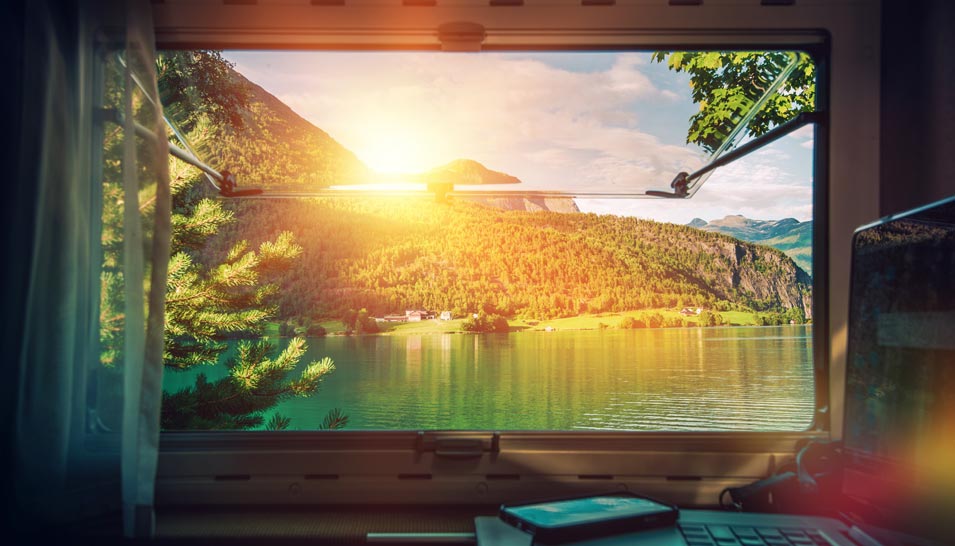 I never realized how rich the history of RVing was until recently when I made a visit to the RV/MH Hall of Fame in Elkhart, Indiana. Friends had told me before about the museum and its attractions, so when on a drive through the Midwest, I found myself unexpectedly left with an open weekend in northern Indiana, I drove to the the modern, well-designed museum situated alongside the Indiana Turnpike (Interstate 80) on the outskirts of Elkhart, 15 miles east of South Bend and within comfortable driving distance of Chicago, Detroit, Indianapolis, and Toledo. My goal was to see for myself what all the excitement was about. Now I know.
In case you wondered, "RV" stands for "Recreational Vehicle" while "MH" stands for "Mobile Home." A leisurely morning spent roaming the museum's halls left me keenly aware that there's much more to the world of RVs than giant Winnebagos lumbering down the highway or the silvery skins of Airstream trailers sparkling beneath the sun's rays. I couldn't believe the variety of designs on display—some of them inventive in the extreme—colorful testaments one and all to the countless thousands of Americans who over the past century have succumbed to the allure of motorized camping as they explored the highways and byways of America in their RVs.
With 100,000 square feet of exhibition space, the RV/MH Hall of Fame portrays the history of RVing from its earliest roots dating from before World War I and extending all the way to the 1980s. There you will see meticulously-restored tent trailers, pop-up trailers, idiosyncratic "housecars," and motorhomes of every size and description. Examples of battleship-size luxury RVs of more recent vintage are displayed separately in an adjacent exhibition hall.
One of my favorite RVs on display in the main exhibition area was Mae West's 1931 Chevrolet Housecar, which features a covered deck on the back where she liked to sit in her rocking chair as she was ushered back and forth between her lodgings and movie locations. Legend has it that Paramount Pictures had the vehicle built especially for Ms. West in order to induce the finicky diva to agree to act in movies filmed at remote sites. She demanded luxury and comfort wherever she traveled, and they delivered it in unique fashion.
The oldest RV ancestor currently on display at the Elkhart museum is a 1913 Earl Trailer and Model T Ford, custom-built for a professor at Cal Tech and believed to be the oldest non-tent travel trailer in existence. Nearly as old was a 1915 Ford Model T roadster with a telescoping "apartment" built onto its back.
A visit to the museum demonstrates emphatically there are no limits to the human imagination when it comes to inventing new ways to live economically if not comfortably in a compartmentalized space you can take with you anywhere the highway leads.
Many of the vehicles on display are open for inspection. Wandering about inside some of them reminded me of a visit I once took to a World War II-era submarine on display at Pearl Harbor. In both instances, it amazed me how many conveniences and necessities can be fitted inside a small space when the human imagination goes to work.
Elkhart is a short drive from South Bend, Indiana, home to the University of Notre Dame. When the late Father Ted Hesburgh retired as president of the school, he and retiring Athletic Director Father Joyce bought an RV and spent much of the first year of their retirement together driving around the country visiting alumni and making new friends. "Father Ted" joked at the time that he and Father Joyce were going to relive the literary adventures of writers such as John Steinbeck (Travels with Charley: In Search of America), Robert Persig (Zen and the Art of Motorcycle Maintenance), William Least Heat-Moon (Blue Highways: A Journey into America), and Jack Kerouac (On the Road). He captured the joys of their experience in an immensely readable tome of his own, Travels with Ted & Ned available for purchase on Amazon.com. Hesburgh describes the work as "a curious combination of travels that marked the beginning of our retirement years." It goes well beyond their RVing experience, covering a subsequent round-the-world cruise on the Queen Elizabeth 2. It's a worthwhile read written in diary form for anyone interested in travel literature.
What a splendid way to spend one's retirement years! Wouldn't you agree? If you do, you need to visit Elkhart.
If you're already an RV aficionado, or if you're just interested in exploring interesting new things, you owe yourself a visit to the RV/MH Hall of Fame Museum in Elkhart, Indiana the next time you're in the area.
---
Join the Aramco ExPats Travel Club and go "RVing" with other Aramco ExPats. Click here.