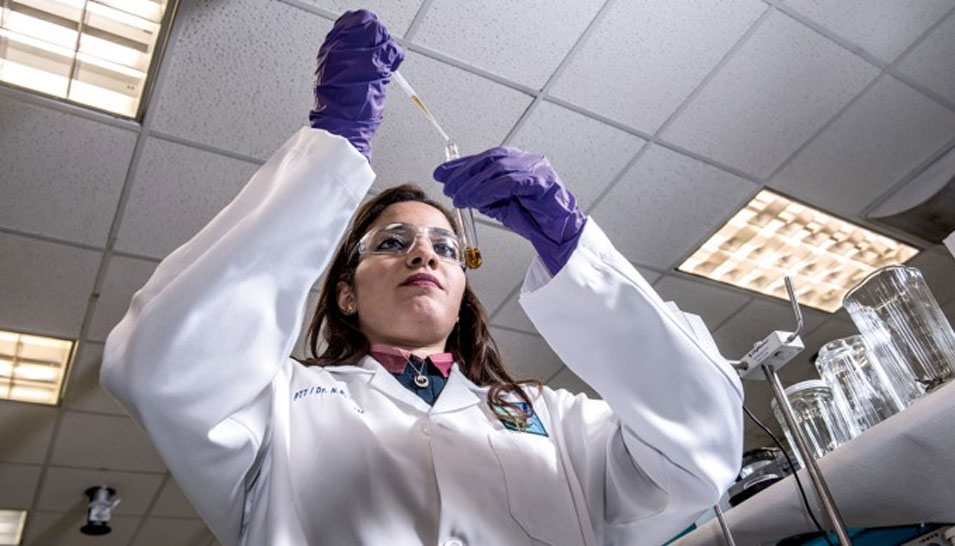 As an element in promoting diversity and inclusion, the Exploration and Petroleum Engineering Center (EXPEC) Advanced Research Center (ARC) established the Women at EXPEC ARC Network (WEN) in 2017 to focus on the development of women within the department. WEN complements women empowerment by enabling them to push past boundaries and excel in their careers as engineers, scientists, researchers, and administrators.
In collaboration with the Women Development and Diversity Division (WD&DD), activities were developed and tailored to EXPEC ARC's unique fabric and aligned with the WD&DD corporate program, resulting in a more adaptive and inclusive atmosphere at EXPEC ARC.
With strong support by management, researchers
such as Afnan Mashat (seen here working in the
laboratory) have seen their careers grow.
Engaging in the Industry in Many Ways
To help women in EXPEC ARC develop technical and leadership skills, WEN encourages female researchers to participate in the industry by attending conferences and playing an instrumental role there, as speakers, mentors, technical reviewers, organizing committee members, etc. EXPEC ARC has sent female researchers to several events in reputable conferences focused on women development. Examples include the Women in Energy conference at the Abu Dhabi International Petroleum Exhibition and Conference, Society of Exploration Geophysicists Women Network Mentor Program, and the Leadership Excellence for Women Awards.
EXPEC ARC women are also active in the department's Young Researchers Program (YRP). The YRP objectives are to develop self-motivated and innovative researchers who lead in their area of specialty and support EXPEC ARC's vision, mission, and strategic goals. Currently, about 20% of the participants are WEN members.
The young professionals are paired with qualified senior researchers within EXPEC ARC through graduation from the program, at which time they are expected to possess a subject matter expertise and lead technology teams in a multidisciplinary technical project.
To inspire women in EXPEC ARC to reach their full potential, WEN has launched an event of multiple sessions throughout the year titled "Women Who Inspire." The event hosts female leaders from different business lines in Saudi Aramco and outside the company as keynote speakers to share their stories and experiences with WEN members and EXPEC ARC employees.
Salma Alsinan, shown here working with EXPEC
Advanced Research Center (ARC) colleague
Philipe G. Nivlet, said the Women at EXPEC ARC
Network has brought many benefits to women
like herself.
An Opportunity for Recognition
Recognition plays a major role in the success of any program. Internally, the EXPEC ARC Special Achievement Recognition of eXcellence (SPARX) awards were presented to five women in 2017. Shamael Al-Shuhail was recognized for scoring the highest in the Production Engineering Flagship course; Zainab Saihati completed the Drillstring Design course with an excellent score and active role in the class; Jumanah Al-Kubaisy was recognized for her active role in the EXPEC ARC driving safety program; and Nora Omairi and Mashail Naqi were both recognized for their outstanding administrative support.
Omairi and Naqi, along with Lauren Stout, were also named finalists in individual categories of the 2017 EXPEC ARC Annual Awards where WEN members were among many teams named as finalists and winners. Among the 12 categories, three female employees were winners — Sarah Saif of Reservoir Engineering Technology won the Outstanding Young Professional category; Feng Liang of Production Technology won the Effective Publication award; and the Best Support Staff award went to Nourah Alarifi of Geology Technology.
Women contribute their expertise to developing technologies that are nominated for international awards throughout the year. In terms of individual recognition in 2017, Abeer Olayan won the Oil & Gas Middle East "Woman of the Year" award, and Sarah Al-Saif was awarded the Young ADIPEC Engineer Award.
Five female employees were nominated in different categories for the Leadership Excellence for Women Awards (LEWAS) in which Abrar Alabbad was shortlisted as a Rising Star. The department also won the Corporate Champion category for EXPEC ARC's numerous initiatives that ensure a level playing field for women in R&D. In conjunction with the awards program, eight WEN members participated in the 2017 LEWAS workshop and symposium.
In 2016, Nouf Al-Jabri placed third in the Berlin Falling Walls competition and was the first person recognized from the Middle East. To recognize her remarkable achievements, she was honored in 2017 with the Medal of Creativity in Science by HRH Prince Khalid Bin Faisal, governor of Makkah Province.
Inspiration to the Next Generation
WEN members are also keen on transferring their knowledge of technology innovation in the oil and gas industry and their career experiences to high school students to raise awareness and share with them information about petroleum engineering and geoscience disciplines.
EXPEC ARC's young female professionals have also been participating in department level activities — especially those that involve higher management presence to sharpen their strategic thinking skills. Women are assuming different roles in the governing bodies meetings of EXPEC ARC, including the Technology Council, the Steering Committee, and the International Advisory Council.