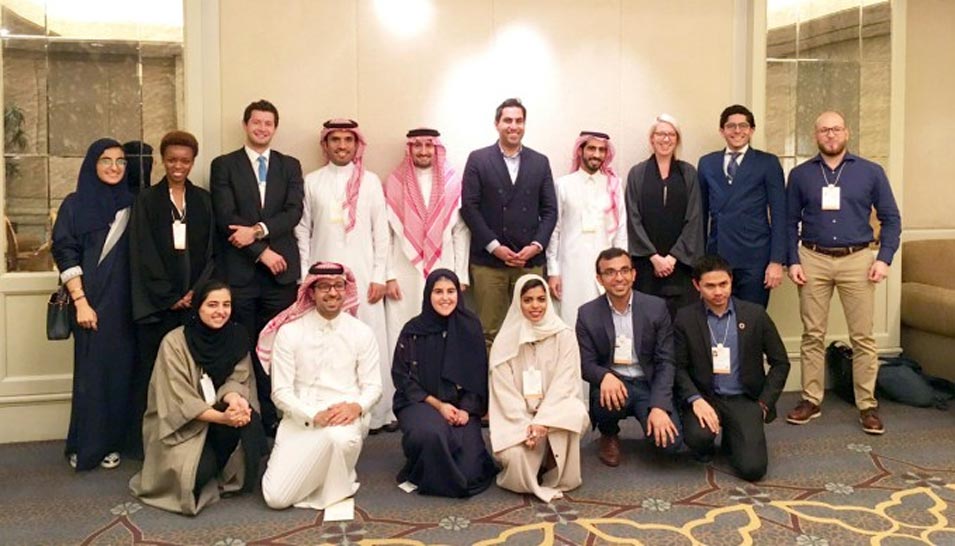 YLAB members with United Nations youth envoy Ahmad AlHendawi (sixth from left) at the MiSK Global Forum held in Riyadh.
The Young Leaders Advisory Board (YLAB) recently represented Saudi Aramco at the MiSK Global Forum (MGF). The forum is an initiative to empower Saudi youth and promote their contribution to Saudi Vision 2030.
The two-day forum focused on entrepreneurship and innovation in the areas of art, academia, education, literacy, civil society, entertainment, government and international organizations, sports, media, science, and technology. High-achievers and influencers (ages 18-35) engaged in dialog with 130 subject-matter experts, leaders, and innovators to define their future.
Through knowledge-exchange sessions, panel discussions, workshops, and other networking opportunities, the forum serves as a platform to empower the leaders of tomorrow by inspiring boundless innovation, nurturing the creative potential that is needed to innovate, driving growth and job creation globally, and in the process, shaping youth into truly global citizens.
YLAB as an Agent of Change
YLAB is a sounding board for Saudi Aramco's management through its transformation — providing solutions to drive the company toward achieving its strategic intent.
YLAB's mission is to engage and inspire Saudi Aramco's young employees. Serving as an active resource, it provides solutions that drive the strategic intent of the company and facilitates two-way communication between the company's young employees and corporate management. Created in 2011, YLAB is a pioneer initiative undertaken by Saudi Aramco to engage our young employees and shape the company's future. 
Expanding Horizons
Nujood Mulla - YLAB member
Seven members of the YLAB team attended the MGF to raise awareness on YLAB activities, learn and adapt from success stories in the region, gauge the pulse of young Saudis on current issues, and seek out opportunities to collaborate with other organizations participating in MGF. YLAB had the opportunity to meet with the UN Youth envoy at the forum and is looking to collaborate with them in the near future.
YLAB member Nujood Mulla said: "The forum presented a wider view of where the country aspires to be in coming years and how the youth can capitalize on current assets to make that vision come to life. There was a singular emphasis on creating an entrepreneurial culture within the region."
Fatima Al-Bassam, a YLAB member, said, "The forum really helped us expand our horizons and exposed us to what young people around the Kingdom are thinking of and working on."
Ali AlKhatib, YLAB coordinator, said: "The forum was an opportunity to see what other countries, organizations, and leaders are doing to empower their youth and what more can be done. The team was inspired and motivated to contribute to shaping Saudi Aramco and Saudi Arabia's future."