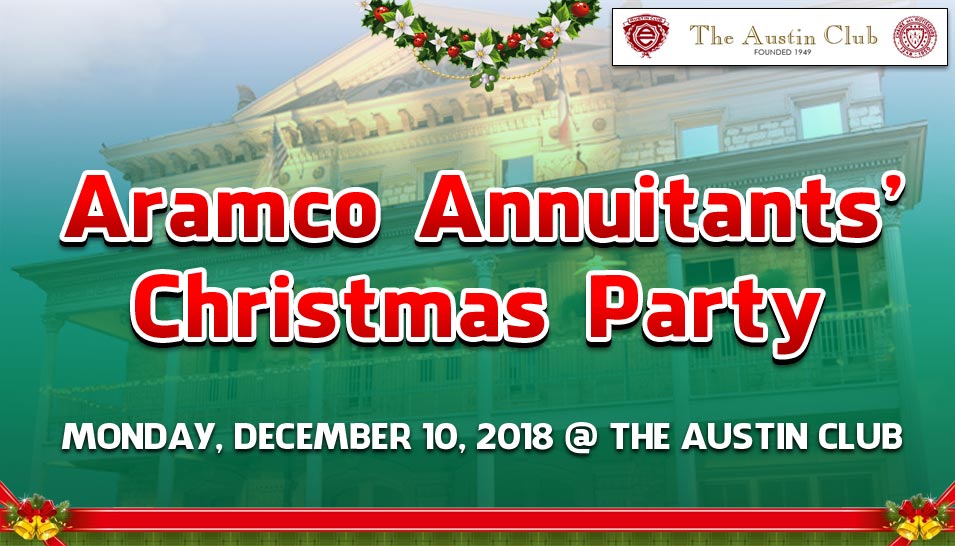 Welcome to another Texas Hill Country Christmas party for former Aramco, Shareholder and ASC employees in Central Texas.  Anyone with ties to our Aramco experience is invited. This year's party will be held at the same place as last year. The Austin Club is in an historic building downtown with free parking across the street.
Their website is http://www.austinclub.com where a map and directions can be found.
The evening's schedule includes:
6:00 pm – 7:00 pm
7:00 pm – 8:00 pm
8:00 pm – 10:00 pm
Reception (Cash Bar)
Plated Dinner (Select Below)
Conversation
We hope you can join us. Please send the reservation form with a check made payable to Jack Meyer for $65 per attendee.
Jack Meyer
3023 Maravillas Loop
Austin, TX 78735-1419
Please send your reservation and payment as soon as possible — no later than December 1 — since we personally fund all deposits. Refunds for cancellations will only be possible through December 1.
If you have any questions, please give us a call.
David and Vicki Jessich
Phone: 512-263-8727
Email: [email protected]
Social Hour
Beer (Imported)
Wine (Mondavi)
Cocktail (House)
$6.00 (includes 22% service)
$7.00
$8.00
Dinner Selection
(must choose in advance)
Seared Duck Breast
spicy Moroccan carrot salad, charmoula sauce, and roasted haricots verts
or
Oven Roasted Pork Chop
andouille and crab fried rice, spicy cream sauce,
seared okra, and oven-dried tomatoes
or
Grilled Half Maine Lobster
Forbidden black rice, steamed haricots verts, pickled shallot, and saffron rouille
or
Vegetables En Papillote
carrot, fennel, mushroom, bok choy, shallot,
lemon and chili oil, crispy fingerlings and aioli
Salad, Rolls and Dessert
Included