Agop Parnoutsoukian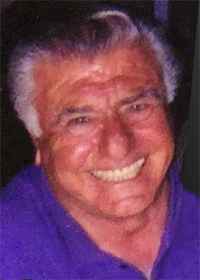 Agop "Jack" Parnoutsoukian, 87, cashed in his chips July 23rd, 2018 after he was dealt a losing hand of lymphoma cancer.
Jack was born on July 5th, 1931 in Beirut, Lebanon to Ohannes and Helene Parnoutsoukian. Jack moved to Saudi Arabia to work as a fleet mechanic for the Arabian American Oil Company (ARAMCO), where he honed his skill as an auto mechanic. At ARAMCO he met Sophie Tadros, a registered nurse with ARAMCO, who later became his wife. Shortly after, Jack and Sophie moved from Dhahran, Saudi Arabia to Winnipeg, Canada - "from the oven to the freezer" - where Jack continued his career as a hard-working auto mechanic. Jack and Sophie were blessed with three children – John, Roy and Helen. To escape the freezer, Jack and Sophie later moved their family to Ceres, California, where Jack started and ran his own successful automotive repair service center which soon became a trusted, local favorite. He instilled his extensive troubleshooting repair knowledge, passion and strong work ethic onto his children.
In Jack's spare time, he enjoyed spending quality time with family and close friends, going down to Jack's Automotive and playing barista to his long-time, loyal customers, cooking delicious Mediterranean meals, fixing anything that needed fixing and taking trips to Las Vegas or anywhere he could hit a jackpot. His family paid this tribute to him, 'Jack was one of the most generous, loving, devoted, kind, funny and hard-working men. We will always love him and miss his cooking and infectious smile. We will never forget you.'
Jack is survived by his wife of 53 years, Sophie, son, John and wife Lillian, son, Roy, daughter, Helen, grandsons, Jack (Hagop) and Nick, granddaughter, Sonia, sister, Sonia Hakim and husband Paul, sister-in-law, Therese Parnoutsoukian and many other extended family members. Jack is preceded in death by his parents, Ohannes and Helene Parnoutsoukian, sisters, Zabel Manoyan and Anahid Kazanjian and brother, Joseph Parnoutsoukian.
Should family or friends desire, in lieu of flowers, memorial donations may be made to Jack's favorite missionary association, the Armenian Missionary Association of America (AMAA).