Albert Edward Kovalik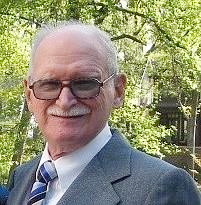 Albert Edward Kovalik, known to almost all as "Al," was born in Clarksburg, West Virginia in 1932 to Wendelin and Rena Kovalik. His grandfather worked in the coal mines. His family eventually moved to the Cleveland area and settled there. Al attended Lakewood High School and then joined the U.S. Navy with several of his friends, serving on a mine-sweeper. When he returned, Al studied engineering at the Ohio State University. He shared a house with a number of friends, and they were quite proud of their collection of empty wine bottles-all different! Al worked very hard in a challenging program, and went on to a long career as an engineer and project manager in the petroleum industry. He was introduced to Barbara Olle, a social worker, by their friends Lou and Therese Kren, and after several tries at dating, Al and Barbara married in August 1965. Their wedding day was so hot that their cake melted!
Al and Barbara led an adventurous life with their first dog, Missy. They drove across country to move to a new job for Al in San Francisco, California. He later worked in Argentina, where they learned Spanish, lived with the locals, and traveled extensively. Al and Barbara then returned to Cleveland to have two much-loved children-Susan in 1974 and David in 1975. After a short time in Houston, Barbara agreed to have the family accompany Al on an even bigger adventure, to work for Saudi ARAMCO in Saudi Arabia. The family spent over five years there, along with a year in London. Living there was challenging, but the family made many great friends and traveled the world on regular trips to see family in Ohio.
After returning to Lakewood, Ohio in 1986, Al worked for several engineering firms, and helped Barbara to fix up their 1921 house near Lake Erie. He also took care of two new collies in succession. He was active at both Magnificat and St. Ignatius High Schools, and enjoyed helping Susan and David select their colleges. He volunteered for the education committee at St. Wendelin parish, and later attended St. Luke parish. Al and Barbara enjoyed traveling regularly to visit their children, family, and friends. While often quiet, Al could tell wonderful stories when prompted.
In 2012, Al and Barbara undertook another adventure, moving to Washington DC to be near Susan and her husband Chris Tully. They were thrilled when David moved down from Philadelphia to live in Old Town Alexandria, and married his wife Barbara Harris. It was a blessing for the family to be near each other as Al's Alzheimer's worsened. Barbara worked very hard to take care of him at home, supported by kind caregivers and several local groups, including the Friends' Club in Bethesda. Through it all Al maintained a sense of humor and a joy in his family, and leaves us all a wonderful legacy.
We take comfort in knowing that he is in heaven with God, and with all of his memories of a life well-lived.
In lieu of flowers, the family asks that donations be made to the Poor Clare Colettines. Donations may be sent to the Monastery of the Poor Clares, 3501 Rocky River Drive, Cleveland OH 44111-2998.
Arrangements under the direction of Joseph Gawler's Sons LLC, Washington, DC.