Anita Joy Candler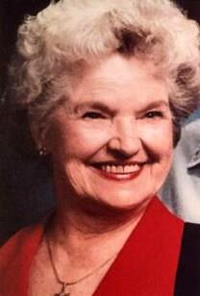 Joy was born on April 4, 1925 in Corsicana, Texas, to Rufus Burleigh Hickman and Ruth Elizabeth Styx Hickman. She died on October 11, 2017. She met Jerry Mullin as a freshman at Milby High School in Houston and married him in April 1942. Joy graduated from Pasadena High School and was editor of the school newspaper. She was in "Who's Who" in American High Schools. Jerry served in the Army Air Corp during World War II and was discharged in 1945. They bought their first house in east Houston in early 1951. Their first child, Jerry Michael (Mike), was born in October 1951. Jerry completed a Petroleum Engineering Degree from the University of Houston, and went to Saudi Arabia with the Arabian American Oil Company (Aramco) in 1952. Joy and 17 month old Mike joined him in Saudi Arabia in 1953. Two more children were born to Joy and Jerry in Saudi Arabia. Kerry Patrick was born in 1954 and Jean Patrice (Trice) was born in 1957. During Joy's time in Saudi Arabia she made lots of friends, taught Sunday School, was involved in community activities, such as the Acting club and PTA, and supported her children in their activities, such as Little League Baseball. Much time was spent at Sandy Hook, a marina built by Aramco, where families could swim, play and sail. She and the family had the opportunity to travel extensively in Europe and the Middle East.
Jerry and Joy left Saudi Arabia in 1972, and moved to Lafayette, Louisiana. Mike and Kerry graduated from Texas A&M University in 1973 and 1976, respectively. Trice graduated from Lafayette High School in December 1974. In January, 1975, Joy, Jerry and Trice moved to Alto in east Texas where Trice attended Stephen F. Austin State University and Jerry worked and lived in Houston on weekdays, and made the commute to Alto on the weekends. Joy spent much time in her garden where her green thumb allowed her to grow many types of vegetables. She taught Sunday school and was active in the church. While in Alto, Joy worked for the sheriff's department and for the tree farm owned by the Texas A&M Extension Service.
Jerry became ill in 1984, and passed in January of 1987, after 44 years of marriage to Joy. Shortly thereafter, Joy was contacted by Irven Candler, one of Jerry's friends from Saudi Arabia. Irv had just retired from Aramco. Irv and Jerry had coached Mike and Kerry in Little League baseball in Saudi Arabia, and Irv was a family friend. Irv and Joy married in 1989. They purchased a motor home and traveled all over the United States, including fly fishing for salmon in Alaska, visiting Mount Rushmore in South Dakota and viewing the change of seasons in the Northeast. In April 2003 Irv and Joy sold the property in Alto and moved to Cypress, Texas, to be closer to the children in their senior years. Irv was 76 and Joy was 78. Irv and Joy attended Cypress Creek Baptist Church after they moved to Cypress. Irv passed in August 2009 after 20 years of marriage, and Joy remained a dedicated and supportive member of Cypress Creek Baptist Church.
Joy is survived by three children, Mike Mullin, Kerry Mullin and Trice Slettengren, and Mike's spouse Nina and Trice's spouse Sven. She is survived by four grandchildren, Travis Mullin, Callan McCollister, Trenton Mullin and Laura McCollister, and Travis' spouse Eileen. Joy has one great grandchild, Max Mullin. Joy loved animals and is also survived by her beloved dog, Cody, who will be adopted by Trice. Many thanks go to Christina, her caregiver from Visiting Angels, who helped look after Joy during the last 2 months.
Joy was a wonderful Mother, Grandmother and Great Grandmother, but above all was a Christian who (according to her) read the Bible 18 times. We miss her greatly, but are comforted to know she is in a better place.
In lieu of flowers, please send contributions to the Cypress Creek Baptist Church Building Fund or the Houston SPCA.