Anwar Mirza
In the name of Allah most gracious most merciful
We all belong to Allah and to him we shall return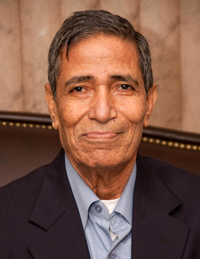 Anwar Mirza  #73035, son of Abdul Ghaffar Mirza, loving husband and a proud father of three sons and three daughters passed away on 4th Zil Hajj 1437 (Sept. 07 2016).
Raised as an orphan from his early childhood, he struggled very hard to survive in this life. He did his best and seeks Allah's help in order to look for smooth life for his relatives and dependents.  With blessings of Allah and lessons learned from life, he was able to manage and survived the toughest challenges in his life.  He was the fastest stenographer of his time and worked at NSC (National Shipping Corporation, Karachi) and then finally moved to ARAMCO, Saudi Arabia in 1975 where he worked at Roads and Heavy Equipments Dept, Security Dept and finally retired while working at Drilling Department from Saudi Aramco in 2002.
He was fond of family values and always looked forward to assist and help others who were in need. One of many of his last words, were that Allah has blessed him very much and there are others in need.  We should spend money for those who are in need. 
We pray that Almighty Allah rest his soul in Eternal Peace and shower His Blessing on him and blesses him with the highest place in Jannat-ul-Firdous (Paradise), Ameen.
Mr. Anwar Mirza survived by his wife, Mrs. Maimonna Begum and three sons, Akhtar Mirza, Safdar Mirza and Afsar Mirza and three daughters Samina Qaseem, Rubina Mirza and Nagina Anwar and ten grand kids. 
We request you to pray for his Maghfirah and forgive his shortcomings.  For condolence please send emails at [email protected].  You may also call +9221 3496 4784.