Axel V. Green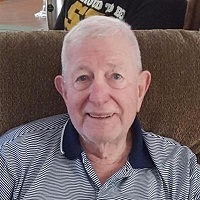 Memorial services for Axel V. Green, age 83, of Hideaway, Texas are scheduled for 11:00 A.M. Friday, September 9, 2016 in the Caudle-Rutledge-Daugherty Funeral Home in Lindale with Deacon Dennis King officiating.
Mr. Green died Tuesday, September 6, 2016 in a Tyler hospice center. He was born in Maracaibo, Venezuela on April 8, 1933 to the late Ralph Venton and Aina Marie Clementine (Brandt) Green.
Mr. Green graduated college from Texas A & M in 1962 with a Master's Degree in petroleum engineering. He was a member of the T. L. Bonner Masonic Lodge #764 and of the Holy Family Catholic Church in Lindale and was preceded in death by a brother, Simon Green.
Alex worked for Aramco from 1970 - 1984 in Petroleum Engineering, Water Injection, and liaison man in Drilling.
Mr. Green was an avid golfer and found great joy in mentoring young children through the Kiwanis reading program at Velma Penny Elementary School.
Mr. Green is survived by his loving wife, Sharon Green of Hideaway; 4 children, Matthew Green and wife, Theresa of Smithville, Missouri, David Green and wife, Lisa of El Campo, Jill Vela and husband, Miguel of Austin and Dorothy Green of Houston; brother, Bill Green of Gilbert, Arizona; 5 grandchildren, Marriann Green, Emma Green, Jack Green, Taylor Gonzales and husband, Austin and Casey Green; and his cat, Cholula.
The family will receive friends from 10:00 A.M. to 11:00 A.M. prior to the funeral service Friday.
Cards may be sent to Sharon Green at 325 Hide A Way Lane East, Hideaway, TX 75771