Beverly Joyce Cleaver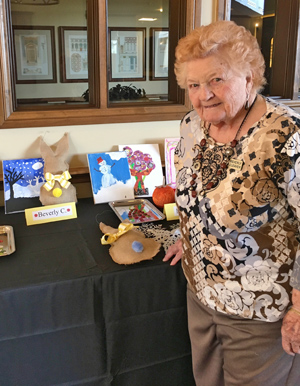 Beverly "Bev" Joyce Cleaver, of the Denver Eastern Star and Masonic Retirement Community, and formerly a resident of Homewood at Crumland Farms in Frederick Maryland, and of Penn Valley, California, died Saturday, July 14, 2018.
She was born July 23, 1924 in Superior Wisconsin, to Gilford M. Gubrud and Edna Krause Gubrud. She attended Lakeside School in Kindred North Dakota and graduated from Logan High School in La Crosse, Wisconsin.
A talented secretary, Bev took flawless shorthand and typed on her IBM electric typewriter at an amazing speed. Her early career was with the Aluminum Co. of America in Vernon, Calif. where she met and married Harlan Mason Cleaver. Shortly before World War II ended, in June 1945, Harlan joined the Arabian American Oil Co. In 1954, Beverly traveled with two small children to the oil fields of Saudi Arabia. They remained in Saudi Arabia with Aramco and later with Northrop Aviation until retirement in 1979.
She was a consummate mother and homemaker. She raised four children in Saudi Arabia, and kept a loving home in the desert sands. She enjoyed golf, gardening, and crafts. She served as President of the Ras Tanura Womens club, and was a den mother for cub scouts and girl scouts.
Bev also belonged to several fraternal organizations and was a past matron of the Evangeline Chapter 9 of the Order of the Eastern Star in Nevada City, Calif., and the chapter in Saudi Arabia. She was an active member of the Daughters of the American Revolution, Frederick Chapter.
She is survived by her sons, Harlan of Denver, Colo., Brent of Denver, Colo., Kurt of Moundsville, W.Va.; daughter, Joy of Gulfport, Florida.; six grandchildren and three great-grandchildren. She was predeceased by her husband, Harlan Mason Cleaver, of Frederick Maryland.
A memorial service will be held at a later date.