Bonnie Hollis Jarrard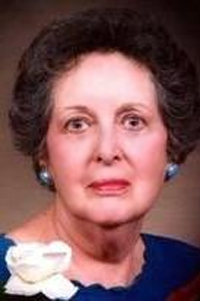 Bonnie Hollis Jarrard, 89, died peacefully on Monday, June 12, 2017. She was predeceased by her parents, Ethel Williams Hollis and Raleigh William Hollis; and by her sister, Anne Exline. Bonnie is survived by her daughter, Melissa and her husband, Nidal; her grandson, Eric and his wife, Amber. She is also survived by her sister, Joyce; and by nieces and nephews. Born in Cheraw, South Carolina, the family moved to Jasper, Alabama as her father managed textile mills.
As a young woman, she attended Judson College - a private women's college in Alabama - and went on to attend the women's section of the Southern Baptist Theological Seminary in Louisville, Kentucky. Bonnie's life and love centered around the church, beginning with an early attraction to mission work that led her to meet her former husband, a minister, while at the Southern Baptist Theological Seminary. Together, they built strong church communities in Sulligent and Heflin, Alabama, Abqaiq, Saudi Arabia, and Richmond, Virginia.
While living in Saudi Arabia in the Aramco expatriate community for seven years, her love of travel and adventure took her around the world in exploration and shopping sprees. Bonnie was a strong advocate for people, communities, and causes she believed in, supporting them with fierce determination. She embraced learning and became a librarian, both starting and expanding libraries in Alabama and Saudi Arabia. Her love of gardening gave her much pleasure and she was a proud member of the Tuckahoe Community Garden Club.
Her expertise in gardening expanded and she achieved a national accreditation as a flower show judge, landscape critic, and daffodil judge. Bonnie was a proud member of the former Westhampton Baptist Church, where she developed strong friendships who supported her until the end. The family wishes to extend special thanks to the staff at Beaufont Towers and the Laurels of University Park for their care and comfort in her final years.
The family will receive friends on Friday, June 16, 2017, from 5 to 8 p.m. Funeral services will be conducted at the Parham Chapel of Woody Funeral Home, 1771 North Parham Road at 10 a.m. Saturday, June 17, 2017. Interment to follow at Greenwood Memorial Gardens.