Charles Clayton Brumley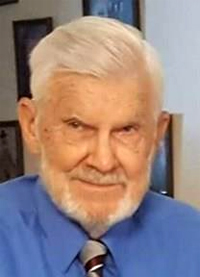 Charles Clayton Brumley passed away on December 22nd, 2017.
The memorial service will be at 2:00 p.m. on Friday, January 19th, 2018 at Bayview Fisher-Pou Chapel, 3351 Scenic Hwy, Pensacola, Florida.
Charles was born at home on June 28th, 1939, near Bold Springs, OK. He graduated from Central High School, Oklahoma City, OK, in 1957 and immediately went into the Army. He served from May 28th, 1957 to May 28th, 1960. He returned to Oklahoma City where he briefly worked for IBM and then began work at FAA. He married Barbara on July 28th, 1964. He took a job with Aramco in 1980 and he and Barbara traveled to Saudia Arabia where they would live until his retirement in 1991. Returning to the United States, he and Barbara opened several Jackson Hewitt Tax offices in Pensacola.
Charles is survived by three daughters, Cheryl Duncan and her husband Andrew of Pensacola, FL, Donna Garcia and her husband, David of Fort Lupton, CO and Charlotte Davenport and her husband, Gary, also of Fort Lupton, Colorado; 10 grandchildren, 19 great grandchildren, and 1 great great granddaughter; Three sisters, Peggy Taylor, Oklahoma City, Sydney Baker, Broken Arrow, OK and Ruby Brown and her husband, Michael of Madison, Alabama and the many nieces and nephews and the rest of his family and friends.
Charles was preceded in death by his wife Barbara, his son James Brumley, as well as his parents, Bartlett Millican and Ruby Murray.
In lieu of flowers, memorial donations may be given to The Boston Terrier Rescue of Florida
Bayview Fisher-Pou Funeral Home has been entrusted with the arrangements.