Clive Hopkins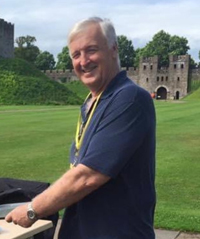 Clive Hopkins, Saudi Aramco retiree, passed away on August 18th at 68 years of age. Clive started working at Aramco in 1982 and returned to live in Wales in 2015. He worked in many departments as a Project Manager. Clive was an active member of the Dhahran Rugby Union Club and then discovered and started playing golf. Clive was a single-digit handicapper and won the Rolling Hills Club golf championship that was a great feat and honor. As we all know, he won many other tournaments and was a great friend both on and off the golf course. He was married to Nicola and had a son Gareth who also turned out to be a single handicap golfer.
The Church service is planned for September 8th. Any donations should be made in Clive Hopkin's name to The Wildlife Trust of South and West Wales.
If anyone wishes to send a card to the family, please use the following address:
Nicola and Gareth Hopkins
40 Woodstock Gardens
Pencoed
Bridgend CF35 6ST
United Kingdom
Rest in Peace, Clive, from all your golfing friends.