Darwin Jones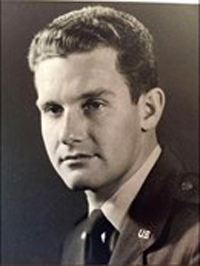 Darwin Jones died peacefully in his sleep, Saturday, October 7th, 2017 after a long battle with Parkinson's disease.
Darwin was born in Logan, Utah on June 6th, 1926, to David Sylvester Jones and Lottie Williams Jones. He was the fifth of eight children. Dar attended Logan High School, excelling at football and baseball, where he held the Utah State High School record for punt return average.
After high school, Dar signed a contract to play baseball with the Cincinnati Reds farm team, the Ogden Reds. However, Uncle Sam had other plans. Soon after his 18th Birthday on June, 6, 1944, the same day as the D-Day invasion, Dar joined the Navy where he served as an aircraft radio operator. After discharge from the Navy, he used the GI bill to attend college at Utah State in Logan. Following graduation in 1951, with a degree in Business Administration, Darwin joined the Air Force as an officer. He served as base adjutant at Fort Larson in Washington. As a second lieutenant, he was chosen to become an aide-de-camp for General Edwin Day in Saudi Arabia. While stationed there he met his future wife, Shirley Hall, who was working as a nurse for ARAMCO Oil Company. They were married on Bahrain Island and returned home to the United States the following day. After living in Salt Lake City, Utah and Walnut Creek, California, (where their son Steve was born), Dar and Shirley settled in Reno. Dar owned and operated Ranchito Distributing Company and Shirley was a nurse at the VA hospital. They built their dream home in Pleasant Valley, where they cultivated many friendships and lasting memories. Dar eventually went into business with Steve at Kustom Koatings Asphalt Sealing and Paving Company.
Dar will always be remembered as a wonderful father and grandfather. He was an avid golfer, skier, and fisherman. He loved jazz music. With his son Steve, he was involved in scouting and baseball. As his grandsons, Forrest and Jack, grew, he never missed a baseball game, soccer game, concert or play. He spent many hours with them at Brookside golf course, teaching them the fundamentals of golf and of life.
Dar was a father figure to many people who were in need of one, (and you know who you are).
He was a fabulous storyteller and had an infectious laugh. We will miss his tales of childhood exploits in the Cache Valley, and his experiences in the deserts of Saudi Arabia.
Dar is survived by his wife, Shirley, his son Stephen (Monique), his grandsons Forrest and Jack, his brothers, David, Robert, and Ken, his sister Betty, and numerous nieces and nephews. No memorial is planned.