Denis M. Hayden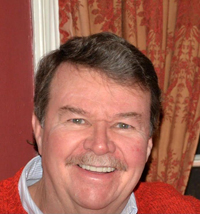 Denis M. Hayden died peacefully in his home on June 9, 2018. He was 68.
Denis was born in Brooklyn, NY to Francis Joseph and Mary Agnes Bryan. He earned a Bachelor's degree in Mechanical Engineering from Pratt Institute, where he met his wife of 37 years, Jennifer Rigby. They had 4 wonderful children together and later parted as friends. His job as an engineer began at General Electric in Schenectady, NY which then led him and his family to Saudi Arabia, where he worked for over 15 years. He later earned an MSME from Union College and continued his work around the world in such places as Singapore, Russia, Chad, and finally Australia, where he lived for many years before returning to the US to be closer to his children. He settled in Lake Titus where he very much enjoyed the beauty and serenity of lakeside life. He was an avid gardener, reader and fisherman. He loved spending time with his grandchildren and his dog, Caesar.
He is survived by his son Derek Hayden (Cathy) of Ballston Lake, NY and his daughters Siobhan Gecewicz (Craig) of Cooperstown, NY, Amy Bowles (Jason) and Kimberly Hayden, both of Phoenix, AZ. He had 10 grandchildren - Ronan, Anna, Mary, Regan, Ciara, Jude, Matthew, Levi, Zane and Bode, whom he loved very much. He is also survived by his sister, MaryAnn Dowdall (Jim) of Wilmington, NC. He also had many friends around the world who will miss him as well.
Due to his love of animals, any donations are much appreciated to the North Country Animal Shelter, 194 Bare Hill Road, Malone, NY 12954. A celebration of his life is planned for a later date.