Desdamona C. Hale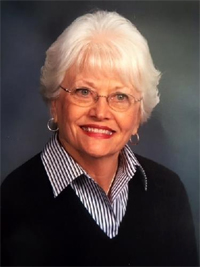 Desdamona C. Hale age 87 passed away September 12, 2017 at home. She was born in Bloomingdale, MI to Clyde and Gladys Burris.
In her early years, Desdamona worked for The Shakespeare Co., and then at Sutherland Paper Company until 1951 when she met and married Billy P. Hale. As young newlyweds, they moved to Saudi Arabia where Billy Pat worked for Aramco. Their adventures, friendships and world travels continued throughout their lives.
A classy woman with beautiful white hair and a big smile, Desdamona was quick to laugh. She loved her family, her home, gardening, playing bridge, bowling, being involved in church and being social. She cooked for family and friends, baking delicious pies and cookies. Her home was a gathering place.
Desdamona willingly greeted strangers and made them feel welcomed. She was a well-traveled citizen of the world and set an example for her two daughters, who witnessed their mother's grace and independence.
Desdamona believed in supporting her community, her church and being a good friend and neighbor.
Her family is left to cherish her memory; her daughters: Mary (Gerard Shaffer) Shaffer and Michelle Hale (Ruth Mitchell); brother Franklin (Sandy) Burris; as well as several nieces and nephews. She was preceded in death by her husband of 50 years, Billy P. Hale; her parents; sisters and brothers: Thelma Abernathy, Florence Chase, Zane Burris, Frances Blackstine, Phyllis Pease, Harold Zimmer, Clyde Burris Jr. and Marian Burris. In accordance with her wishes, cremation has taken place.
A celebration of life will take place Sept. 30, at 1 p.m. at the United Methodist Church of Portage. A private graveside service for the family will follow at Fort Custer National Cemetery.
In lieu of flowers, donations are requested to one of the following organizations: Portage Chapel Hill United Methodist Church, Meals on Wheels America, Kalamazoo Animal Rescue.