Dominic Joseph Narciso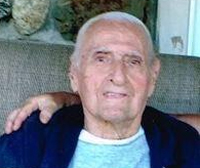 Dominic Joseph Narciso, 97, passed May 5, 2018 in Bridgeport, CT following a brief illness. He lived in Monroe, CT over 15 years with his beloved wife Helen Gilbert Narciso, who passed four years prior. The couple was married 57 years, among the dwindling pairs of proud U.S. veterans from the "Greatest Generation."
Dominic was the son of Sebastian and Angelina Narciso, both of whom emigrated from Italy in the early 1900s. Born in the Bronx, N.Y. July 8, 1920, Nick had many depression-era stories to share.
He attended NY University for two years studying draftsmanship, design and engineering. He was drafted into the US Army where he served with distinction, attaining rank of Sgt. 1st Class in Army Signal Corps while in Northern Africa and Italy during World War II. His wife was a Staff Sgt. in the US Air Force, serving in Europe during the Korean War.
The couple met as employees of the Arabian American Oil Co. —Aramco in Saudi Arabia, where they lived for seven years. They married after completing their job tour and returning to the US.
They are survived by his children, Steven of Ft. Collins, CO, Dean of Columbus, OH, and Joan Zenko of Monroe, CT; grandchildren Tony, Michelle, Rachel, Dane, Luke, Cora, Sara, Paige, and Amanda; five great-grandchildren; and his sister Rose Brice of Fairlawn, NJ. Nick was thrilled to recently visit with Emma one of his five great-grandkids.
Dominic will be remembered for his decency, willingness to help others and for treating those less fortunate with respect and compassion. He will be deeply missed by all.