Dorcas Smith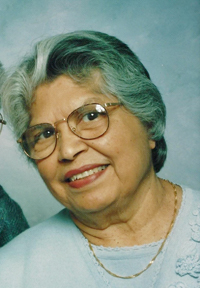 Dorcas peacefully passed the bounds of this earthly life into eternity with her Heavenly Father on Saturday, May 12, 2018. Glenwarren Lodge was home the last four years of her life. There she was loved and well cared for, having moved in after deteriorating health followed the death of her husband, Cecil in 2012.
Dorcas was born in Kolar Gold Fields, India on October 15, 1931, the daughter of Barney and Mercy Stokoe and sister to Josephine, Able (both deceased), David, Ruth, John and Philip.  She trained to become a teacher and spent several enjoyable years touching the lives of many students in various schools in India before marrying her beloved Cec in November of 1959 and starting a new life together in Saudi Arabia.
Life with ARAMCO in Dhahran was very good. She loved raising her two daughters, being involved in the Dhahran Protestant Fellowship where she taught Sunday School and VBS, served in the Ladies Evening Service Group and made many life-long friends. She was also a Scout leader, loved mother Suzanne and Sarah's friends and became a dental x-ray technician when both girls went away to school. It was here that she honed her sewing skills, providing Suzanne with most of her wardrobe for many, many years!
In 1981, retirement brought Dorcas to Canada at the age of 50 where she lived happily ever after. Sewing, knitting, crocheting, stamping, calligraphy and many other crafts filled her days. Active involvement at Oaklands Chapel and Camp Imadene gave her added pleasure. She was the consummate hostess and caregiver.
Dorcas loved her Lord all of her life and ensured that daily devotions and family prayer were a regular part of living. She will be missed by all of us here, but we know there is rejoicing in heaven at her homecoming.