Dorothy Ann Albrecht McCarthy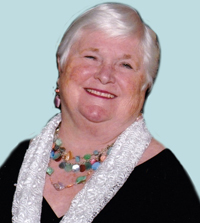 Dorothy Ann McCarthy passed away on June 9, 2017 in Houston, Texas. Dorothy was born on March 13, 1944 in Russell, Kansas. She was the youngest of eight children born to Pauline Maier and Detrich Albrecht.
She is survived by her husband of 51 years, Duane T. McCarthy of Houston, Texas, daughter Kristi McCarthy of Arlington, Virginia, son Daniel McCarthy and wife Amy, and much-adored granddaughters Mikaela, Anna, Danielle and Nora McCarthy all of Houston, Texas.
She is also survived by her sisters Ida Elliott of Hays, Kansas, Mable Sommerdorf of Napa, California and numerous nieces and nephews.
 Dorothy's passions included traveling, cooking, teaching, reading and spending time with her grandchildren. She visited over 150 countries and all seven continents. Her travels varied from sailing in the Greek Isles, trekking in Nepal, crossing the Atlantic on cruise ships and even spending time in Antarctica. She embraced life. Family and friends were treated to her superb cooking; she was always keen to try a new recipe. She taught at elementary schools in Newtown, Connecticut; Bonao, Dominican Republic; Dhahran, Saudi Arabia; Houston, Texas and on the island of Saipan. She was selected as a Master Teacher in Saudi Arabia, Teacher of the Year in Saipan and she was awarded the Crystal Apple Teacher of the Year Award in Houston in 1993. 
Dorothy's kindness, thoughtfulness, beautiful smile and giving personality drew people to her. She touched the lives of numerous people she met along the way of her adventurous life: family, many dear friends, fellow teachers, and countless students. Her life was a true testament to "living life". Her journey began with a solid foundation from a small town in Kansas. She was a woman who could drive a tractor, bake a three layer cake or negotiate a rug purchase in a foreign country. Along with her true companion husband, she lived a life filled with accomplishments, exploration, adventure and love. She will be dearly missed.
The family may be contacted at [email protected].